Shiba Inu, the second largest meme coin, has established itself as a prominent presence in the cryptocurrency world. The team behind SHIB has consistently demonstrated their commitment to its development, as evidenced by initiatives like the Shiba Inu Burn program.
The Shiba Inu burn rate has gained a reputation for its fluctuating nature. Some days witness substantial increases, while others see a decline. Despite this variability, the burn rate has remained relatively steady in recent days, with billions of SHIB tokens being burned daily.
According to the latest details from Shibburn's Twitter account, the burn rate has plummeted to 38 million from 282 million in the last seven days.
Shiba Inu burn rate drops to millions
Details from the tweet reveal that only 38 million SHIB were sent to dead wallets in the last seven days. The burn activity happened over 18 transactions. The burn rate is considerably lower as compared to certain weeks when billions of SHIB were burned.
The burn rate has also spiked by 730% in the last 24 hours. However, only 5.3 million SHIB were sent to dead wallets during this period. The numbers from the past seven days are not that impressive, as only millions were burned.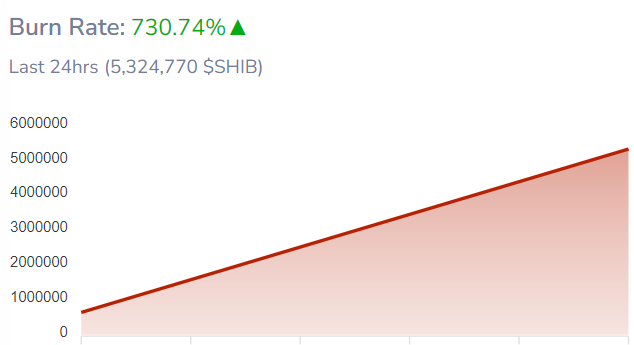 According to CoinMarketCap data, Shiba Inu is trading at $0.000007341 at press time. SHIB is up by 6.5% during this period.