Amidst the arrival of a new meme crypto asset, the old ones haven't lost traction. A Shiba Inu [SHIB] whale affirmed the same through an exorbitant purchase. This particular whale was on a buying spree as the address made transactions throughout last week.
Earlier today, it was brought to light that the fifth largest SHIB whale pocketed 221.72 million SHIB. The latest purchase was worth $2.23 million and was carried out in a single transaction.

As seen in the image, the whale has been executing several significant transactions. In addition to the aforementioned 221.72 million tokens, the whale made another transaction of over 58 million SHIB.
This spree was ticked off on April 25 when the whale made its first purchase. Through this, the whale increased its portfolio with 730,613,187 or 730.61 million SHIB. Since then, the whale has made larger purchases and completed the second trade on April 27 by racking up 76,316,827,917 SHIB.
The activity was not limited as on April 29, the whale bought an additional 49,340,174,340 SHIB, valued at $495,868. All of the above-mentioned purchases amounted to a total of 348,116,474,224 SHIB worth $3.50 million. Despite these major movements, the price of SHIB remained somewhat stagnant.
Will Shiba Inu survive the PEPE wave?
The crypto-verse witnessed the arrival of PEPE. Several were seen jumping onto this asset with the hope of raking in some profits and not missing out as they did with SHIB. With all the attention around this token, SHIB was faring decently. At press time, SHIB was trading for $0.000009988 with a 1.05% daily surge. This latest rise could be the result of the raging burn rate of the meme coin. Nevertheless, this trend could soon die down bringing back SHIB to the bearish arena.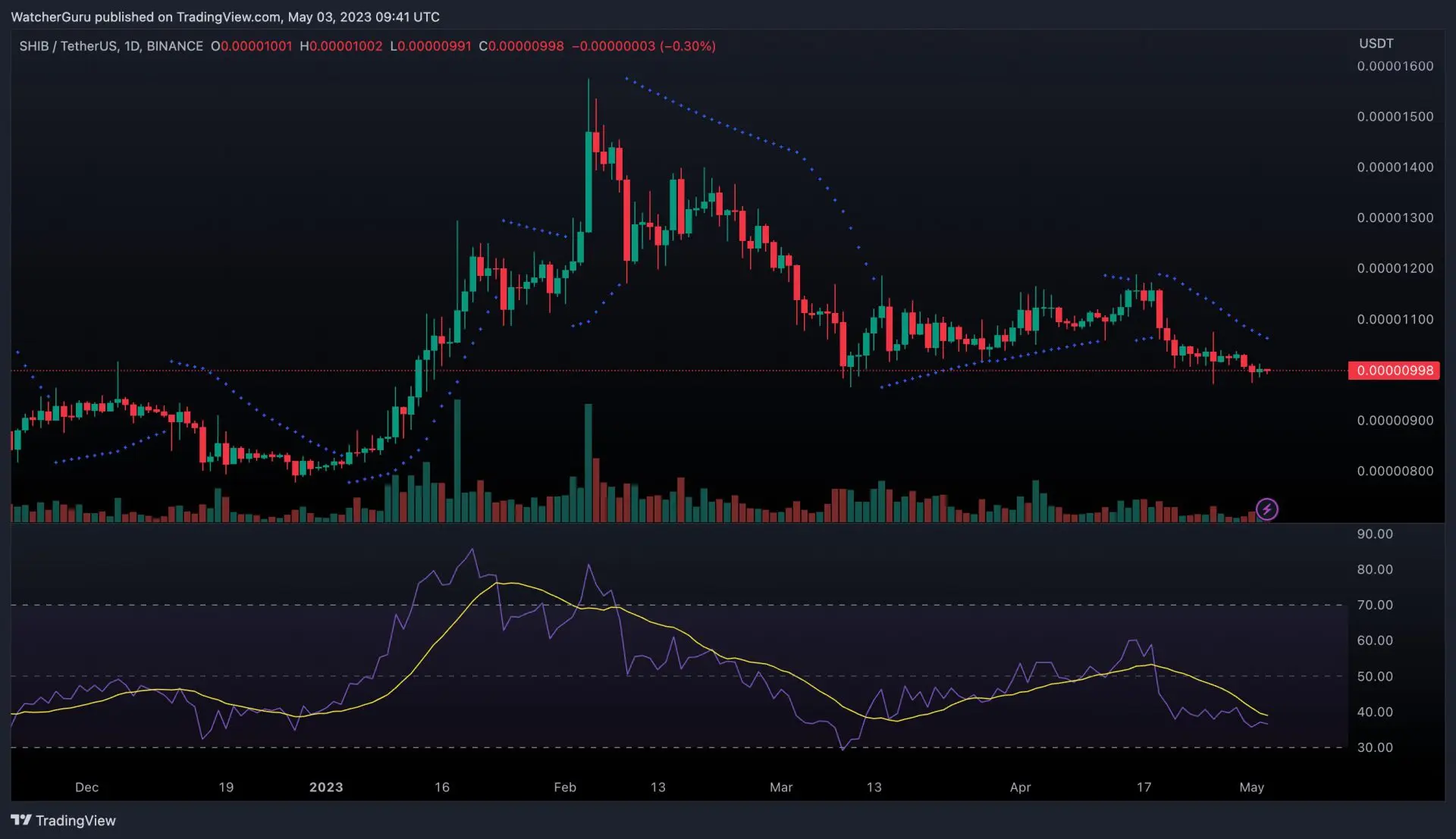 As seen in the above chart, any possible uptrends were blocked by a resistance dotted line formed by the Parabolic SAR indicator. Furthermore, the Relative Strength Index [RSI] indicator highlighted how there were more sellers in the market than buyers. This is considered to be bearish for the meme coin.