Shiba Inu whales have been accumulating SHIB tokens of late. The inflows of large participants have been outpacing the outflows, suggesting that whales find the current SHIB price attractive. Data from IntoTheBlock pointed out that the large holders' net flow has risen by 275% over the past week. At press time, the reading of this metric was in positive territory and flashed a value of 145.7 billion SHIB tokens. Thus, it can be contended that buying bias is in its formative stage in the SHIB market at the moment.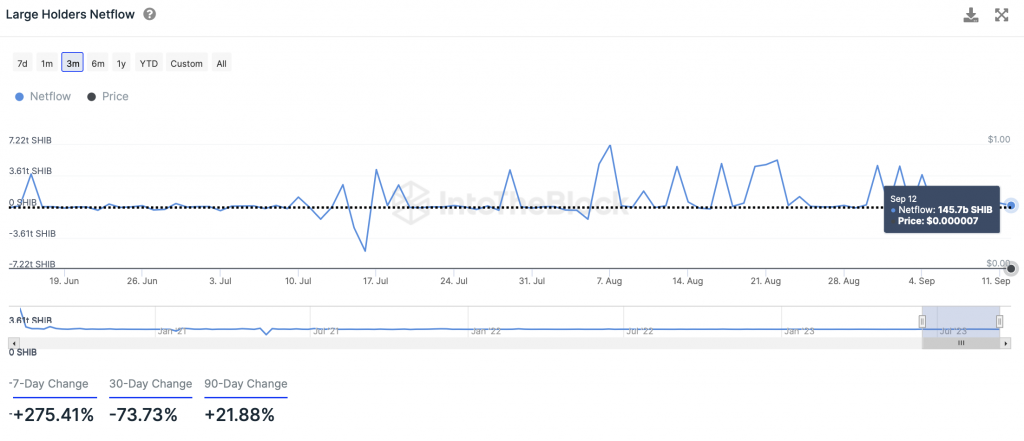 Also Read: Shiba Inu Forecasted to Rise 650%: Here's When
Will SHIB's Price React?
The rise in Shiba Inu whale inflows is usually considered to be a positive move. Given the current market conditions, this could be a boon for SHIB. As chalked out below, the asset's price has bounced up thrice since June 2023 after testing the region around the $0.000007 threshold. During the first instance, it SHIB sprung up by 20.8%. The second time it it rose by 12%, while during the third instance, it appreciated by 23.2%. SHIB has already initiated amid an uptrend on the daily timeframe chart. It rose by 1.5% a day ago and was up 1.2% at press time. Thus, if the accumulation trend continues, and large participants are successful in adding buy pressure, then SHIB's price could end up ascending even further.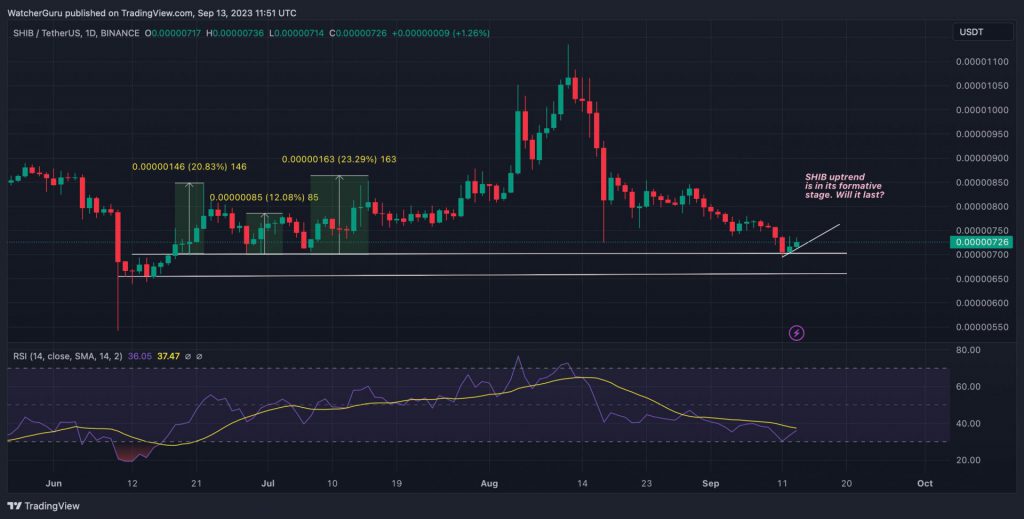 Also Read: Shiba Inu: 'High Demand' Provoked SHIB's 46,000,000% Rise
Holders' conviction also seems to be high. Investors have been increasing their SHIB holding period lately. In July, the average holding period for SHIB on Coinbase was 214 days. However, at press time, it was up to 227 days. Typically, a long hold time signals an accumulation trend, while a short hold time indicates increased movement of tokens. Thus, the ongoing investor trend on Coinbase is also in favor of SHIB at the moment.