The Shiba Inu [SHIB] ecosystem has finally welcomed its much-awaited layer-2 network, Shibarium. Despite initial challenges during its rollout, the platform has overcome setbacks and is now operational. Subsequent to its public relaunch, the network has attracted heightened investment. According to Defillama's data, there has been a positive upward trajectory in the amount of funds being staked on Shibarium.
The Total Value Locked [TVL] in Shibarium has reached a notable sum of $1.42 million. TVL quantifies the total cryptocurrency placed into smart contracts on a blockchain. When individuals stake their cryptocurrency assets, they securely lock them within decentralized platforms in exchange for rewards. Therefore, it signifies a notable achievement and underscores the increasing enthusiasm within the Shiba Inu network.

Defillama further revealed that the TVL on Shibarium is supported by five decentralized exchanges and one decentralized protocol. These encompass DogSwap, MARSWAP, WoofSwap, Shibex, LeetSwap, and ChocoInu.
Meanwhile, a total of 529,583 transactions have taken place since its launch. Each of these transactions occurred within an average block time of 5 seconds. Furthermore, a total of 368,678 blocks have been successfully established. Just yesterday, the network achieved the milestone of surpassing 100,000 wallet addresses. At the current moment, the tally stands at an impressive 336,733 wallet addresses. This remarkable increase within a 24-hour span serves as a clear indicator of the network's rapid expansion.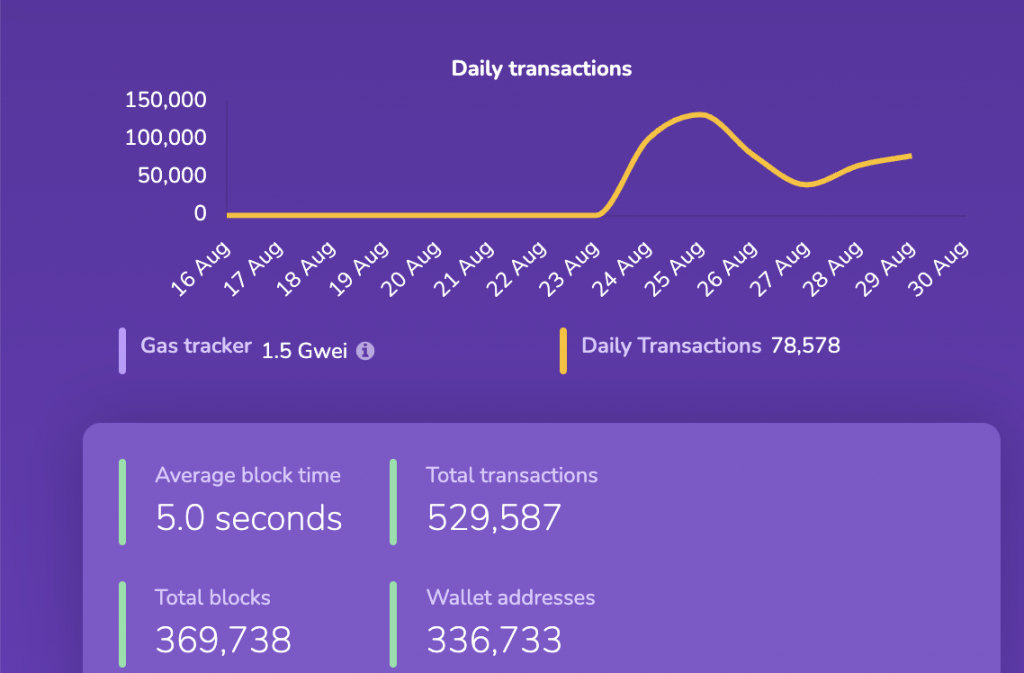 Also Read: Shiba Inu's Shibarium Records 100K Wallet Addresses Post Relaunch
Shiba Inu pockets minimal gains
Unlike its counterparts, the Shiba Inu was seen recording a minimal uptick. At press time, the asset was trading for $0.000008234 with a 2.11% daily surge. The meme coin rose from a low of $0.000008061 all the way to a high of $0.000008429.
However, this surge didn't manage to result in higher earnings for those who held the asset. Data from IntoTheBlock reveals that a total of 74% of SHIB holders are still experiencing losses. Only a minority, accounting for 17%, are seeing gains at the asset's current price.

Also Read: Shiba Inu: How To Stake BONE on Shibarium For Passive Income