The cumulative crypto market cap managed to stay above the $2 trillion mark for quite a few days post the valentine's dip. The same, however, changed during the early hours of Friday. After dunking by 5.5% on the daily window, the global crypto market cap explicitly stood at $1.94 trillion at the time of press.
The weekend cycle
During every market phase, assets from the crypto space have stuck to behaving in a certain predictable way during Saturdays and Sundays. Option expiries, weekly closes, trader sentiment, and a host of such factors play crucial roles in shaping up the same. In effect, weekend trends have always been quite fascinating to note.
In this article, we will typically examine ELON's trend and outline what can market participants expect over the weekend.
Barring a single exception, all weekends have been pretty humdrum for Dogelon Mars this year. In 6 out of the last 7 weekends, the asset's price has not deviated by more than 10%. Only in the 22-23 January period, Dogelon Mars registered two particularly long candles.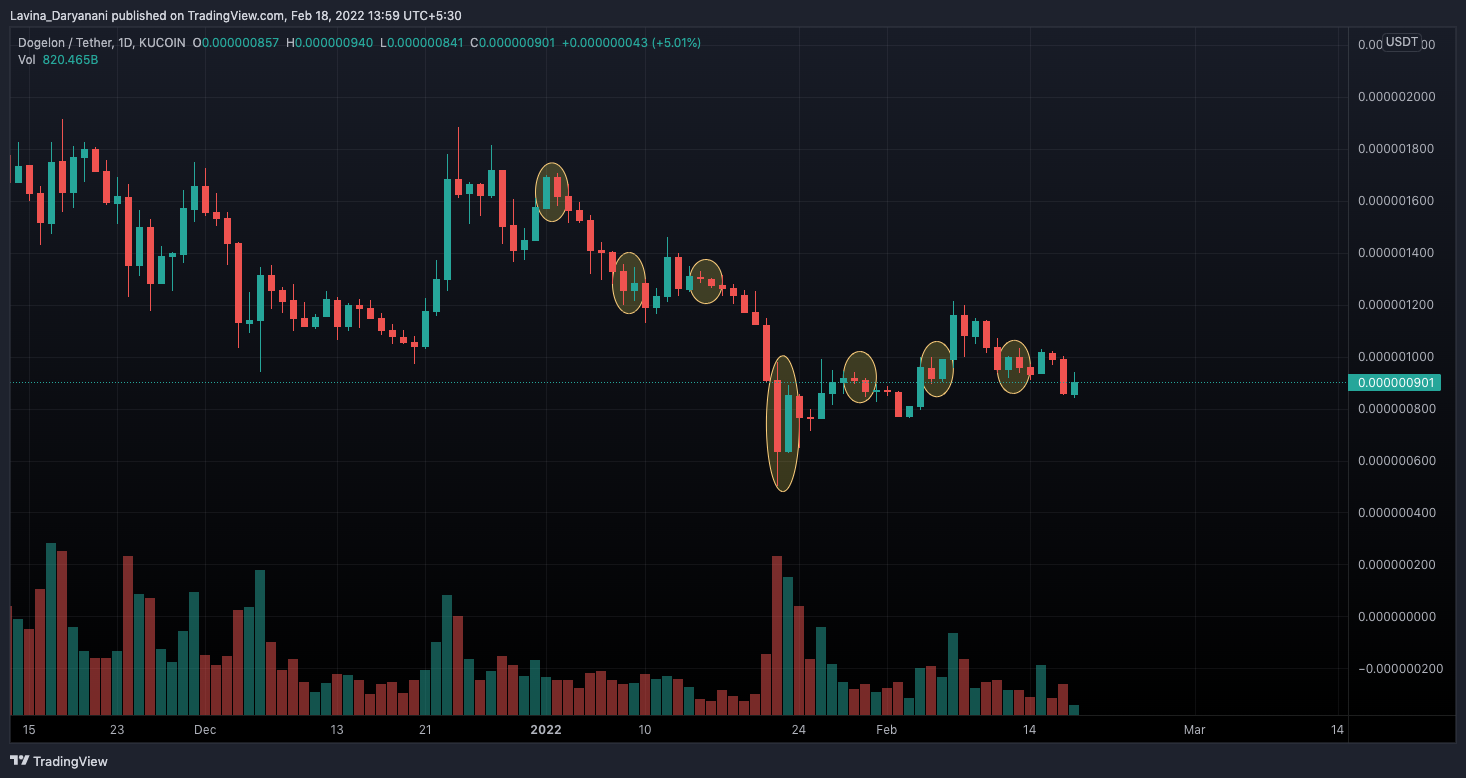 Well, the aforesaid days [22 and 23 January] were typically the before last weekend of the month and we are currently at the same juncture in February too. So, would ELON's price swing with great force over the next couple of days? Well, looking into the state of the volatility would help us decode the same.
As can be seen from Messari's chart attached below, the volatility in the ELON market has almost doubled over the past week. This metric essentially reflected a value of 0.62 on 11 February but has already notched up to 1.16 now.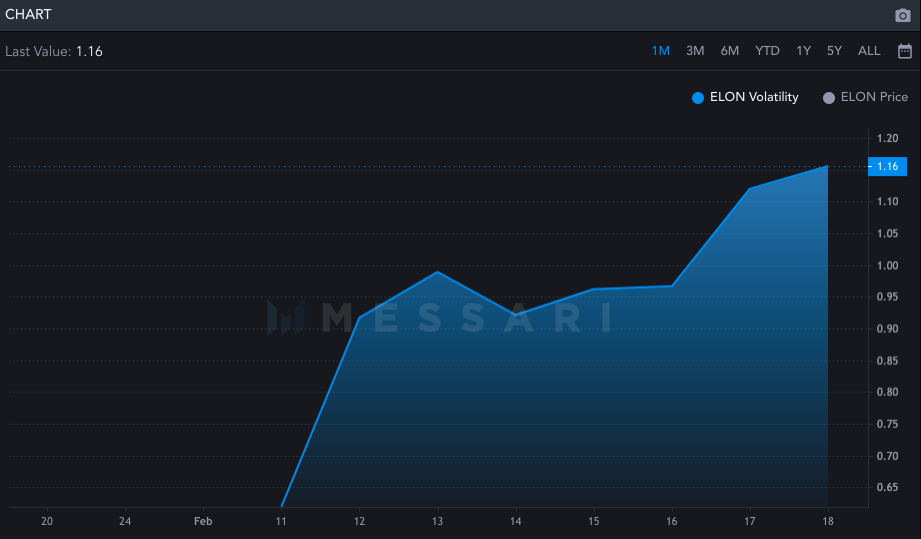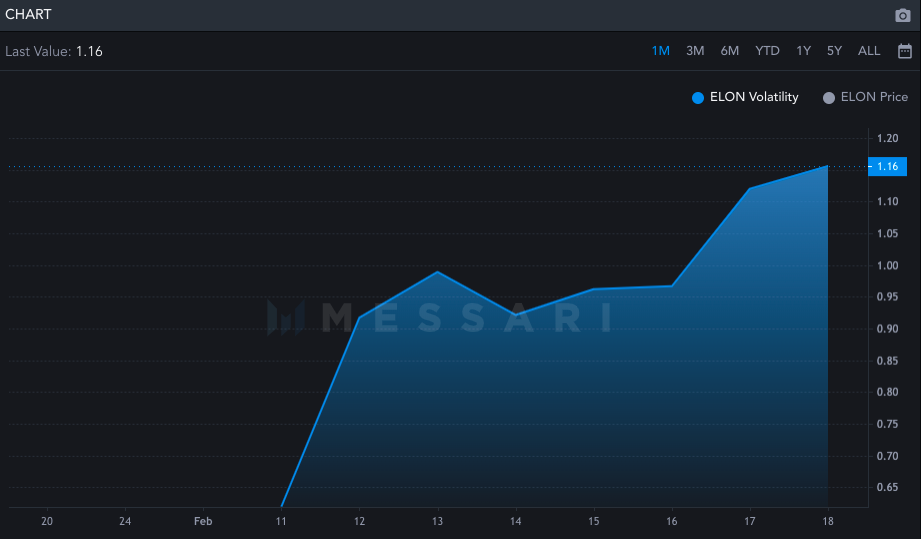 This means that the price of ELON is now in a position to change dramatically over the weekend in either direction. As a rule of thumb, the higher the volatility, the riskier the underlying asset.
Parallelly, the state of the Sharpe ratio that measures the risk to returns, confirmed the same. A week back, this metric was over and above 7. However now, it is hovering in the negative territory. This means that the return fetched by investors isn't able to cover up or shield them from the risk they're being exposed to at the moment.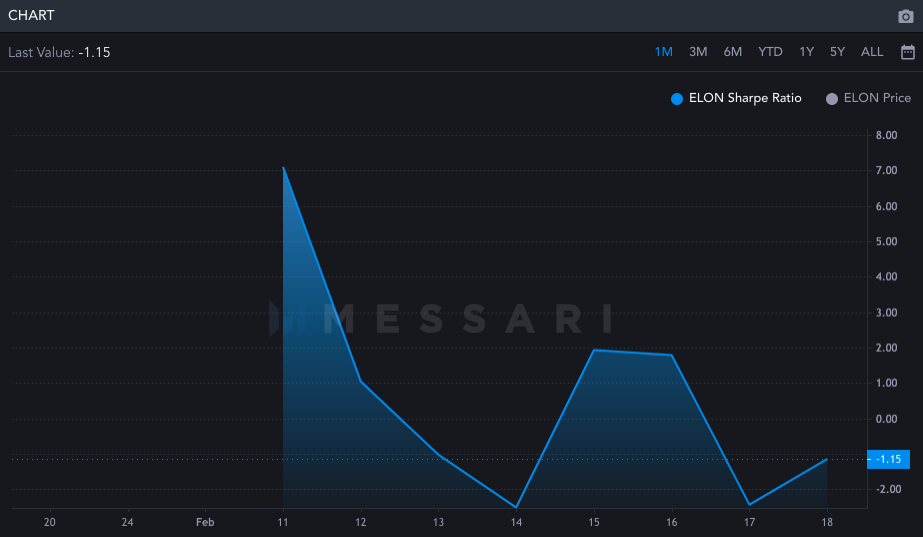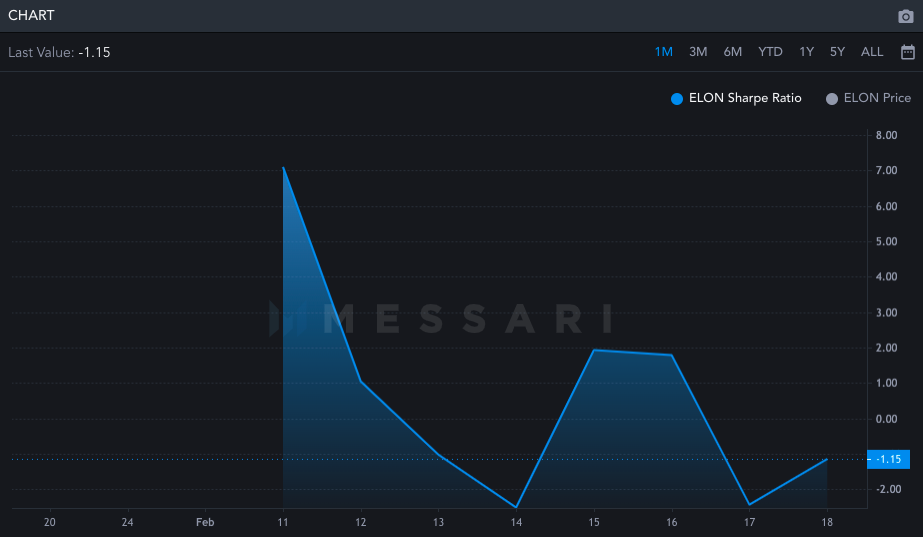 Owing to the spurting volatility and the indecisive broader market trend, ELON's price could drastically fluctuate over the weekend. Thus, it'd be best if market participants execute their trades with caution.