Since its late-March rally, VeChain has looked increasingly bearish as traders depart from the crypto market over fears of further Bitcoin retracements. For VET, the short-mid term outlook wasn't encouraging for optimists. A lackluster RSI and an exodus of traders could see VeChain fall by 27% next week if bulls fail to hold the price above $0.0272.
Following several alts that retraced massively in the last couple of weeks, VeChain retraced by 50% and dropped to near one and a half year low on 13 May. In the process, VET lost out on crucial support of $0.039 on 9 May and has since attempted to find footing around $0.0281.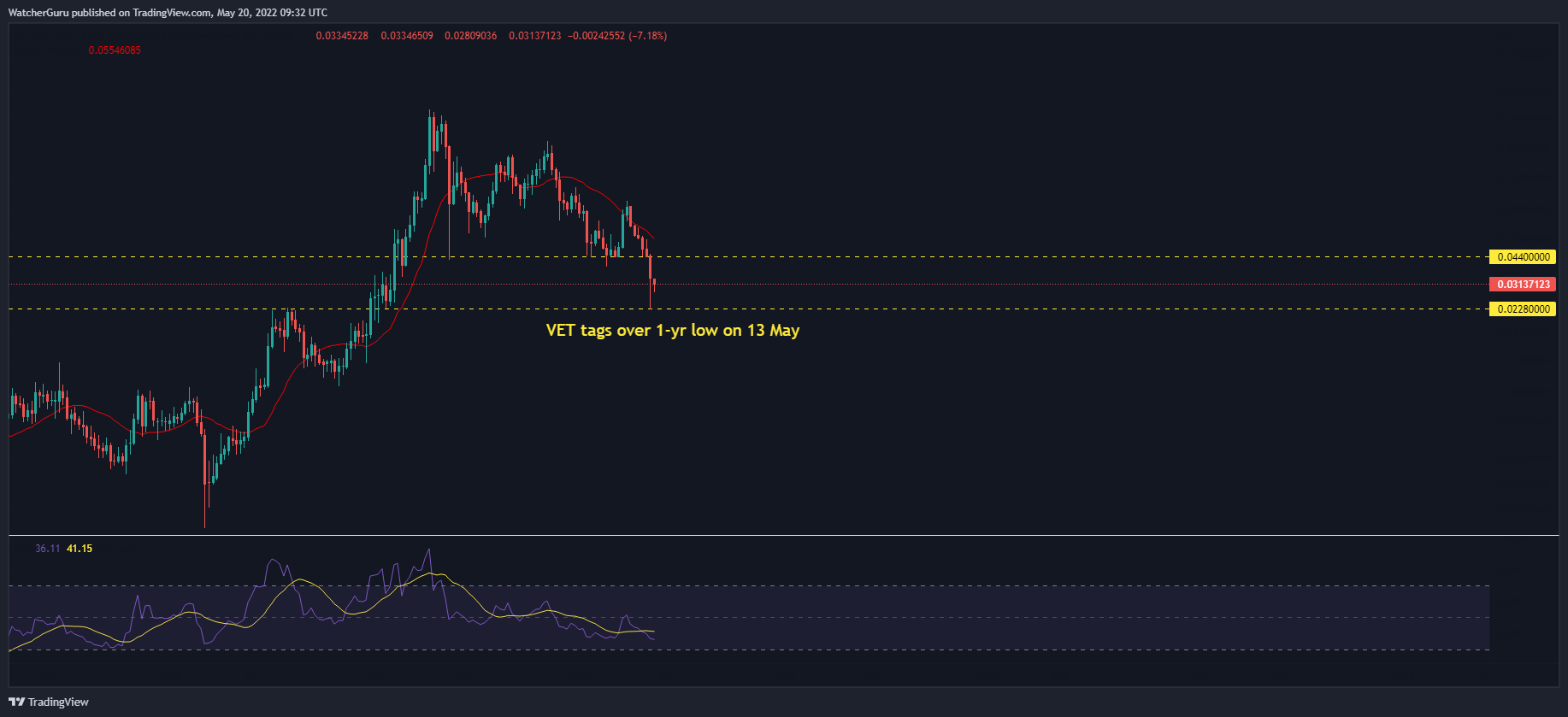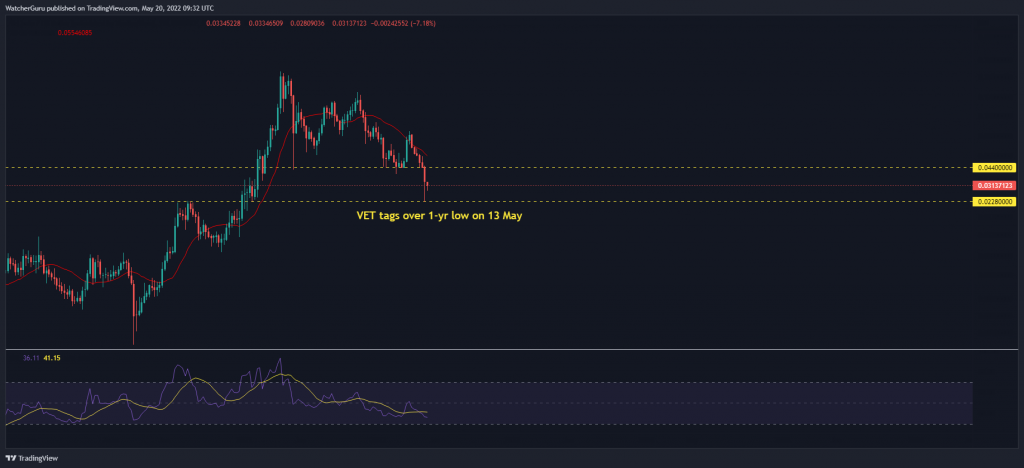 Although a distressed VET performed up to expectations during last week's relief rally, a bearish bias was still visible on the weekly chart. The candles traded below their weekly 20-SMA (red) while the Relative Strength Index marched deeper into the bearish territory – both of which assisted short-sellers to take up arms against the market.


Meanwhile, there wasn't much data to suggest that buyers could surprise investors with a rally. Exchange volumes were significantly low since 12 May as investors and traders were maintaining caution despite VET trading at discounted levels.


Weakening social volumes was another bane. The same has continued to slide for a month now, suggesting that speculative/hype trading would remain low next week until a major development moves the broader crypto market.
VeChain Daily Chart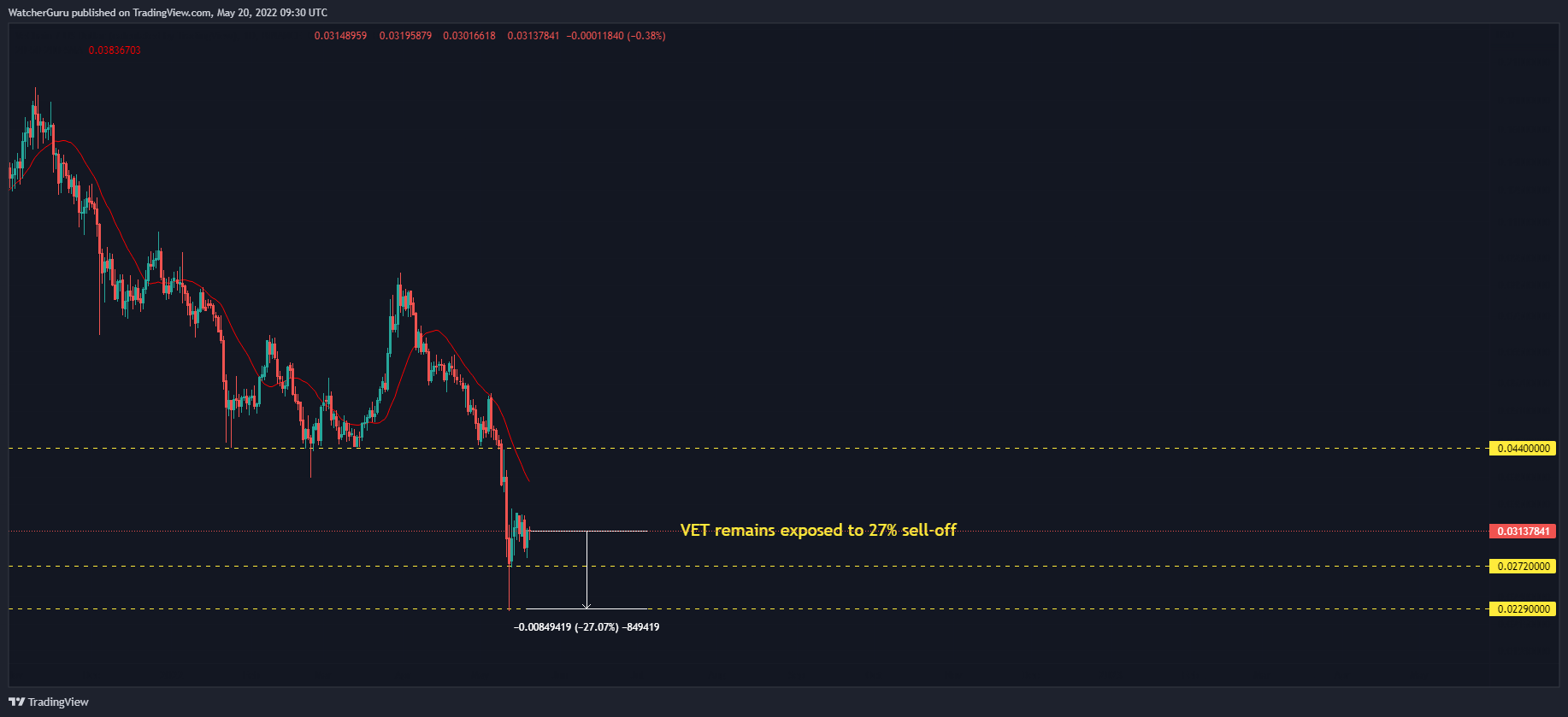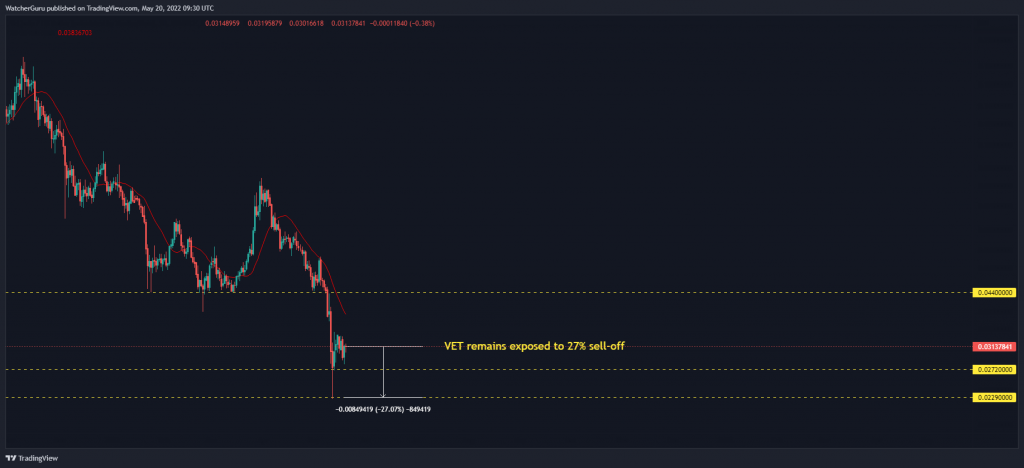 An exodus of bullish traders leaves VeChain in an uncomfortable spot should its price decline below $0.0272. A breakdown could open the floodgates for another 17% fall to January 2021 levels of $0.0229. Overall, the decline marked a full 27% loss from VET's press-time level.
Since chances of a rally of slim, VeChain would likely have to depend on Bitcoin's cues for its movement. If BTC breaks above a major level and attracts trading inflows to the market, VET could be rescued from its bearish bias. However, any gains made below the 20-SMA (red) would likely be short-lived and VET would have to move above $0.044 to revert to a favorable narrative.