Societe Generale, more commonly referred to as SocGen, has become the first company to receive a crypto license in France. The FinServ company's crypto division, SG Forge, got multiple services licensed on July 18.
France's financial market regulator, Autorité des Marchés Financiers, has officially green-flagged the company to provide digital asset custody services. SG Forge is now also licensed to foster the buying-selling of crypto and other digital assets. Parallelly, it is also eligible to "receipt and transmission" third-party crypto orders.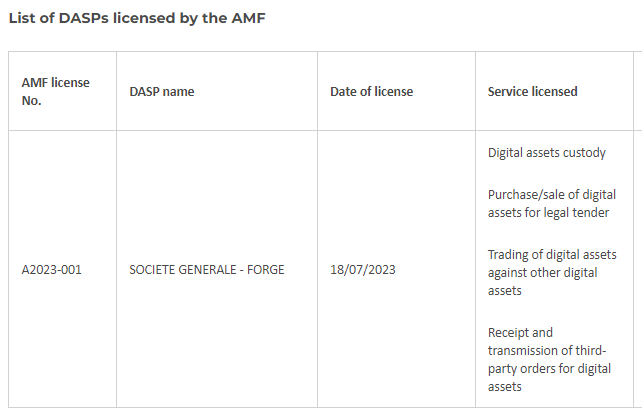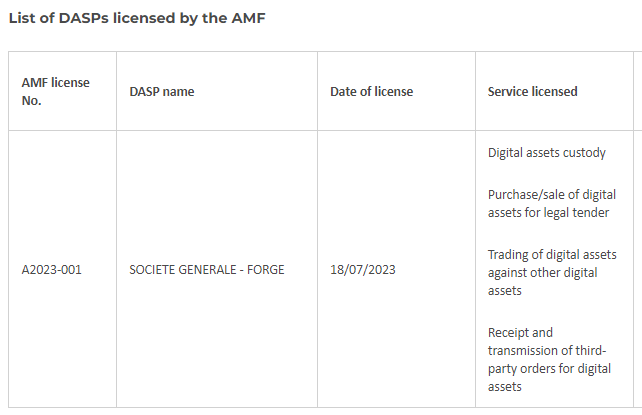 Well, this is not the first time Societe Generale has made strides in the crypto field. In April 2023, the Forge recently introduced a stablecoin pegged to the euro. The asset was based on the Ethereum public blockchain. The launch helped the company secure another "first" record. As reported recently, the bank's EUR CoinVertiblie became the first institutional stablecoin to be deployed on a public network.
Also Read: Societe Generale Launches Ethereum-Based Euro Stablecoin
Societe Generale is the one and only licensed DSAP in France
With the latest license approval, Societe Generale becomes the sole licensed DSAP in France. Nevertheless, there are several other prominent companies that are registered with the AMF but they do not have a license yet. In Q2 2022, Binance received the AMF's approval to function as a virtual assets service provider. Consequentially, it received permission to custody digital assets; foster the purchase, sale, and exchange of such assets; and operate a trading platform. 
In France, the current appetite for digital asset-related products seems to be quite low. Over the past week, the inflows remained unchanged. On the monthly and YTD frame, the European nation has seen positive flows, but the numbers have not been significant. It registered an increase of $0.1 million and $1 million in the aforementioned timeframes. Contrarily, in the U.S., crypto-related inflows have registered a monthly and YTD uptick of $165 million and $394 million respectively.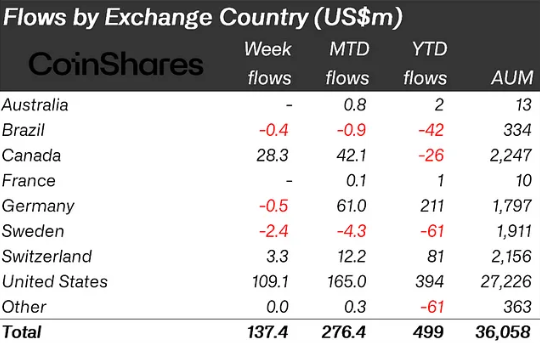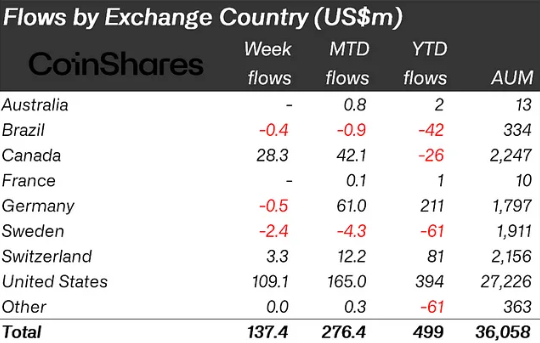 Also Read: Binance Has Been Approved as a Virtual Assets Service Provider in France