The hype associated with Artificial Intelligence [AI] is far from cooling down. Companies from different sectors have been trying and testing this technology. In fact, several prominent names have also started integrating AI into their core business models. Solana Labs is one such company. Solana Labs officially integrated AI into its network via a ChatGPT plug-in. The add-on/extension has been developed by Solana Labs itself.
The plug-in will be geared toward end users at first. It will initially focus on NFTs. This means it can be used to buy and list NFTs, transfer tokens, check out transactions, interpret data and find NFT collections by floor price.
As analyzed in an article yesterday, Solana is currently clasping onto the third spot on the NFT sales front. Over the past week, it managed to foster $7.7 million in sales. On the monthly, the number currently stands around $55.5 million. Thus, it can be contended that users are quite reliant on Solana and are heavily using the blockchain for their NFT transactions. In such an environment, picking this sub-sector will likely prove to be fruitful for Solana. In effect, it could also help the team onboard users into the Web3 space.
Tal Tchwella, Head of Product at Solana Labs, revealed in a recent interview that the ChatGPT integration offers a new way for Solana users and developers to ask the AI service questions, while "making the experience simpler." The executive further stressed that the blockchain space is "way too technical." Thus, by integrating ChatGPT into Solana, users will be offered a "new opportunity to engage with it and understand what's really happening." Tchwella added,
"There's a lot of places this could be useful… We're hopeful to see more experimentation by dApps—and that'll be the exciting part."
Solana price
Usually, hype pumps are experienced when major developments shape up. However, Solana's price has continued to remain inert. It has been trading horizontally, around the $19 threshold since the second week of May.
The market is currently devoid of buying momentum, making it difficult for SOL to initiate a leg up. Even if bulls manage to enter into the picture, they'll have to overcome a handful of immediate resistances, including its EMAs, in the $20-$26 bracket. However, if sellers continue to call the shots, then SOL could drop down to either of its supports, around $17 and $13, depending on the intensity of bearishness.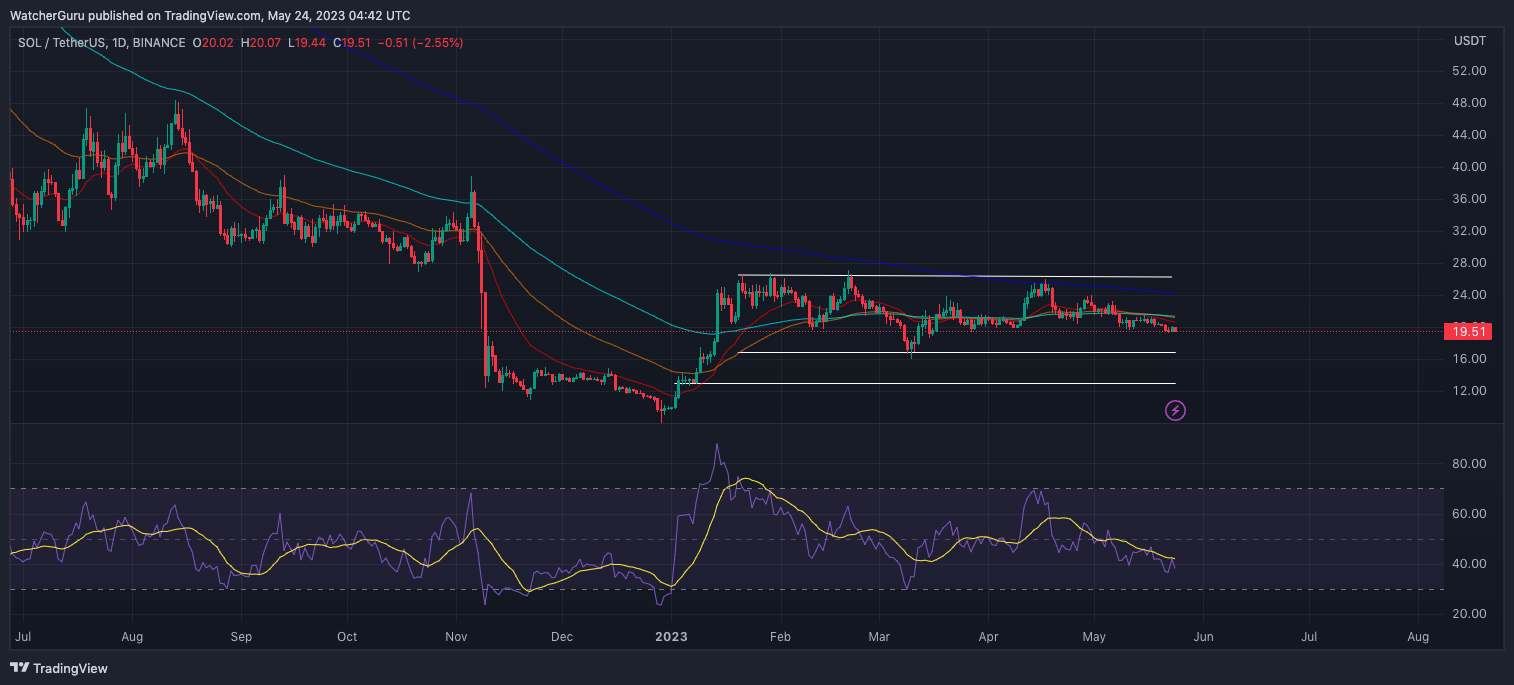 Also Read: Bitcoin Flips Cardano, Solana to Claim 2nd Spot in NFT Sales