Most assets on the cryptocurrency market have been rallying since the beginning of 2023. However, Solana's uptick has been more rapid in comparison. The token was one of the most severely impacted by the FTX collapse. In November 2022, it was trading at around $39. However, by the end of 2022, it had dropped to a low of $8. Since then, it has been recovering at a swift pace. A recent report from CryptoCompare revealed,
"SOL was one of the best-performing assets in January, returning 140% as it closed the month at $23.9."
Most asset prices consolidated in February. However, Solana continues to make bullish strides. Take the last few days, for example. Since Feb. 13, SOL has risen by 32%. Dogecoin, the cryptocurrency right next to it on the rankings chart, has risen by only 11% in the same timeframe.
Also Read: Beyond Dogecoin: Twitter 'Killer' to Soon Launch Bitcoin Tipping
Time for a Solana x Dogecoin flippening?
As a result, the market cap gap between the two has been declining. According to Satiment's data, Solana's market cap has surpassed $9.8 billion. Dogecoin's net worth, on the other hand, currently stands at $11.68 billion.
As shown below, SOL has been able to add to its market cap at a much faster pace relative to its counterpart, Dogecoin. The steep inclination of its curve over the past few days justifies the same. Hence, if Solana continues to command and Dogecoin remains submissive, a flip may materialize going forward.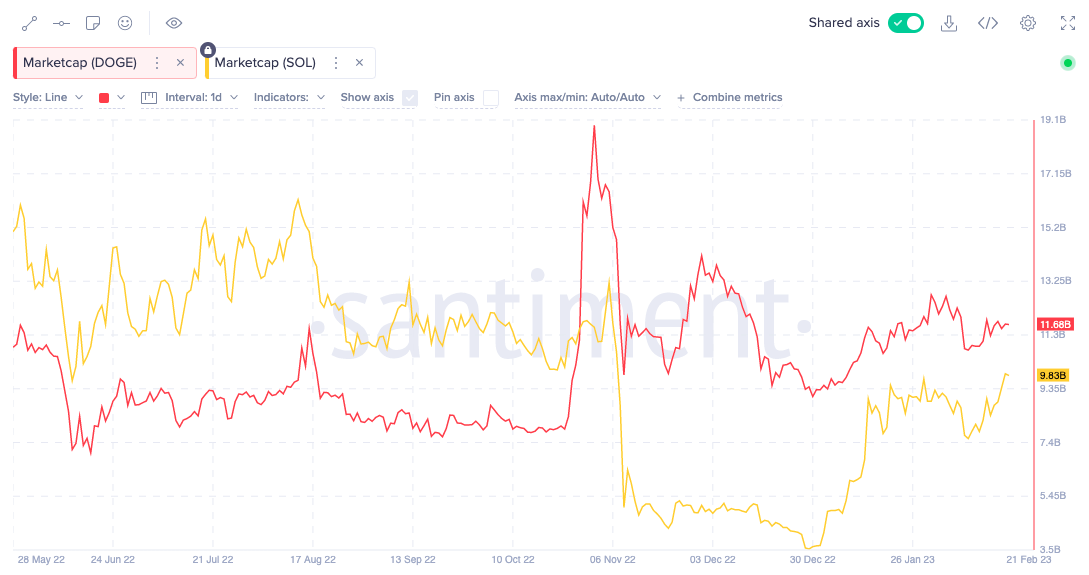 Also Read: Elon Musk Announces Dogecoin's Shiba Inu Dog as the New CEO of Twitter
As far as the fundamentals are concerned, Solana seems to be in a comfortable position. According to CryptoCompare, the total value locked in the Solana ecosystem grew 48.9% in January to $560 million, making it "the fastest growth in TVL compared to most other major Layer-1 blockchains." The report labeled the rally as a "welcomed move" for the Solana ecosystem.
From the technical perspective, there is also enough upside space for Solana to rally. As analyzed in an article yesterday, if the bullish momentum persists, a rise up to $37–$38 is possible. The same would translate to a 40%+ hike for the asset.