The Solana network has experienced a host of outages over the past year. Back in June, the mainnet was victimized by non-determinism that prevented the network from advancing further. Surging transactions caused another outage at the beginning of May. Before, in September last year, Solana experienced a 17-hour outage which it attributed to "resource exhaustion."
Read More: Would Solana end up killing itself before Ethereum?
Now, on 1 October, the network experienced another outage that lasted for around 6 hours and 19 minutes. Reportedly, a misconfigured node caused the Solana network to stop processing transactions and go offline this time. As a result, regular activities were abruptly halted on the blockchain.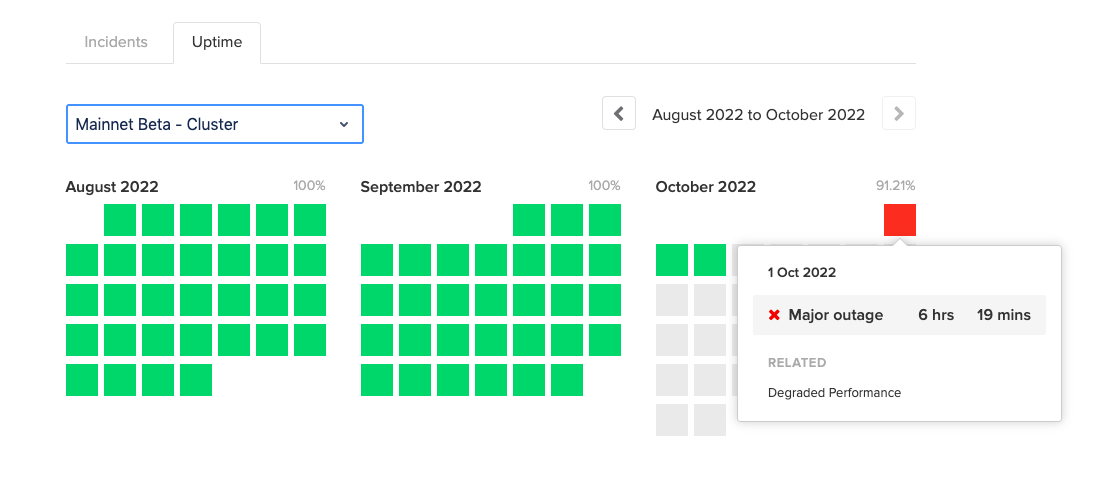 How do things stand for Solana at the moment?
The last confirmed slot before the outage was 153,139,220. Within a few hours, developers got the network back online. At press time on Monday, the slot height stood at an elevated 153,480,157—indicating that things were getting back on track.
In fact, the TPS count—the number of transactions that the network processes every second— and the success rate supported the same narrative.
The former was seen hovering back around pre-outage levels, around the 3k mark on Monday. The latter, on the other hand, noted an incline from 77% to 82% over the past hour, highlighting the rise in the number of transactions getting through on the network.

At press time, there was another exhibit of users re-starting using the Solana network. Data from CryptoSlam brought to light that the NFT sales on the blockchain noted an 8% incline over the past day and fostered a total number of 40.07k transactions.
On Ethereum, for reference, NFT sales volume had dropped by 15% over the past day. Resultantly, only 19.9k NFT-related transactions were executed on Ethereum in the said time frame.

The price of Solana's native SOL token has also remained almost unchanged over the past day. After noting a mere 0.3% downward deviation, the token was trading at $32.33 at press time.