Tron's founder—Justin Sun—announced on Thursday that Tron will have its native stablecoin called USDD from 5 May. The stablecoin will not operate like traditional ones like how Tether [USDT] and Circle's USD Coin [USDC] do. The said decentralized algorithmic stable asset will use TRX to help it stay pegged to the dollar—along with $10 billion of crypto as collateral.
Per Sun,
"When USDD's price is lower than 1 USD, users and arbitrageurs can send 1 USDD to the system and receive 1 USD worth of TRX. When USDD's price is higher than 1 USD, users and arbitrageurs can send 1 USD worth of TRX to the decentralized system and receive 1 USDD."
On the announcement of the same, chatter on social platforms concerning Tron blew up. As can be noted below, Tron's social volume has registered two back-to-back spikes on its chart.

Other stars too align in Tron's favor
During the early hours of Friday, almost all the top coins were trading in the red. MATIC, XMR, LRC, and THETA were the hand-picked 4 coins from the top 80 that were trading in the green after noting 1%-4% daily appreciations.
Tron, on the other hand, was up by 8.1%, leaving behind the top 80 coins, including the aforementioned 4 alts. At press time, TRX was valued at $0.06826.

Here it is worth recalling that back at the beginning of the month, Near Protocol's native token NEAR rallied on the back of its stablecoin launch news. And now, looks like Tron is following the same path.
Owing to the price surge, the alt's Sharpe ratio swung up from 1.17 to 3.19, highlighting that investors have started being compensated via returns for the risk endured by them.
Essentially, the alt's market cap dominance too noted its sharpest daily spike in over 3-months. From 0.34%, the said metric notched up to almost 0.4%.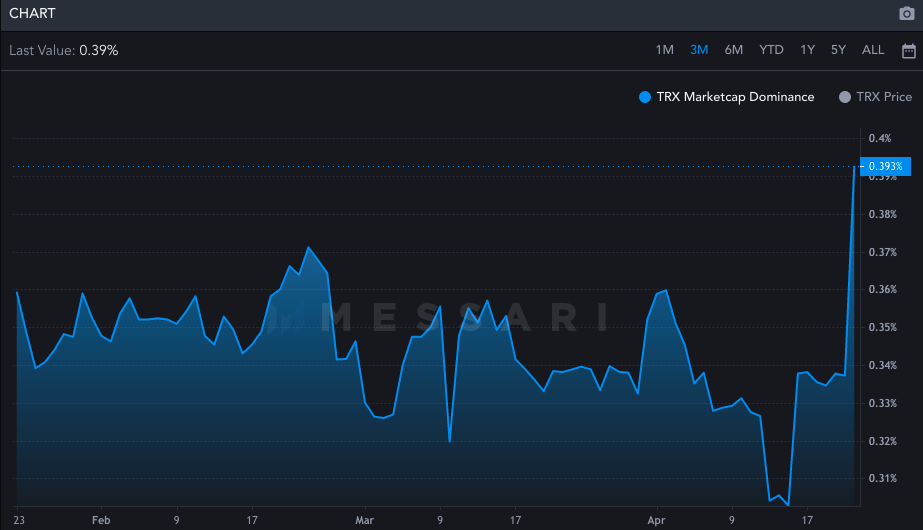 Alongside, Tron's network-related stats also noted one of its steepest inclines. As illustrated below, yesterday's 1.48 million and today's 1.46 million active addresses are pretty much standing at their quarterly peak.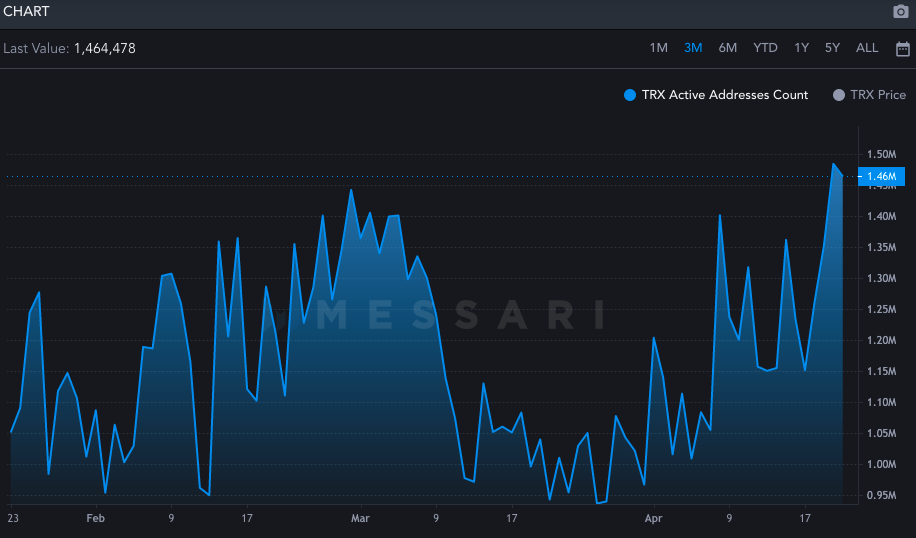 Thus, along with the price rise, most of Tron's on-chain metrics as well paint quite a bright picture at the moment, indicating that TRX's appreciation was not just catalyst driven [the stablecoin announcement], but was organic and backed by fundamentals too.