The cryptocurrency market has been in the green for three consecutive days and has also reclaimed the $1 trillion market cap. Optimism in the markets is slowly inching back, and altcoins are experiencing decent gains after the recent meltdown. Surprisingly, data from CoinMarketCap shows that Terra's LUNA and LUNC are among the most trending cryptos this week, taking the first and third spot, respectively. Polygon Matic is second after pumping nearly 64% in the last seven trading days. The development shows that interest among investors in both assets has not waned and is keen on betting on its price.
While LUNC fell to Earth and is now trading at a few Cents, LUNA is inching towards breaching $2. Both the cryptos are now affordable, giving access to retail investors to place riskier bets and claim profits.
Also Read: Cardano Price Prediction 2030: What ADA Might Be Worth in 8 Years
Here's Why LUNA & LUNC Are Trending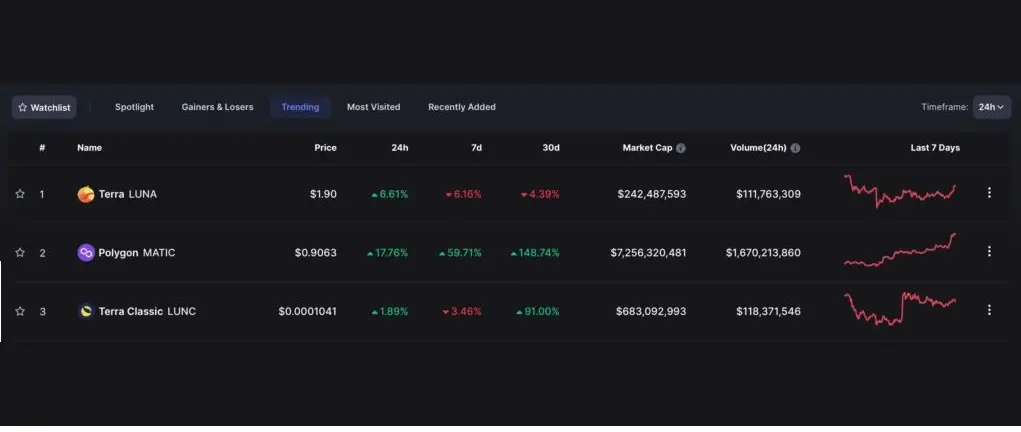 LUNA and LUNC are arguably not trending for the right reasons. Investors are keen to know if LUNA and LUNC are still surviving in the market and, therefore, regularly check their prices. The Terra ecosystem has attracted much interest after TerraUST and LUNA fell to $0 in May. Its rebirth and rebranding created curiosity, making investors check its developments constantly.
In addition, new reports of alleged wrongdoings, along with investigations pinned up against Terraform Labs and its founder Do Kwon, keep users in a tab on LUNA and LUNC.
Therefore, more than attracting investment purposes, the assets are currently attracting curiosity from the crypto community. Investors see both the tokens negatively with skeptical eyes than thinking of investing their money in them.
Also Read: How 2 Low-wage Workers Turned Millionaires With Shiba Inu
Terra Coins Lackluster Performance
LUNA and LUNC have been trading on the backfoot and barely displayed signs of moving up in price. Analysts and industry pundits have written off LUNC, and the crypto is now a gambling den.
On the other hand, LUNA is nearly down 90% from its all-time high of $18 (on launch day). LUNA is yet to gain the investors' trust and can only be possible if it miraculously shoots up in price, which is highly unlikely.
Also Read: Germany & USA Are Friendliest Crypto Countries: Here's the Top 10 List
In conclusion, LUNA and LUNC trending on various crypto websites are mainly for the wrong reasons only. At press time, LUNA was trading at $1.98 and was up 7% in the 24 hours day trade. LUNC was trading at $0.00010508 and is up 0.5% in 24 hours.