Terra Luna takes the top spot of trending cryptos on CoinMarketCap as investors are betting heavily on its price. LUNA 2.0 rallied during the last week of July and went from $1.50 to $2.56 in less than a week. The revived crypto is up nearly 25% this week and is attracting investors due to its sudden price rise. Luna is now the most searched crypto on CMC, followed by Pancake Swap (CAKE) and LUNC. LUNA and LUNC are at the top, and the development suggests investors could be betting on its prices.
Also Read: An $8,000 Shiba Inu Investment Amassed $5.7 Billion in 400 Days
Despite LUNC collapsing to $0, the crypto is still experiencing interest as its weekly market volume reached $1.1 billion this month. The cryptos are yet to be written off as their price continues to shoot up despite the dramatic crash in May.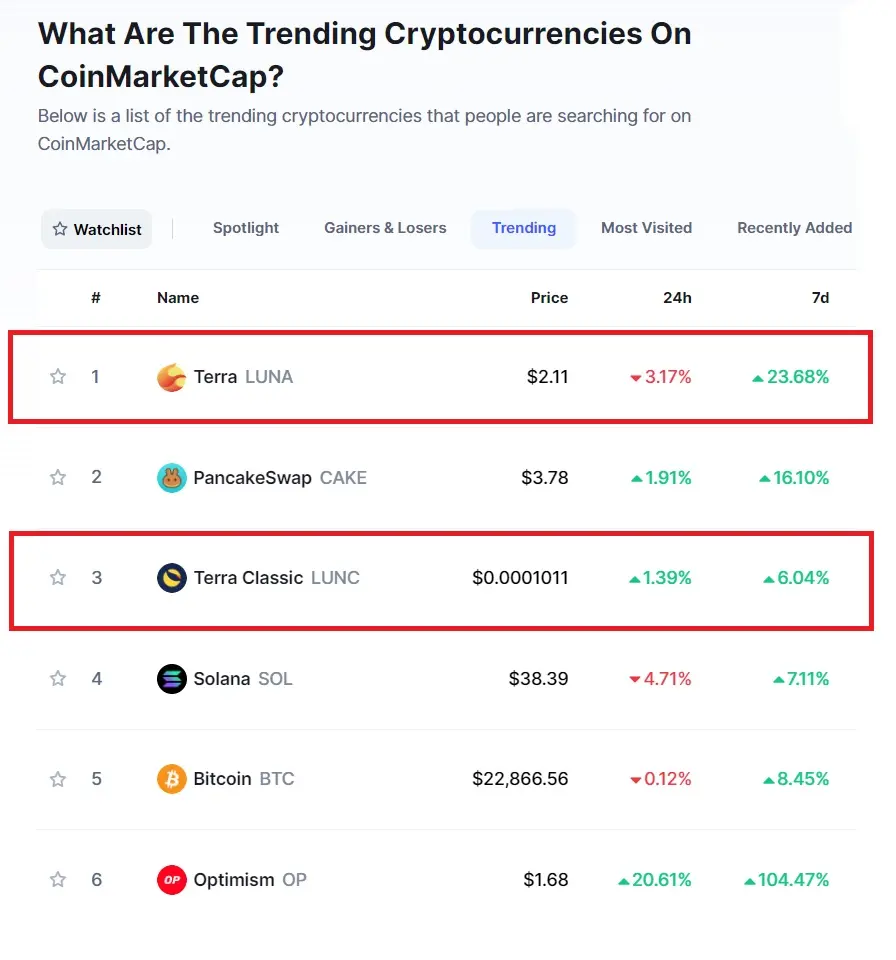 Should You Invest in LUNA & LUNC?
Going all in on LUNA and LUNC is risky, as Terraform Labs is mired in controversies, investigations, and lawsuits. If the authorities unearth updates about any wrongdoings, both the old and the new crypto could plummet.
South Korea, Singapore, and the U.S have opened investigations against Terraform Labs and its founder Do Kwon. The three countries are sharing information about the ongoing findings, and it's only a matter of time before things are out in the open.
Also Read: Shiba Inu Turns 2: Here's How Many Zeroes it Deleted Since Launch Day
In addition, South Korea's Ministry of Justice has issued a "notice upon arrival" for Do Kwon and Shin Hyun-Seong. The walls seem to be closing, which could spell danger for LUNA and LUNC.
It is advised to stay clear from both the cryptos until the investigations are complete. Several allegations of fraud have already been pinned up against Do Kwon. The risk factor is too high as government authorities are involved, and the investigations can dive much deeper.
At press time, LUNA was trading at $2.12 and was down 2% in the 24 hours day trade. On the other hand, LUNC is trading at $0.00010118 and is up 1.8%.
Also Read: Solana Price Prediction: Can SOL 'Turbo Rally' To $80?