Tether's market cap has claimed a new all time high. Last month, the figure exceeded $83.5 billion and helped Tether re-claim its 2022 peak. However, it retraced right after. The conditions changed again by mid-July, and with the momentum on Tether's side, the asset's valuation climbed beyond $83.8 billion. Pointing out what this means, a recent IntoTheBlock analysis noted,
"The market cap has now confidently reached a new all-time high. This shows that despite regular FUD, USDT continues to validate its position as a trusted stablecoin."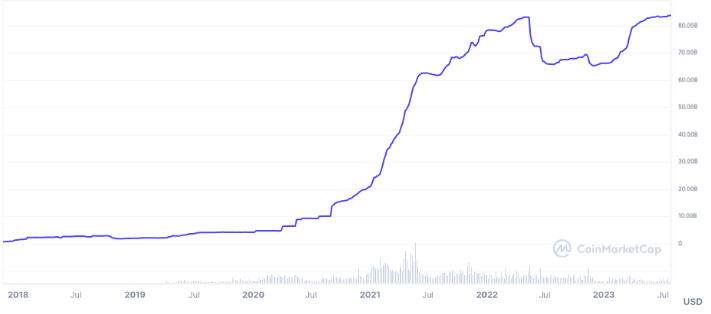 The timing of this achievement is quite commendable because the overall stablecoin market value has been on a downtrend. Billions of dollars have been shed so far in 2023. Owing to the 7.0% YTD decline, the total stablecoin market is now worth $128.1 billion. Tether's dominance currently stands at 65.4%. In fact, in Q2 2023, USDT also leapfrogged USDC on the market share front, becoming the stablecoin with the highest market share on the Ethereum network.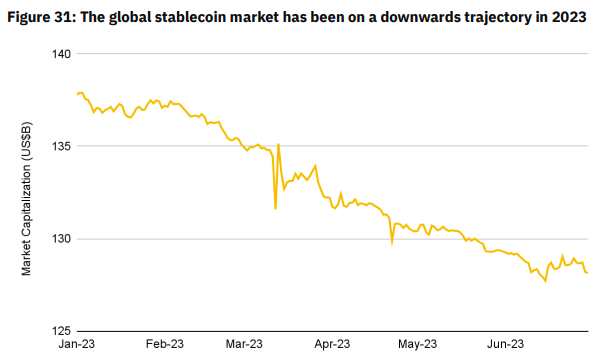 Also Read: Singapore Court Declares Crypto as Property in Bybit Case
The Tether-Tron Bond
Tether's supply on Tron has also swollen up to $40.6 billion, giving it a "unique position" in the stablecoin market. The aforementioned figure accounted for around 92.4% of Tron's total stablecoin market cap. A recent Binance Research report attributed Tron's USDT dominance to fundamental factors. Tron has been enhancing stablecoin utility on the network. BitGo recently announced support for Tron-based USDT for hot wallets and qualified custody. Alongside, Telegram released a functionality allowing users to send TRC-20 USDT to their contacts. The report highlighted,
"With Tron positioning itself as the ideal network for non-custodial storage of USDT, such integrations have certainly been welcomed by large holders of the stablecoin."
Several from the community have taken social media to highlight the perks of using Tether on Tron. Prominent podcaster and Bitcoin proponent Peter McCormack recently tweeted about a real-life instance of how Tether on Tron helped him ditch ATMs and their high transactional costs. Acknowledging the same, Tron founder Justin Sun said,
"Exciting to witness Tether on Tron gaining traction in Latin America! Tron, known for speed and low fees, complements Tether's goals."
Also Read: Coinbase: Base TVL Rises Over 100%, Approaches $1 Million