Crypto tracking sites allow you to follow up on your amount and the value of cryptocurrencies over all platforms, wallets, exchanges, and blockchains. However, the cryptocurrency industry keeps repeatedly changing in that you can be at the peak of the market or be in the pits the next moment.
Tracking sites for cryptocurrency are important to track your crypto worth, historic transactions, sources, and transactions. Here are some of the best sites you can use to track your crypto coins. 
READ ALSO: What is SafeMoon's Burn Rate?
1. Voyager
This site is popular for investing in crypto. It is among the first sites used to trade cryptocurrencies, and it comes with a commission-free offer. Voyager sustains many cryptocurrencies with solid support, great engagement, and the pay has great interest rates on assets. Voyager site is easy to use, offers free commissions, and has great interest rates.
READ ALSO: How to Buy Luna Coin | an Absolute Guide 
2. BlockFi
This site allows you to earn interest and also lend. It also comes with the option of selling your tokens and coins; moreover, you have an option of borrowing against it with your holdings. Furthermore, if you have tokens, you can earn interest from them.
3. Uphold
This site comes with multiple trading assets. This allows you to open the site and trade several assets without making trips to your saved cash. Uphold allows you to DOGE, XRP, and a lot more. The site is made up of a simple structure, and there are a lot of crypto tokens. You can open the site using both mobile and desktop.
4. Kraken
If you're looking for original crypto coins sites, Kraken is one of them. The site allows you to trade your coins and invest your currency. This site also allows margin trading. However, if you compare this site to others, it's not easy to use. Kraken lets you trade risky tokens such as DOGE.
5. eToro
This site is very popular among cryptocurrency traders. The site comes with huge offers, including digital assets where you can buy and sell crypto coins. Before investing, this site allows you to have a free trial to practice trading. On this site, once you put in $100, you get a bonus of $10.
READ ALSO: How Trade Shiba Inu on eToro
6. Crypto.com
Crypto.com one of the fastest and largest cryptocurrency exchange platforms. It offers tons of support to users in many countries and is based in Hong Kong. Crypto.com allows you to gain 90 tokens worldwide and 50 tokens in the United States. However, this site has one challenge: you can't open it over your desktop. 
7. Binance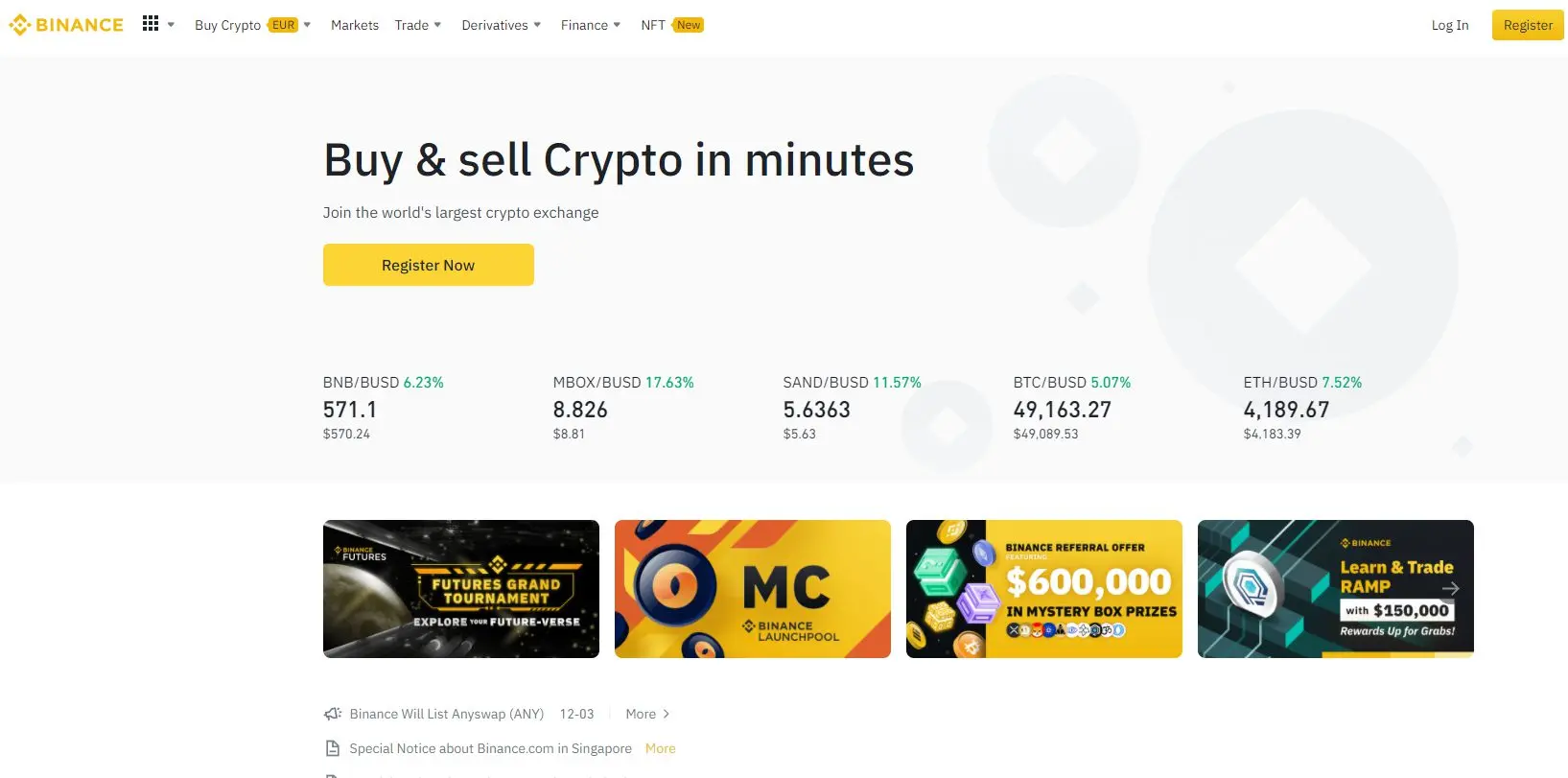 If you want to gain coins like Neo and Cardano, this site is the best platform. Binance is a powerful crypto tracking and trading platform, but it comes with its challenges in that it's not easy to use and has limited coins and tokens. If you want to invest using this site, use its international version.