According to the data from Nansen, Pepe (PEPE) is the most searched token on the platform. Nansen reported that the new memecoin was the most searched among different subscription groups last week. A similar sentiment is prevalent on other exchanges as well.

On CoinMarketCap, the new dog-coin rival is number three on the most visited tokens. The new memecoin is also trending on CoinGecko, where it sits behind ChainGPT and Bitcoin (BTC) at press time,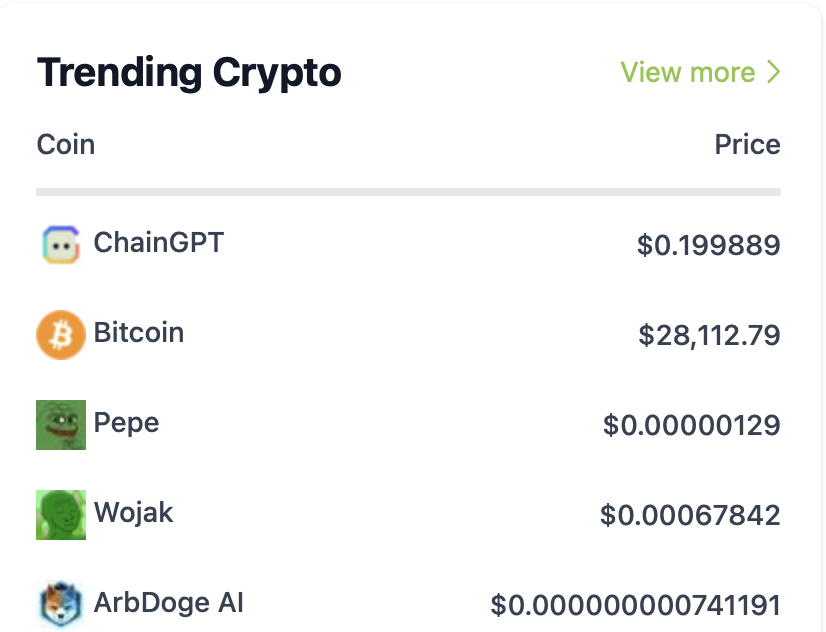 Pepe's popularity is also solidified by its rising trade volume. The new crypto project has overtaken its rival Dogecoin (DOGE) in its trade volume. Pepe has a trade volume of $425 million in 24 hours, about $124 million higher than Dogecoin's $304 million. Additionally, the new memecoin has also surpassed Shiba Inu's (SHIB) trade volume, which currently stands at $127 million.
Pepe's liquidity issues
The new frog-themed token has skyrocketed in value. Many individuals have turned triple-digit investments into six figures. However, investors are not able to convert the same amount into fiat. This is primarily due to the low liquidity of the project. Moreover, if a large number of investors were to cash out, the price of the asset would plummet.
However, with such a high interest in the project, more exchanges may line up to list the token. An increase in listings could give the project the necessary liquidity it needs. Shiba Inu (SHIB) also had a similar phase, but the popularity of the token urged exchanges to list it. However, the SHIB community actively ran campaigns to get the token listed on various platforms, such as Robinhood. The Pepe community will also need to take such measures if they wish to participate in resolving the project's low liquidity.
At press time, PEPE was trading at $0.00000131, up by 25.5% in the last 24 hours.