The Sandbox and Saudi Arabia have joined hands to foster metaverse-related initiatives. The announcement was made during the Leap Tech Conference in Riyadh. The metaverse gaming platform and the Middle East nation's Digital Government Authority signed a memorandum of understanding to mutually assist each other with metaverse-related developments.
The Sandbox Co-Founder and COO Sebastien Borget announced the partnership on LinkedIn. He stated,
"It was a true honor to sign our MOU partnership ceremony between The Sandbox and the Saudi Arabia Digital Government Authority (DGA) during leap2023 conference.
Hinting at what the parties intend to achieve via the partnership, Borget said,
"… we look forward to exploring, advising, and supporting mutually each other in activations of the Metaverse!"
Watcher Guru reached out to Borget for a comment. Nevertheless, more details are expected to be revealed in the coming weeks.
Also Read: Saudi Arabia Central Bank Announces CBDC Experiment
SAND price reacts
The Sandbox's native cryptocurrency SAND registered a long green candle on Tuesday. Doing so helped the asset break free from its consolidation phase. The price of SAND rose from $0.7 to $0.93, bringing the percentage incline to more than 30%.
Nevertheless, the was a slight retracement, and The Sandbox's native cryptocurrency was seen exchanging hands at $0.88 at press time.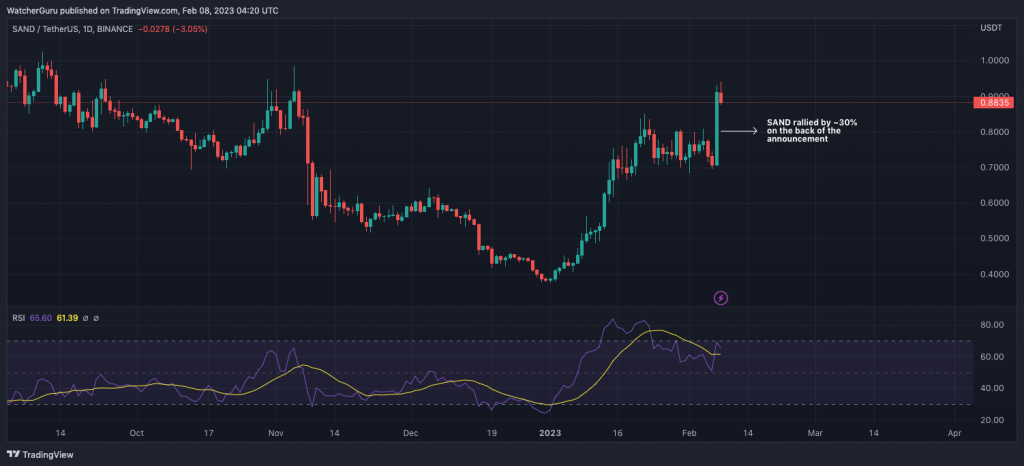 Also Read: Saudi Arabia is Willing to Settle Trade in Currencies Other Than US Dollar
In a January blog post, The Sandbox revealed that over the past 12 months, the number of partners joining its ecosystem "doubled." It has been able to build "a 700+ diverse partners ecosystem" around the world. With global brands bringing their communities to the metaverse and agencies, studios, and tech platforms building experiences, The Sandbox has been at the forefront of key developments.
Additionally, the project has also been branching out and expanding its reigns. The post highlighted that Sandbox,
"Opened new offices in 5 countries (United Kingdom, Canada, Singapore, Thailand, Uruguay) to foster The Sandbox's global DNA — now in 10 countries — while ensuring stronger local relevance."