Over the past four days, Ethereum has shredded off more than $1000 from its valuation. On 20 January, the market's largest altcoin created a local peak of $3,273. Post that, it plunged down to a level as low as $2,159 yesterday.
Amidst the said price dive, large amounts of Ethereum tokens have been floating around, as whales have been buying and selling this alt.
READ ALSO: Ethereum Whale adds more Shiba Inu but its top asset is rather suspicious?
Just a couple of hours back, Whale Alert brought to light two large transactions carried out by Ethereum whales that involved 30,095 Ether. In the first transaction, Ethereum was just shuffled and moved from one address to another.
Then, in the second transaction, the receiving unknown address sent all the 30,095 Ether tokens to the FTX crypto exchange.
Notably, both the transactions wound up within a span of two minutes.
So, are whales really selling?
Analysis platform Santiment brought to light the contrasting behavior pattern portrayed by exchange and non-exchange whales.
The non-exchange whale addresses, in conjunction, currently HODL an all-time-high of 26.22 million ETH. Well, HODLings rise only when more tokens are bought. Thus, it can be said that the peak achievement was a result of their novel buying spree.
The supply held by the top exchange addresses, on the other hand, has dumped down to 3.52 million Ethereum – the lowest amount since August 2015. Exchange supply shrinks as and when tokens are bought and moved out. Thus, the exchange supply depleting too has to be ascribed to the buying-spree.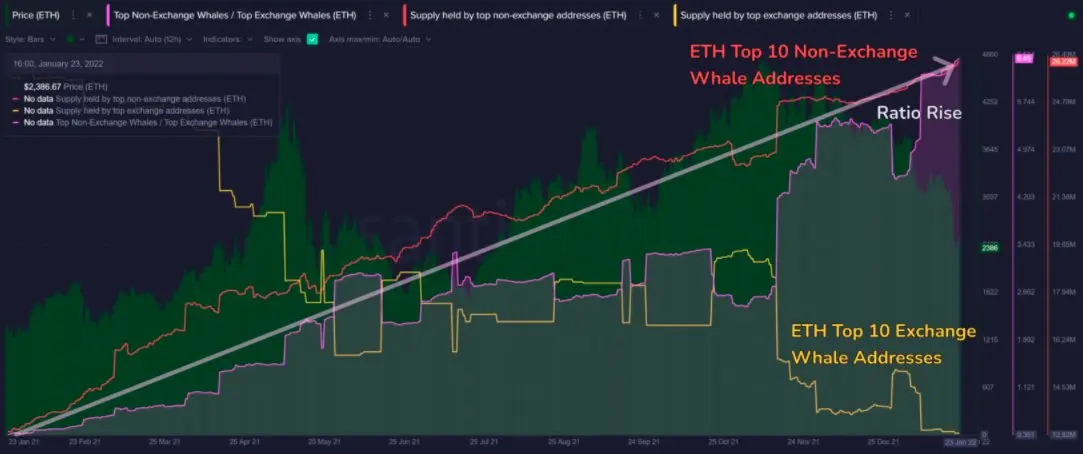 Analyzing the state of the broader landscape
The broader landscape looked quite similar to the aforementioned whale landscape. Consider this – the cumulative deposit addresses have largely been revolving around the 16k mark since the end of November. Even now, they're hovering around the same mark.
READ ALSO: Ethereum Price Prediction: Is Ether on course for $4K?
A rise in the number of these addresses usually implies that more investors are selling their HODLings. However, keeping the current state of this metric in mind, it can be said that the Ethereum market is not facing any sort of additional sell pressure at the moment.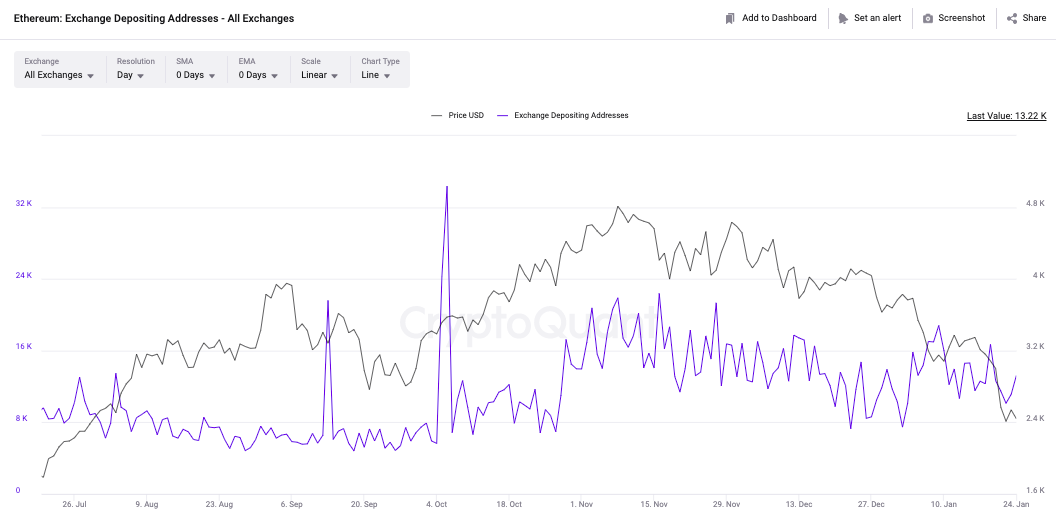 The exchange netflows too have mostly been registering red bars since the end of December. This means that inflows have been exceeding outflows in the said period. The same, further cross-confirms the absence of sell-side pressure in the Ethereum market.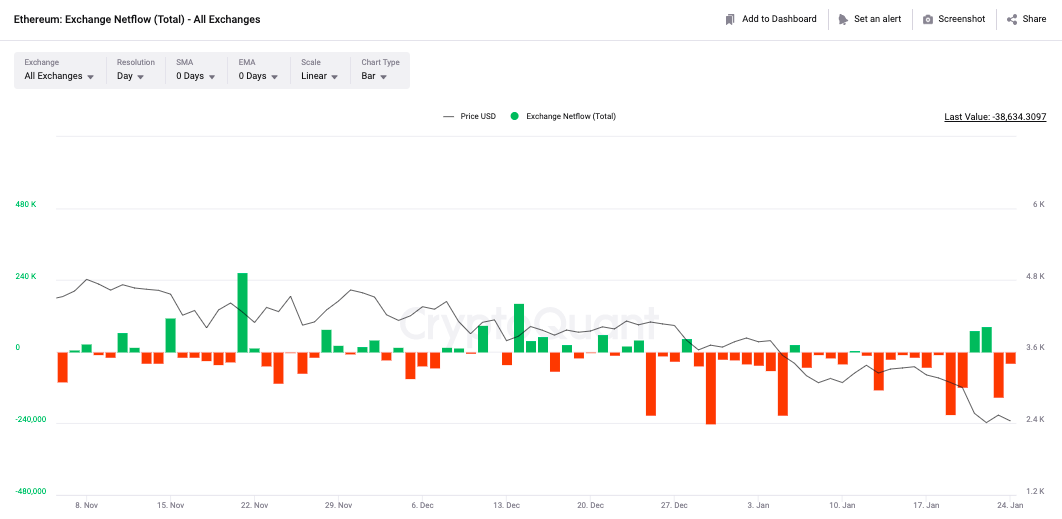 The buy transactions conducted by Ethereum market participants, including whales, have managed to shield its market from the. So, if they continue to encash and buy the dip, ETH could possibly witness a recovery riding on their back.