The first few orders of Solana's phone, Saga, have been shipped. The Android-compatible smartphone has features that allow it to participate in the SOL blockchain. However, as per a tweet from the Solana Mobile Twitter handle, the phone might participate in BONK burns. BONK is a new memecoin from the network that has seen a massive 4335.25% growth in just a week.
The Solana Mobile Twitter page asked its followers if they would purchase the Saga phone using BONK. Of the 2072 people who responded, 75.5% said that they would.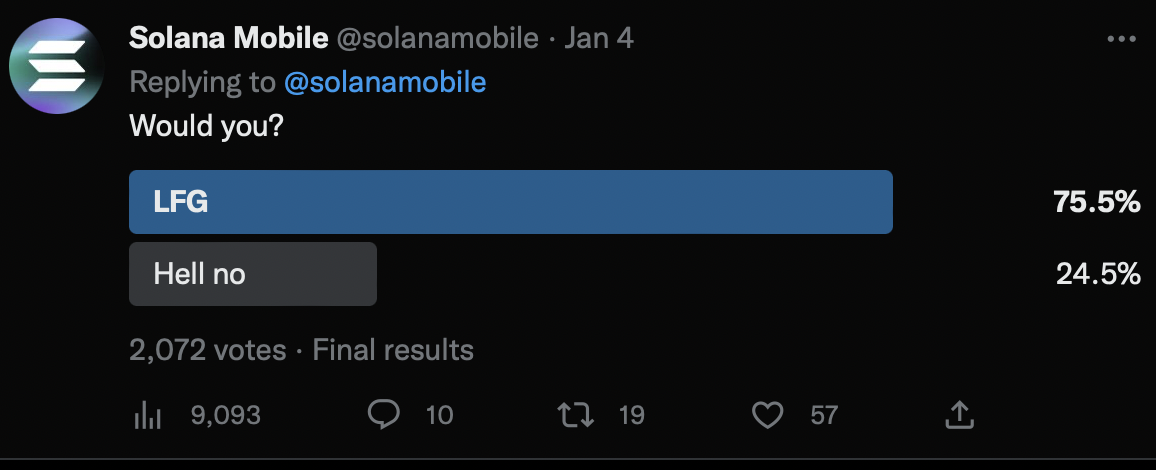 However, one user replied that they would buy the Saga phone if the network burns part of the $BONK they earn via sales. The Solana Mobile Twitter page replied, "Stay tuned."
Therefore, apart from purchasing the Saga phone using $BONK, there is also a possibility that the company would burn part of the $BONK that it earns via sales.
Many are comparing Solana's new memecoin to Shiba Inu (SHIB). Moreover, like SHIB, BONK also has burn features. However, $BONK has a much lesser circulating supply, 99.185 trillion, compared to SHIB's 549 trillion.
Additionally, 815 billion $BONK tokens have been burnt so far. However, over half of the amount burned was intended for the DeGods squad, Solana's most well-known NFT collection.
Solana's future plans
Solana co-founder, Raj Gokal, discussed decentralization and the social layers recently. He claims that social networks, financial systems, state systems, national governments, payment networks, NFT exchanges, consumer products, and memes are all combined in L1 blockchains.
Furthermore, Solana (SOL) faced extreme uncertainty during the collapse of FTX. The token was one of the worst-performing in 2022 due to the FTX saga. However, things seem to be changing for the network of late. The token has rallied by 35.1% over the last week.
At press time, SOL was trading at $13.20, down by 3.5% in the last 24 hours.