The crypto-verse was rattled as a new contract deployed by Unibot, a well-known Telegram bot fell victim to exploitation. This breach resulted in the misappropriation of approximately $580,000 worth of various meme coins from users. It should be noted that the network is utilized for executing rapid trades on the decentralized exchange Uniswap. This occurrence has cast a spotlight on the vulnerabilities inherent in decentralized platforms and the security of digital assets.
On Oct. 31, security analysts at PeckShield were the earliest to express apprehension. They exposed the hidden breach that had escaped detection within Unibot, revealing an exploit that specifically aimed at a recently added Unibot contract. This resulted in the gradual erosion of cryptocurrency holdings belonging to unaware users. Their report highlighted the impact of the breach, estimating that around $580,000 worth of cryptocurrency had been affected.
Unibot subsequently verified the breach. They offered initial insights into the situation with a statement. It read, "We experienced a token approval exploit from our new router and have paused our router to contain the issue." The breach is further attributed to a "token approval exploit" that had dire consequences for the affected assets.
Additionally, Unibot promptly confirmed the exploit and sought to reassure affected users about the safety of their keys and wallets. Furthermore, they committed to compensating for any losses incurred due to the vulnerability in their new router.
As the situation unfolds, both Unibot and blockchain investigators are actively pursuing ongoing inquiries. Scopescan has advised users to revoke approvals for the compromised contract (0x126c9FbaB3A2FCA24eDfd17322E71a5e36E91865).
The individual behind the breach has been in the process of converting the pilfered meme coins into Ether. This illicit activity has understandably caused concern among users and investors.
Also Read: Top 3 Cryptocurrencies To Watch In November 2023
UNIBOT Token Dips
The cryptocurrency market reacted adversely to this breach, resulting in an immediate 42.7% drop in the price of the UNIBOT token within a single hour, plummeting from $57.56 to $32.94. Nevertheless, at the time of writing, there are indications of a recovery effort underway in the token's value. The asset was trading at $45.72 with a 20% daily drop. This underscores the resilience of the cryptocurrency market when faced with security challenges.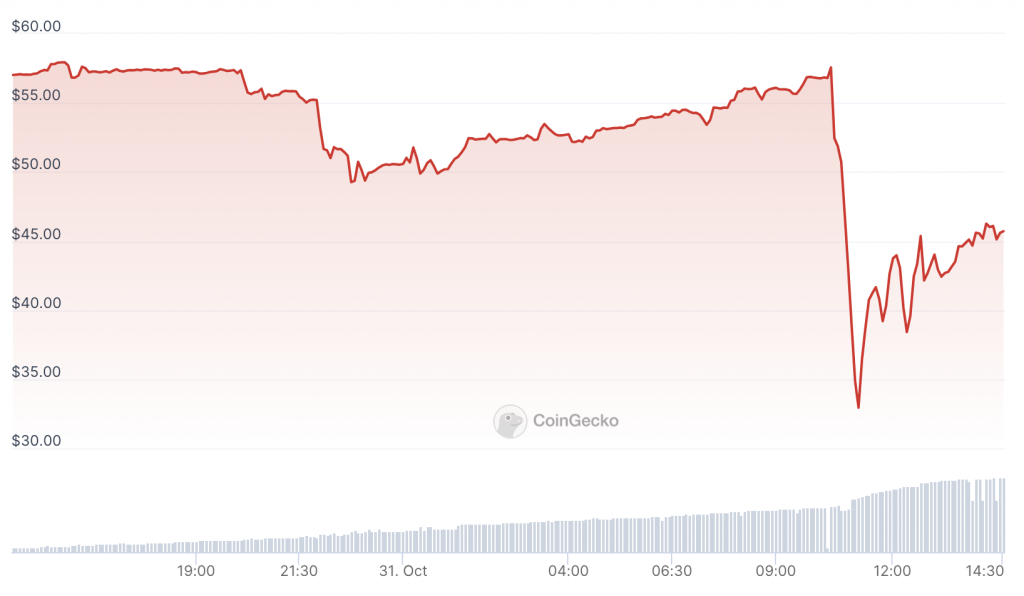 Furthermore, the incident serves as a stark reminder of the critical importance of robust security measures in the ever-evolving realm of cryptocurrencies. It highlights the need for investors and users to remain vigilant and take proactive steps to safeguard their digital assets. Additionally, it highlights the ongoing necessity for the enhancement of security protocols on decentralized platforms to mitigate the inherent risks associated with such exploits.
Also Read: UK to Regulate Crypto & Stablecoins with Finalized Stringent Rules