With most coins noting elevations in their respective prices, the crypto market was trading in the green on Friday. At press time, Uniswap stood second on the top gainers' list. After noting an inclination of almost 12% over the past 24 hours, the apex DeFi token was trading at $6.47.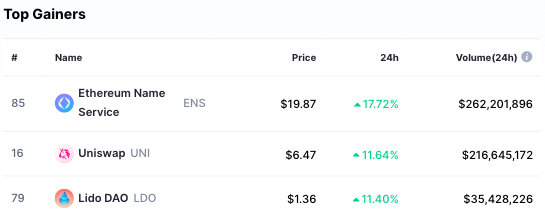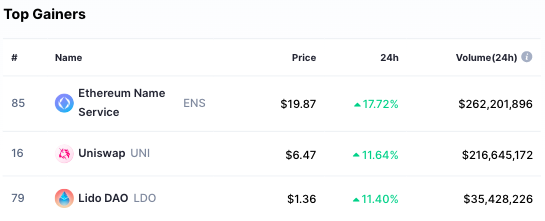 Also Read: US inflation falls to 8.2% in September
Catalysts that instigated the Uniswap pump
The broader market pump post the CPI data release did manage to pull up the prices of top cryptos, and Uniswap followed suit. However, there's another reason that managed to bring cheer to the UNI community.
Towards the end of September, it was reported that Uniswap Labs was engaging with a number of investors—including Polychain and one of Singapore's sovereign funds—to raise an equity round of $100 million to $200 million at a valuation of about $1 billion.
Read More: Uniswap seeks $100-$200M in funding at $1B valuation
A day back, the team announced that it had successfully raised $165 million. Notably, its Series B funding round was led by Polychain Capital. Other participants included longtime investors a16z crypto, Paradigm, SV Angel, and Variant.
The protocol's founder—Hayden Adams—revealed in the official blog post that the funds will be used to foster Uniswap's growth. The same will be done by investing in their web app and developer tools, launching NFTs, and moving into mobile among others.
Other effects that followed
Uniswap V3 commands a 47.7% share in the Decentralized Exchange market. For the most part of this week, the trading volume on the exchange hovered below the $500 million benchmark. However, a sharp inclination was registered over the past day, and the exchange trade volume stood north of $1.16 billion at press time.

On the TVL front, however, Uniswap failed to make any progress. The cumulative value of all funds on the DeFi protocol dropped from $5.08 billion to $4.77 billion, extending the macro downtrend.