Uniswap has garnered significant attention recently after releasing the code for its V4 update. The upcoming launch is intended to address the limitations of the previous versions. Uniswap's initial release was renowned for its user-friendly and straightforward nature. The latest version intends to maintain the same principles.
Uniswap V4 is introducing a new feature that departs from the previous version, where liquidity pools and concentrated liquidity were created. The upcoming version will enable the creation of pools with dynamic fees. This means that during periods of high trading volume, the fees may decrease. However, they may increase during times of low trading volume.
Also Read: Uniswap Labs Shares Roadmap for Uniswap v4
Despite the excitement and advancements associated with Uniswap V4, they did not translate into a significant impact on the network's decentralized exchange [DEX] volume. Recent data revealed that the DEX volume for June amounted to $34.24 billion. This was considerably lower compared to the previous months' figures. For the month of July, the network has recorded a total volume of $2.53 billion so far.
In addition to that, the comparison of trade volumes between Uniswap, Coinbase, and Binance shed further light on the performance of the network. Despite the anticipated boost from the buzz surrounding its upcoming update, its daily trade volume stood at $901 million. This was notably lower compared to the trade volumes observed on Binance and Coinbase, which were visibly higher.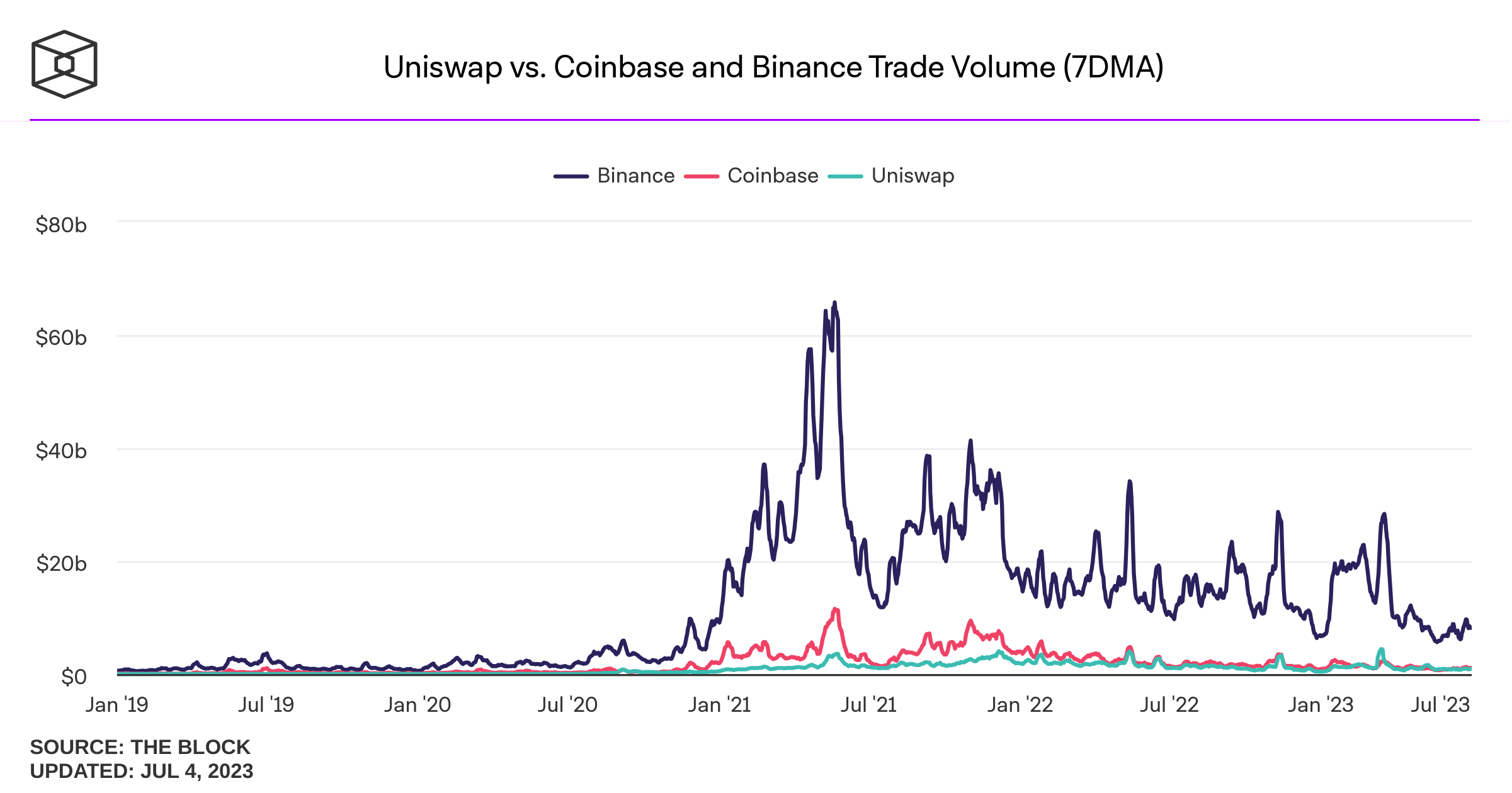 Also Read: Coinbase Jumps 12% After Spot Bitcoin ETF Partnership Reveal
Here's what to expect from Uniswap V4
Uniswap V3 undeniably holds a prominent position in the DEX arena. The platform offers a wide range of options, with a total of 908 coins and 1811 trading pairs available for users to engage with. Uniswap V3, specifically on the Ethereum network, has reported a 24-hour volume of $608,517,204 experiencing a change of -10.22% within that period. Among the various trading pairs, the WETH/USDC pair stands out as the most active, with a 24-hour volume of $265,012,855. Considering the fact that V4 has much more to offer, elevated volume activity may transpire for the DEX.