The Alt season index has been hovering around highs of late. As chalked out in a recent article, 75% of the top 50 coins have been able to outperform Bitcoin over the past 90 days, resulting in participants speculating that Alt season might be here.
Read More: Altcoin season index peaks: Ethereum, Cardano, XRP to rally
DeFi Summer is here too?
From mid-June's low of $34.8 billion, the cumulative value of all DeFi tokens has already risen by approximately 70%. On Thursday, the DeFi market cap stood at its multi-week high of $59.5 billion.
Alongside, there has also been a collective rise in the total value locked up in the DeFi ecosystem. Data from DeFiLlama revealed that from mid-June's lows of $53.3 billion, the number has ripened up to $70 billion.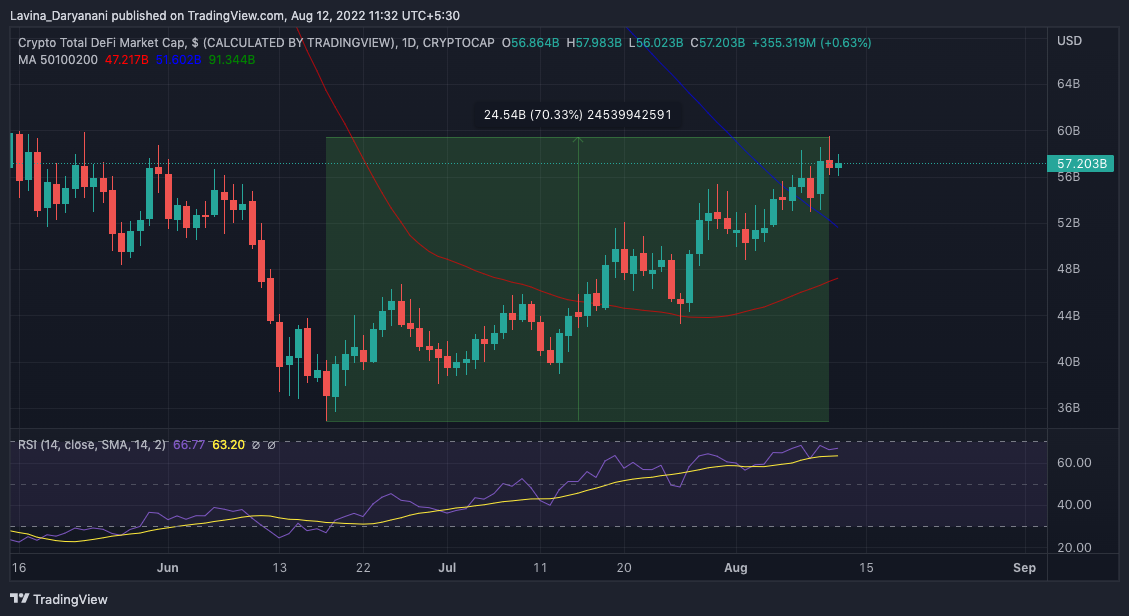 In fact, apart from fundamentals sharpening, interest with respect to DeFi tokens has also been on the rise. Data from WhaleStats brought to light that large market participants have been increasingly trading tokens like Maker and Uniswap.
Over the past day, Maker had been on the list of the top 10 purchased tokens among the 500 biggest ETH whales. Uniswap, on the other hand, managed to make it to the list of the top 1000 biggest ETH whales.
Further, data from Messari brought to light that the aggregated volume of both the tokens is also on an uptrend. Thus, it can be speculated that retail is also participating.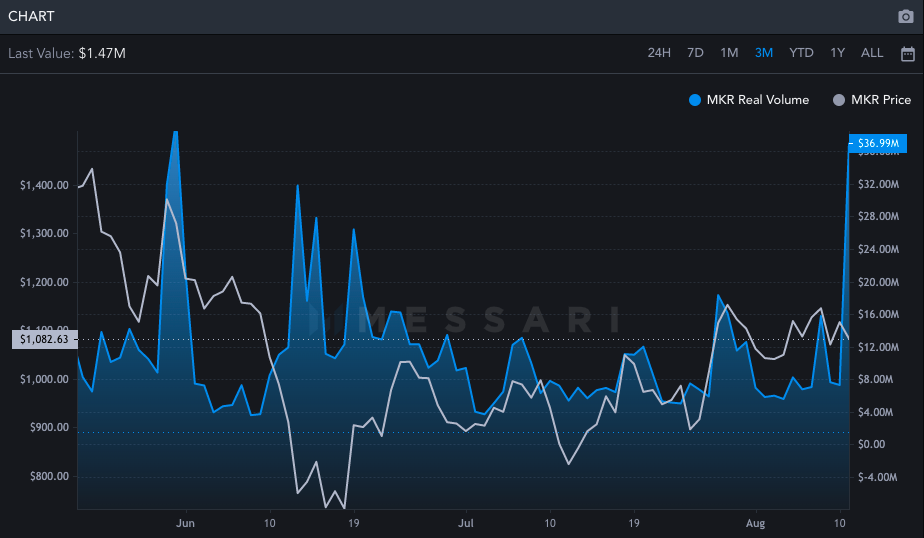 The moon is shining, but it's still dark
Data from LunarCrush revealed that the positive community sentiment associated with the likes of Uniswap and Maker has been fizzling out. Furthermore, the number of social mentions has also been shrinking. Take the case of Uniswap itself, for instance. Over the past week, social engagements have dipped by 17%, re-indicating the wearing interest.
Despite the rise in large transactions, prices have been falling on the micro front. Highlighting the same, one of Santiment's recent tweets noted,
"We have been seeing some price reversals ever since these spikes."
Thus, it can be deduced that the late participation rise connotes to selling. Now, if it were DeFi summer indeed, the mass accumulation would be going on and prices would've been on an uptrend. So, at this stage, even though it might be getting warm, it doesn't seem like a full-fledged summer is actually knocking on the door.