Uniswap is currently one of the most undervalued crypto assets. Since 2022, the asset's MVRV has been hovering below 1. From its 2021 high of $45, UNI is down by more than 86%. With the price now hovering around $6, more than 61% of the addresses are underwater at the moment.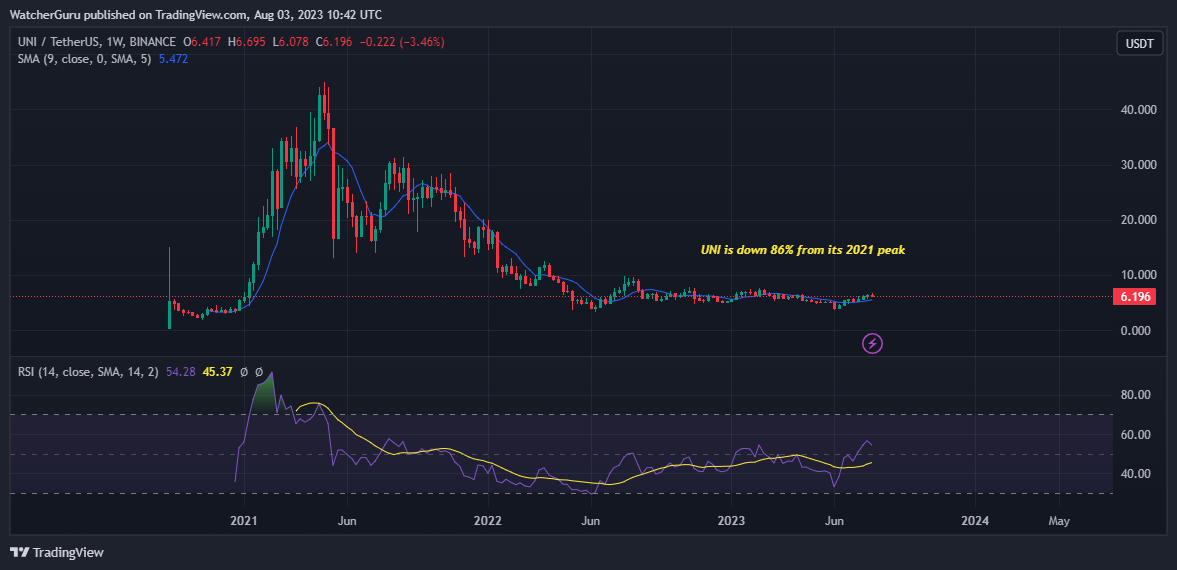 Also Read: FTX Confirms Plan to Relaunch Exchange
Despite the price conundrum, Uniswap continues to be the top DEX. Over the last 7 days, it settled trades worth $4.89 billion. Other competitors, right from PancakeSwap to Balancer, fostered volumes ranging from $500 million to $2 billion. Uniswap led the pack, despite the 4% volume dip registered over the past week. Alongside, Uniswap displayed superior TVL against its competitors as well.

Also Read: Binance 'Inaccessible' in China Despite $90 Billion Business Claims
UNI is 'Worthless': Analyst
A recent K33 research report brought to light that the DeFi protocol has generated $3 billion in trading fees since its inception. However, analyst Anders Helseth believed that the UNI token will never capture its fair share. In fact, he has also contended that UNI should be close to 'worthless.'
The analyst explained that in a slow DeFi market, the fully diluted value of the UNI token is 15x the trading fee paid [annualized]. If the UNI token captured all trading fees, the token would be a "no-brainer buy," he argued. However, that is not the case. He pointed out,
"The UNI token currently captures 0% of the 0.3% trading fee, which entirely goes to liquidity providers."
He further supported his argument with three other arguments in a Twitter thread attested below.
As a result, Helseth stated that it is "highly unlikely" for the UNI token to capture any significant portion of Uniswap trading fee in the future. Consequentially, he deemed the token to be worthless.
Also Read: India Becomes Top Crypto Employer in Asia: China, Singapore Trail