Uniswap launched its services in November 2018. It provides decentralized financial services based on the Ethereum blockchain. The exchange had grown to become one of the most significant decentralized exchanges. Uniswap also recently launched on the BNB Chain after the proposal passed with flying colors.
Now, according to the latest details from The Block Research, Uniswap has recorded notable spot market volume. The DEX also beat Coinbase for the second month in a row.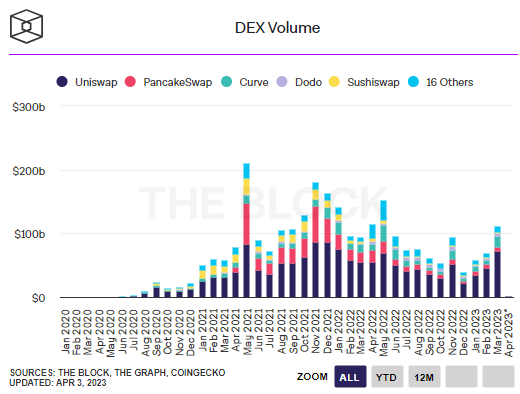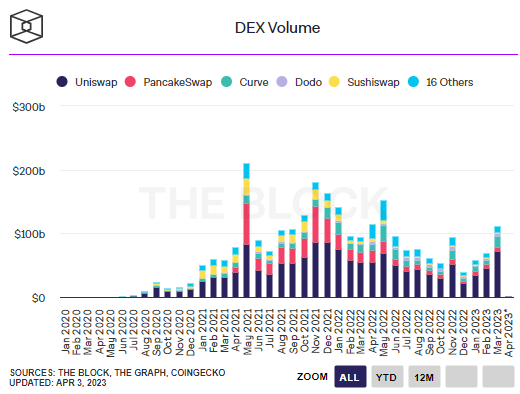 Uniswap records $71.6 billion spot market volume
According to the data, Uniswap recorded a $71.6 billion spot market trading volume in March. The data reveals that it is 45% higher than that of Coinbase.
The data also lays out proof that March was the best month for the DEX since January 2022. Coinbase recorded a $49.4 billion spot market volume in March. The rise in trading volume on DEXs like Uniswap is fair proof that users are steering toward decentralized exchanges.
Also read: Elon Musk Refutes $258 Billion Dogecoin Lawsuit: DOGE's Price Reacts
The tightened scrutiny by the SEC and US regulators has also affected the trading volume on Coinbase. The regulators are silently trying to bring down the cryptocurrency industry as a part of Operation Choke Point 2.0. Coinbase was also the subject of a Wells notice in May.