According to a statement released late Tuesday by Shiba Inu (SHIB) Metaverse developers, a user's wallet address has been blacklisted for drawing a Swastika on the project's metaverse land.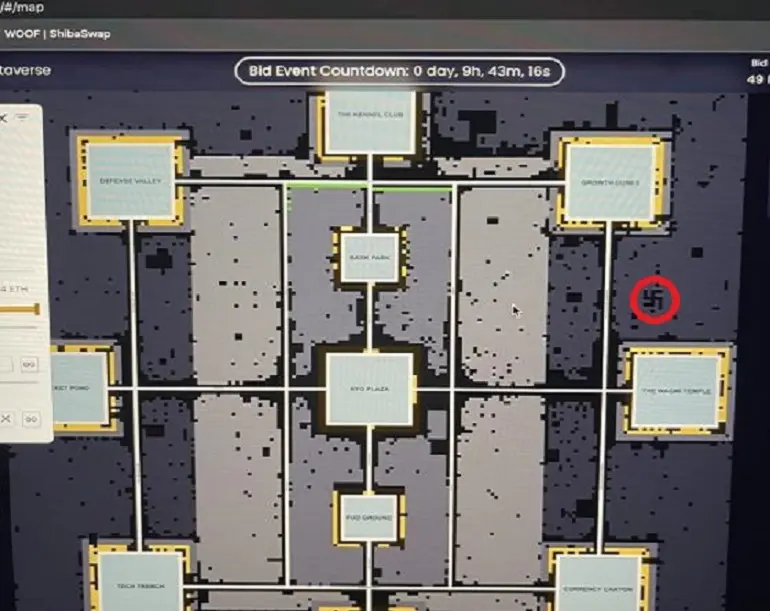 Shiba Inu's land bid started on the 12th of April, with 36,000 of the total 100,000 plots of land going for sale in the initial stage. SHIB fans who have locked LEASH tokens, and Shiboshi non-fungible tokens, were eligible to bid on the plots. The lands themselves cost between 0.2-1.0 ETH.
Each time a user purchased a plot of land, the color changed from "gray" to "black" when viewed from the map.
Members of the Shiba Inu Discord community learned on April 15 that a malicious user was bidding on land in a swastika-like pattern. However, as soon as the news broke, SHIB holders dived into their pockets and began bidding for land surrounding the symbol (shading their color) until it eventually took the shape of a "window."
On April 20th, the team at Shiba Inu posted a guideline to keep the SHIB space diverse, safe, and supportive. The guideline warned that SHIB would not tolerate any hate speech, displays of intolerance, or bigotry. Any individual, or account that is found to be inciting harm to others, in any form, will not be allowed. The metaverse will place the wallet of such accounts on a blacklist, meaning that they would not be allowed to participate in any and all areas of the space.
Most SHIB fans appear to agree with the developers' decision to ban the malicious user and build a community that is more carefully curated toward inclusion and positivity.
SHIB: The Metaverse has had quite a success upon launch. As earlier reported by Watcher Guru, Shiba Inu has earned about $20 million USD, in the form of ETH. According to the two contracts, holders paid 6280 ETH on land in Phase One and Phase Two of the land auction.
At press time, SHIB was trading at $0.00002505.