Vauld creditors recently got a chance to vote on their preferred choice of creditor representative, and the firm's scheme of arrangement. Between May 31, 2023 to June 8, 2023 creditors cast their votes. The company declared the results today. Officially announcing the same on Telegram, a Vauld team representative wrote,
"A total of 6,721 valid votes have been cast representing USD253,139,730.25 in Approved Claims. Overall of those valid votes received from Creditors, 91.85% by Count and 90.23% by Value, voted for the Scheme."
Notably, the results of the votes were cross-checked and upheld by advisory firm Quantuma's Luke Furler, the court-appointed Independent Assessor. Highlighting how the majority of the creditors were onboard, Vauld's announcement highlighted,
"We have been advised by our solicitors that the statutory threshold of a majority in number and 75% in value of the creditors for each class of creditors and across the board have been met."
To a query on whether INR holders will be getting back their funds locked up, a Vauld representative confirmed on Telegram,
"INR will be paid out in the next ~4-6 weeks"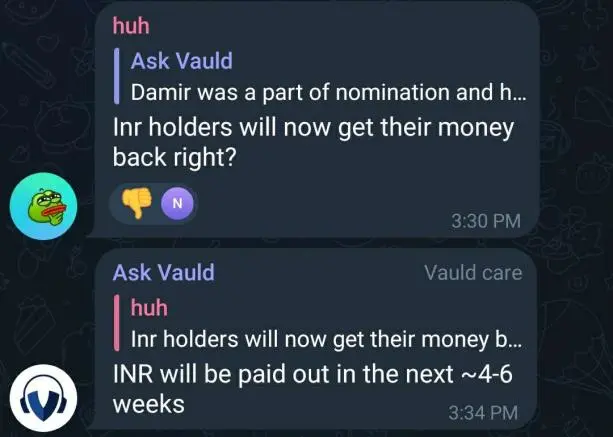 Also Read: Deutsche Bank Applies for Crypto Custody License
A new era for Vauld?
Now, the firm will proceed with an application to the Singapore Court to sanction the Scheme. As per the same, Vauld will restart operations with a DeFi yield-generating platform under the new management. Moreover, Darshan Bathija, the CEO and co-founder, and Sanju Sony Kurian, the CTO, and Co-Founder, will resign from the Company's Board of Directors. They'll also step down from their management positions.
Under the proposed business restart, new customers will "inject new monies" to earn yield. Furthermore, they will receive recoveries under the scheme. That being said, the proposed business restart will capitalize on the existing infrastructure and technological capabilities of the company. In fact, it should be noted that participation in the business restart is not mandatory for scheme creditors. However, it is available on an "opt-in basis." In a recent poll conducted on Twitter, only 18% of the 194 users felt that it was worth giving Vauld a chance again. However, the remaining 82% of them backed off by stating that they do not trust them.
Also Read: Alibaba's New Chairman 'Likes' Crypto
The trust and credibility factors
Given all the events that have unfolded till now, Vauld will likely have a few hiccups before restarting its operations. Commenting on whether it will be easy for the firm to gather back user trust, the poll-creator 'Crypto Hanuman' exclusively told Watcher Guru,
"I have never seen people that messed up making it back in crypto. So the answer is no. But the fact is that they have a user base, and there will always be a small percent of people that will put their trust back in them."
As soon as the announcement was made, a user named Kevin Moh said on Telegram,

"That's great news, Vauld. We have put our trust and belief in you yet again."
Nevertheless, 'Crypto Hanuman' went on to question, that if one buys a boat and changes all the wood that made that boat, will it still be the same boat? Drawing parallels with the Vauld situation, the user Twitter Influencer said,
"If they change all the management people and maybe come up with a new name and some good products, will it be the same Vauld?
However, it is not completely bleak, for there could be light at the end of the tunnel. According to people from the community, the next few months remain to be quite crucial. The pseudonymous influencer pointed out, "If they can give back 70% or more, it will be easier to pitch the new products."
Also Read: Crypto.com Uses 'Internal Teams' to Trade Assets for 'Profit': Report