VeChain has been bagging deals with companies in and outside the crypto space. Just a fortnight back, it was in the crypto limelight after it sealed a $100 million sponsorship deal with the UFC.
Alongside, developers have been making efforts to keep the project relevant amidst the ever-growing competition. As illustrated below, VeChain has been making consistent progress on the development activity front since the beginning of this year.


PoA 2.0 testnet upgrade: VeChain's icing on the cake
A few hours back, VeChain's VIP-220 upgrade went live on the private test net. Per the team, the same is "a huge milestone" towards their revolutionary Proof of Authority 2.0 consensus mechanism upgrade.
VIP-220, as such, would introduce a finality gadget—a mechanism by which blocks would be validated twice. So, the Nakamoto consensus and the finality gadget—in conjunction—would make it almost impossible to revert transactions. In retrospect, per the foundation, the said upgrade could usher in a new wave of mass adoption.
Taking Twitter to opine on the upgrade, VeChain's Chief Scientist Peter Zhou tweeted,
"It's a huge milestone for PoA2. With the finality gadget, VeChainThor blockchain is going to provide the state-of-the-art security while maintaining its high standard of performance."
VET's price action
Price-wise, VET has noted a substantial inclination over the last couple of days. Compared to its local low of $0.02003 registered on 19 June, the alt was up by 19% at press time. Per data, however, VET's trade volumes remain to be undernourished, indicating that it is merely being dragged along up the charts because of the high correlation it shares with Bitcoin and Ethereum [0.85, 0.88, respectively].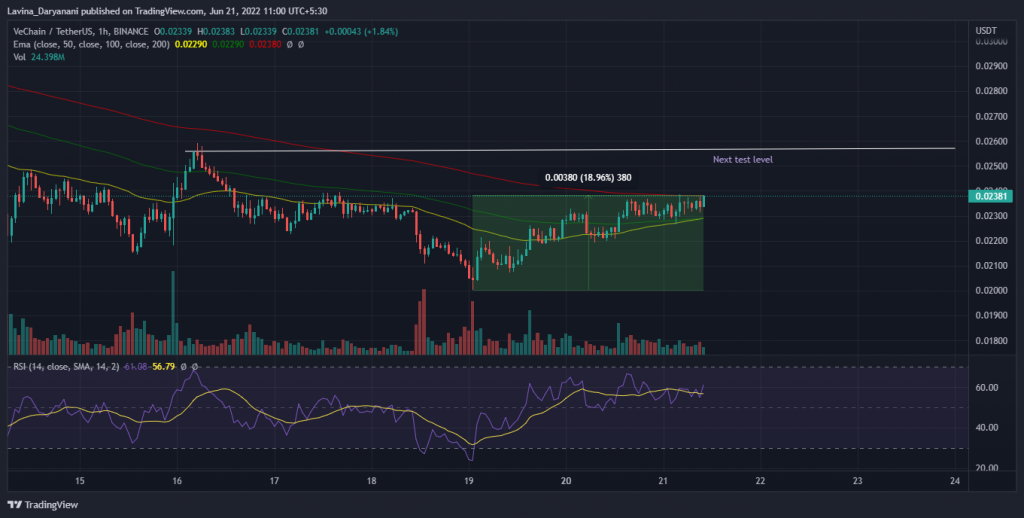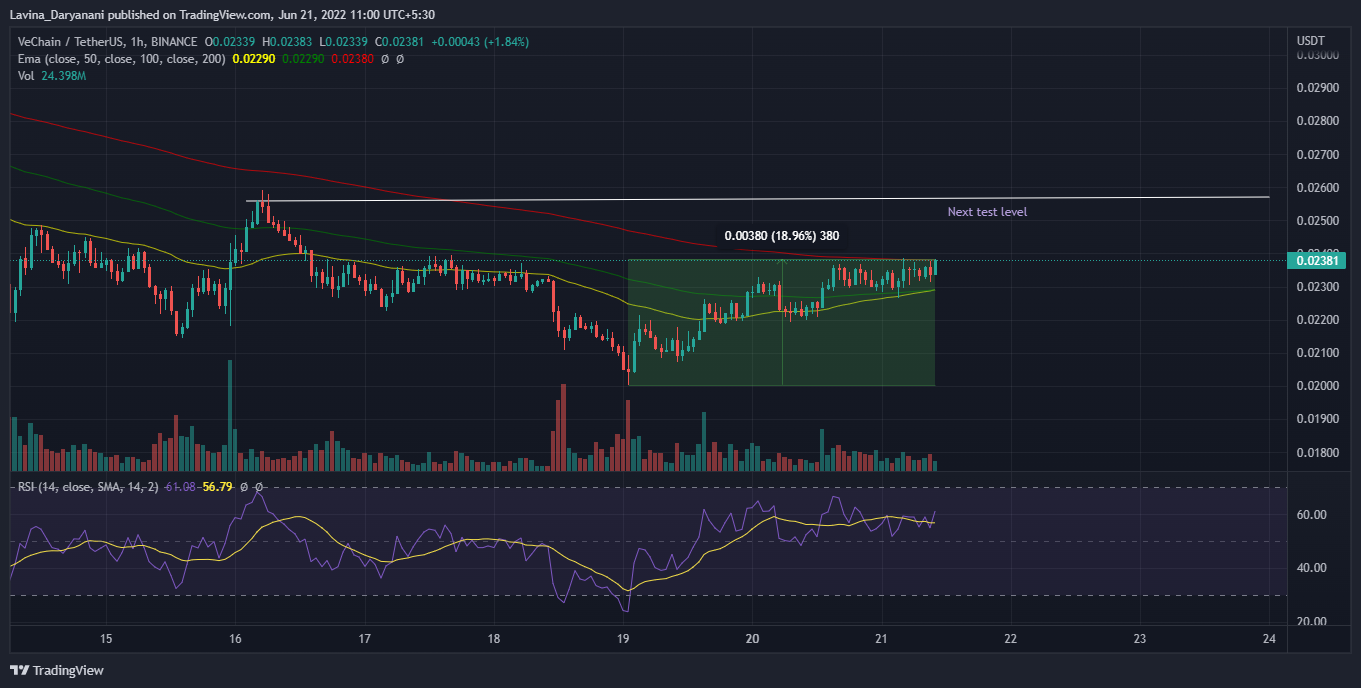 At press time, VET was grappling with its 200 EMA on the hourly. A successful breakthrough would propel the alt towards its next test level around $0.0256, opening the doors for an immediate 8% rally.
However, if the positive momentum in the broader market ends up extinguishing, then VET could fall back to its next support at around $0.0229, coinciding with its 50 and 100 EMA [yellow and green].
Postscript
The said upgrade will have long-term bearings on the network and single-handedly doesn't possess the potential to set VeChain on the path of a bull-run immediately. As outlined in a recent article, the macro-liquidity crunch still haunts the broader market, and the accumulation isn't substantial currently. Thus, the odds of VET extending its rally and converting it into a bull run phase seems quite slim.