Blockchain technology is making waves in the fashion industry! How? Through the VeChain x Sarah Regensburger collaboration, which graced the 2021 Rock and Roll Hall of Fame and the British Vogue. 
Through a tweet by @eisenreich, we see the cool designs by Sarah Regensburger.
Source: eisenreich Twitter
One of the most popular hitmakers of this generation, Taylor Swift, rocked a Sarah Regensburger lace catsuit at the 2021 Rock and Roll Hall of Fame. Furthermore, not too long after, Lady Gaga, one of the greatest performers, also graced the British Vogue in a Sarah Regensburger lace catsuit as well. 
VeChain x Sarah Regensburger Collab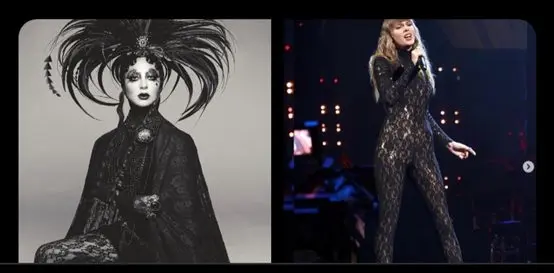 The famous Sarah Regensburger fashion line announced its unexpected collaboration with the blockchain platform, VeChain. This collaboration also comes to prove that there's no field too out of reach for crypto; which has taken the world by storm.
The German-born and London-based designer chose VeChain to introduce more transparency in the brand's delivery. Although, the fashion industry has faced loads of backlash concerning the use of cheap labor, overpricing, and the various modes of operation she wants to change this.
Blockchain in fashion means customers have an insight into how their favorite brands operate. Through the incorporation of blockchain technology, Sarah Regensburger customers get to track the designing of their cloth as well as track the supply-chain processes.
Additionally, as a result of this collaboration, the VeChain blockchain platform can see to it that luxury and high-end brands don't get plagiarized. This measure is also an antidote to the rising authenticity issues that the fashion industry has faced for a while. Authenticity issues in fashion are mostly brought about by fragmented supply chains that are not accounted for.
Sarah Regensburger also gave a live and detailed demonstration of its blockchain features out of its collaboration with VeChain at the 2020 Paris Fashion Week. 
More on Sarah Regensburger
Sarah Regensburger is a German-born and London-based world-famous designer. Her brand focuses on using animal-free and sustainable fabrics, otherwise known as vegan fabrics. Her designs combine inspiration from diverse cultures around the world along with modern art. 
About VeChain
Based in Singapore, VeChain offers its clients various distributed ledger technology (DLT), enabling them to determine the quality and also the authenticity of purchased goods. 
VeChain's a native token is VET. It currently has a maximum supply of 86 billion tokens, and has 64 billion tokens in circulation.
Additionally, VET has a market cap of over $6 billion, a value of $0.159 per token. Moreover, VET currently ranks as one of the world's top 30 cryptocurrencies. 
Finally, according to CoinMarketCap, Bitcoin is currently worth $60,973.83 while Ethereum is valued at $4,491.30. In conclusion, we think Vechain is poised to reach an all time high soon.