The entrance of major payment companies into the cryptocurrency landscape was met with surprise by many. This development initially generated optimism across the market. However, the bearish trend that dominated in 2022 led to a temporary slowdown in Visa and Mastercard's efforts in the crypto space. Nonetheless, Visa has positioned itself as a significant bridge between traditional fiat currencies and cryptocurrencies in recent years.
Visa collaborated with 75 of the largest cryptocurrency exchanges in 2021, granting them the capability to issue Visa cards. This initiative expanded access to a network of approximately 80 million Visa-accepting merchants. This effectively catered to customers who opt for cryptocurrencies as their preferred method of payment. This has enabled Visa cards to serve as a conduit between traditional fiat currencies and crypto.
Visa's Vice President, Head of Innovation and Design, Akshay Chopra, commented about Visa's headway in the crypto-verse and said,
"Building that bridge alone in 2021, and these numbers haven't really been made public, facilitated $3 billion of payment volume."
Just last month, Cuy Sheffield, the Head of Blockchain at Visa, disclosed that Visa's payment infrastructure would depend on "multiple blockchains." In his vision for the future, he expressed expectations that Visa's payment ecosystem would encompass not only various currencies and bank settlement systems, but also incorporate multiple blockchain networks, stablecoins, and central bank digital currencies [CBDCs] or tokenized deposits.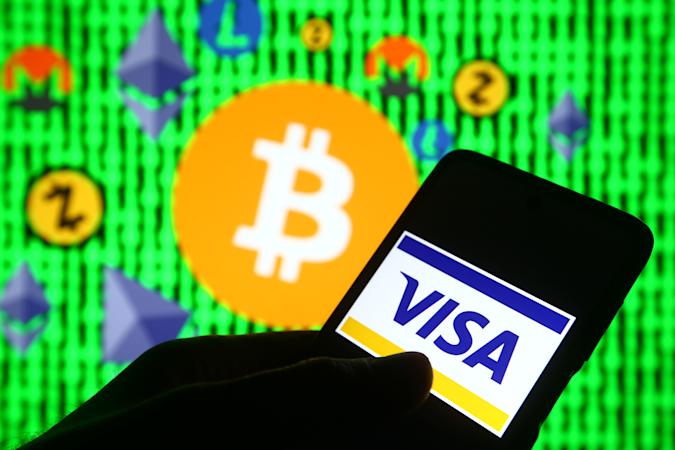 Despite the advancements in the cryptocurrency world, regulatory constraints have proven to be a significant obstacle.
Also Read: Visa Announces "Ambitious Crypto Product Roadmap"
Will Visa face the heat of regulators?
Regulations continue to pose a challenge for traditional financial institutions. This is particularly true for those looking to fully embrace blockchain technology and payments based on crypto. Nonetheless, Chopra contended that forward-thinking regulatory frameworks in places like the United Arab Emirates have provided more advantages to the industry. This is taking into consideration more reactive regulations seen in countries like the United States. Chopra further added,
"When they set up regulatory frameworks, they invited the industry to talk about what it needs, but also what the future might look like in a few years so that regulations are developed well ahead of time."