Since the beginning of this year, Shiba Inu has climbed up swiftly in the market. From its Jan. 1's lows, the asset's price has inclined by around 52%.
In fact, Shiba Inu has also achieved another feat. Ever since it breached its downtrend, SHIB has climbed past all major EMAs. SHIB has broken above its 200 EMA [blue] a couple of times but failed to stay afloat. However, at press time, it was comfortably trading above all exponential averages.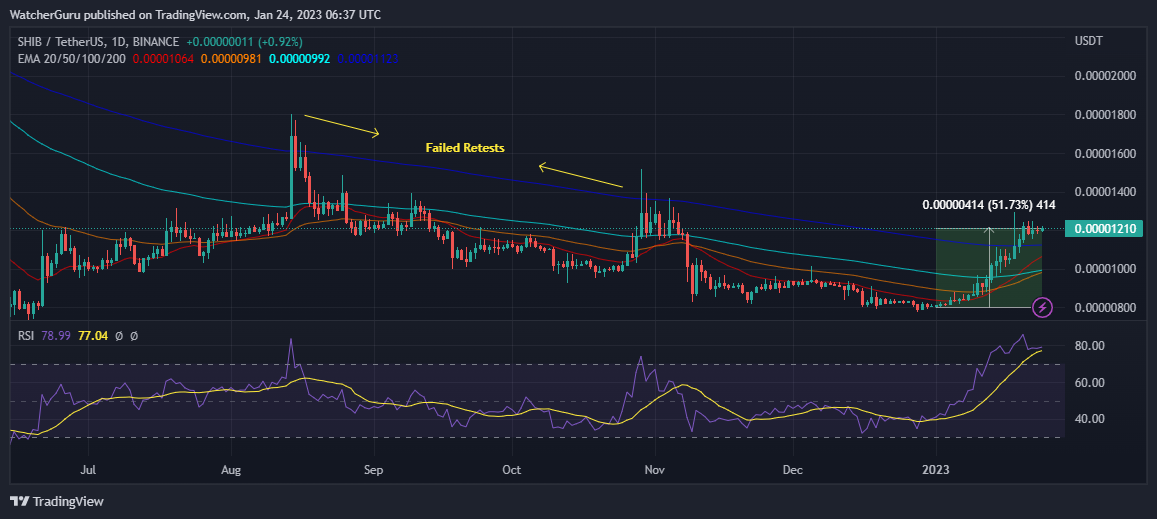 Also Read: Expert Asks Shiba Inu, Dogecoin, Bonk Investors To Be 'Especially Cautious'
Whale behavior
Amid the price surge, the large transaction volume has noted a few spikes lately. On a particular day last week, the number spiked up to 25.06 trillion SHIB. Prior to that, in the second week, the number stood at 23 trillion SHIB.
The number has, however, been suppressed since then. Over the past 24 hours, large transactions greater than $100k only involved ~3 trillion tokens.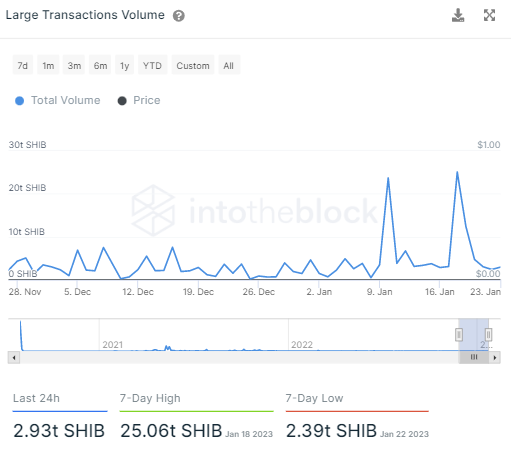 Despite the said fluctuations, the top 100 Ethereum whales continue to clasp onto their tokens. Data from WhaleStats revealed that Shiba Inu was 'the largest token' position by dollar value among whales. At press time, their cumulative holdings were worth $614 million, accounting for 16.12% of their portfolio.

What's next for Shiba Inu?
Given the fact that SHIB has risen rapidly in such a short span of time, there are possibilities of a pullback. At press time, profit booking was seen materializing already. Over the shorter timeframes, the number of tokens sold exceeded the ones bought. However, over slightly longer timeframes, the inclination towards buying was still visible.
Thus, the future directional bias of SHIB's price will be determined by whichever side gains more strength going forward. At press time on Monday, SHIB was seen exchanging hands at $0.00001210.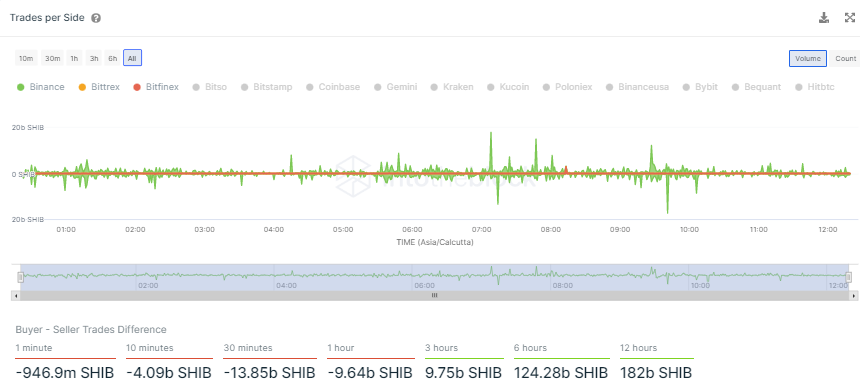 Also Read: Will Shiba Inu Delete Another 'Zero' This Week?