The cryptocurrency community has been eagerly waiting for the bull market. While several believed that we are already in a bullish market, a few others continue to remain skeptical awaiting Bitcoin's bottom. Now, investors have managed to pocket an increased number of Bitcoins. Further estimating the possibility of a potential bottom, Glassnode's latest report employed the supply dynamics of holders.
Firstly, Glassnode labeled supply that is aged three months or less as Hot Money. Supply that is aged three months or more is called HODLer Money. The report further highlighted how wealth rotation from Hot Money to HODLer Money and vice versa occurs during different cycles of a market.
For instance, wealth usually moves from Hot to HODLer Money during bear markets. During bull markets, the situation is the opposite. This is mainly a result of HODLers choosing to sell their assets at steep rates. Currently, wealth is being transferred from HODLer to Hot Money. This is further increasing their shares by 4.9% as profits are being claimed.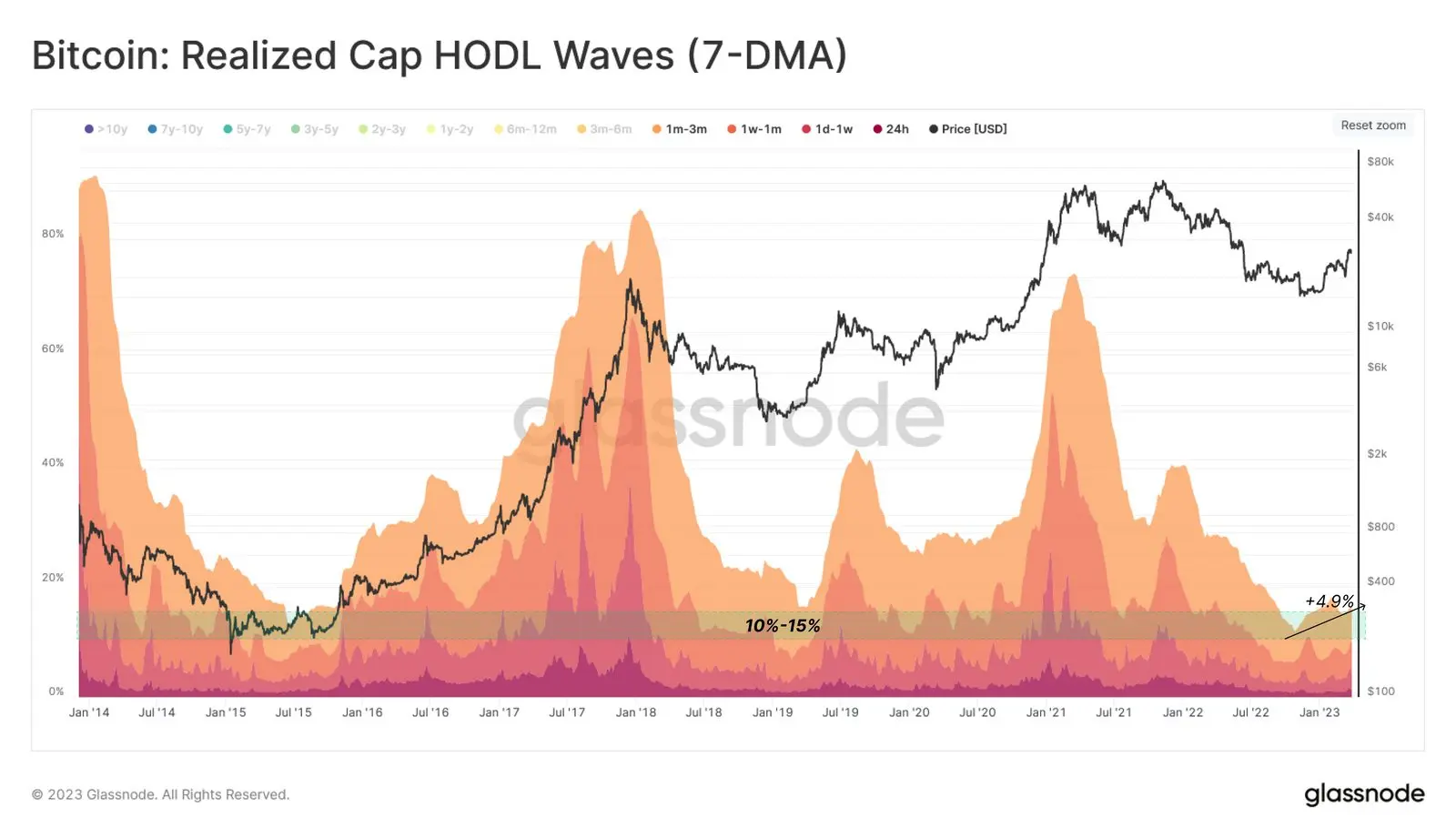 As seen in the image above, the share of Hot Money is at a low of 10-15% of the overall stored wealth. This reportedly occurs before bottom formation periods.
Is a Bitcoin rally underway?
Bitcoin's realized price currently sits at around $19.78K. The realized price is an indicator that gauges the value of BTC at the moment it last changed hands. It consequently reduces the worth of missing coins and coins that haven't been moved in a while.
It is usually considered bullish when Bitcoin's spot price jumps above the realized price. At press time, Bitcoin was trading for $28,367, which is much higher than its realized price. Therefore, several speculate a potential rally ahead.
Furthermore, recently, a bullish crossover occurred between long-term and short-term holders. Therefore, the potential rally is expected to be a HODLer implied one.