Ethereum whale activity has been studied and dissected multiple times but their patterns can get quite erratic. With most cryptocurrencies extending their losses before the weekend, whale activity was gauged once again to understand a common pattern. Here's what Ethereum whales have been up to in the past 24 hours.
The crypto market remained dull on Friday following a mid-week correction that saw Bitcoin drop back below $40K for the third time this month. With most large-mid cap alts faring poorly in the current market cycle, it was certainly interesting to see what Ethereum whales were buying.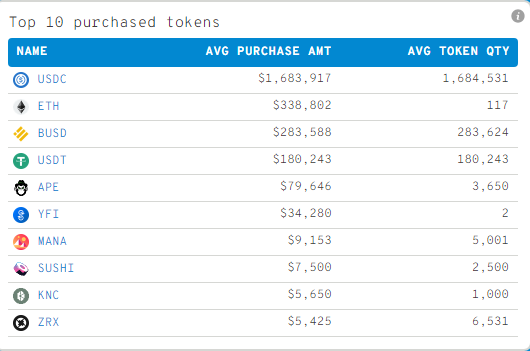 Data from whalestats showed that Ethereum was the most purchased token during the recent market dip, followed by, Aave, Yearn.Finance, MANA, SushiSwap, KNC, and ZRX. Stablecoins USDT and USDC also formed the list but for this article, such stablecoins have been excluded.

After the purchases, the average of the top Ethereum wallets looked like this as of 29 April;
The largest held position by the whales was Ethereum, with an average quantity held of 200,739 tokens, worth nearly $500 Million.
Shiba Inu bagged the second spot with an average quantity held of 468.7 Trillion, worth $10.7 Million.
FTX token came in at a close third, with an average held quantity of 238,944, worth around $9.5 Million.
Whales target DeFi, metaverse tokens
Since several different metrics and indicators govern the demand of a token, it's not easy to draw parallels between an altcoin's price and its subsequent whale purchase. However, there was some indication that whales were stuck to DeFi and metaverse tokens that traded at major support levels.
For instance, Yearn. Finance had tagged its demand zone at around $1,740, AAVE held a position at important support at around $156, SUSHI traded close to a buy zone of $2.76 while ZRX held around $0.75 – a significant defensive area. The only exception to this theory was Apecoin, which maintained a daily positive value due to yesterday's sharp rally.