Bitcoin is a highly coveted digital asset for many investors. However, a significant number of them tend to abandon the token when its price experiences a decline. Nevertheless, there are also Bitcoin bulls in the market who maintain their faith in the asset regardless of its price movements. Microstrategy, led by Michael Saylor, serves as a prime example of a Bitcoin bull in the industry.
Over the years, the company has acquired significant amounts of Bitcoin, with Microstrategy currently holding 140,000 BTC on its balance sheet. This substantial investment has positioned MicroStrategy, as one of the major public companies holding Bitcoin. However, despite this significant investment, the company is currently experiencing a loss of 14%. This is because the total investment of $4.20 billion is now valued at $3.614 billion.
Now, if MicroStrategy had chosen to invest in Ethereum [ETH] instead of Bitcoin (BTC), the situation would have been different. According to data from Blockchain Center.Net, the company would have enjoyed significant growth of more than 52%. In this scenario, if they had purchased ETH, their current value would be $6.406 billion.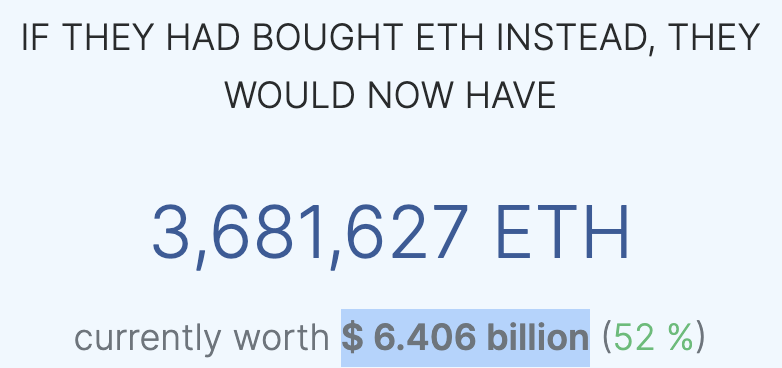 This also presented a challenge to Saylor's belief that "There is no second best." In the past, he expressed the opinion that Ethereum still needs to demonstrate its technical and ethical stability. According to him, it should be observed for a period of five to ten years before it can be considered a dependable asset.
Bitcoin and Ethereum
Over the past year, Bitcoin has experienced a decrease of 6.2% in its value, whereas Ethereum has witnessed a surge of 19.2%. However, despite this difference in performance, the Bitcoin network continues to maintain a higher number of active addresses and transactions. According to data provided by Messari, the daily active addresses on the Ethereum network amounted to 722,849. Bitcoin's addresses stood at 943,047. In terms of transaction volume, Bitcoin processed transactions with a total value of $3.19 billion. The Ethereum network processed transactions totaling $1.54 billion.
The difference in performance and market perception between Bitcoin and Ethereum can be attributed, in part, to regulatory concerns surrounding Ethereum. Brian Armstrong, the CEO of Coinbase, discussed this issue in a recent interview, emphasizing that the Securities and Exchange Commission [SEC] categorizes almost all cryptocurrencies, excluding Bitcoin, as securities. This regulatory classification has raised concerns and uncertainty among market participants. This may have further influenced the market dynamics and perception of Ethereum as compared to Bitcoin.