Dogecoin killer, Shiba Inu (SHIB), is a meme-coin with alot of social media hype following it. Many people have bought billions of SHIB tokens for a few dollars and have become multi-millionaires.
Shiba Inu Tokenomics And Capitalization
Running on the Ethereum blockchain, SHIB changes from Proof-of-Work (PoW) to Proof-of-Stake (PoS). Shiba tokens are ERC-20 tokens, which are fungible with equal value. 
Created by an unidentified person known as 'Ryoshi,' Shiba Inu has become an internet excitement, gaining 12505887.6% since its initiation in the crypto market.
SHIB, is enjoying a lot of success after exploding in the crypto market. However, after Bitcoin witnessing an abrupt fall in September, taking the entire crypto market with it, Shiba Inu faced a robust bearish market.
Shiba Inu had reached its all-time high of $0.00003791 in May this year and stabilizing at $0.0000083.  However, by the end of August  2021, Shiba Inu's price was at $0.000007023. 
At the time of writing, Shiba Inu's price is at $0.00002613, with a trading volume of $6,740,118,007 in the last 24-hours dropping by  -8.3%. It, however, has a revolving amount of 500 Trillion SHIB coins and a total amount of 1 Quadrillion.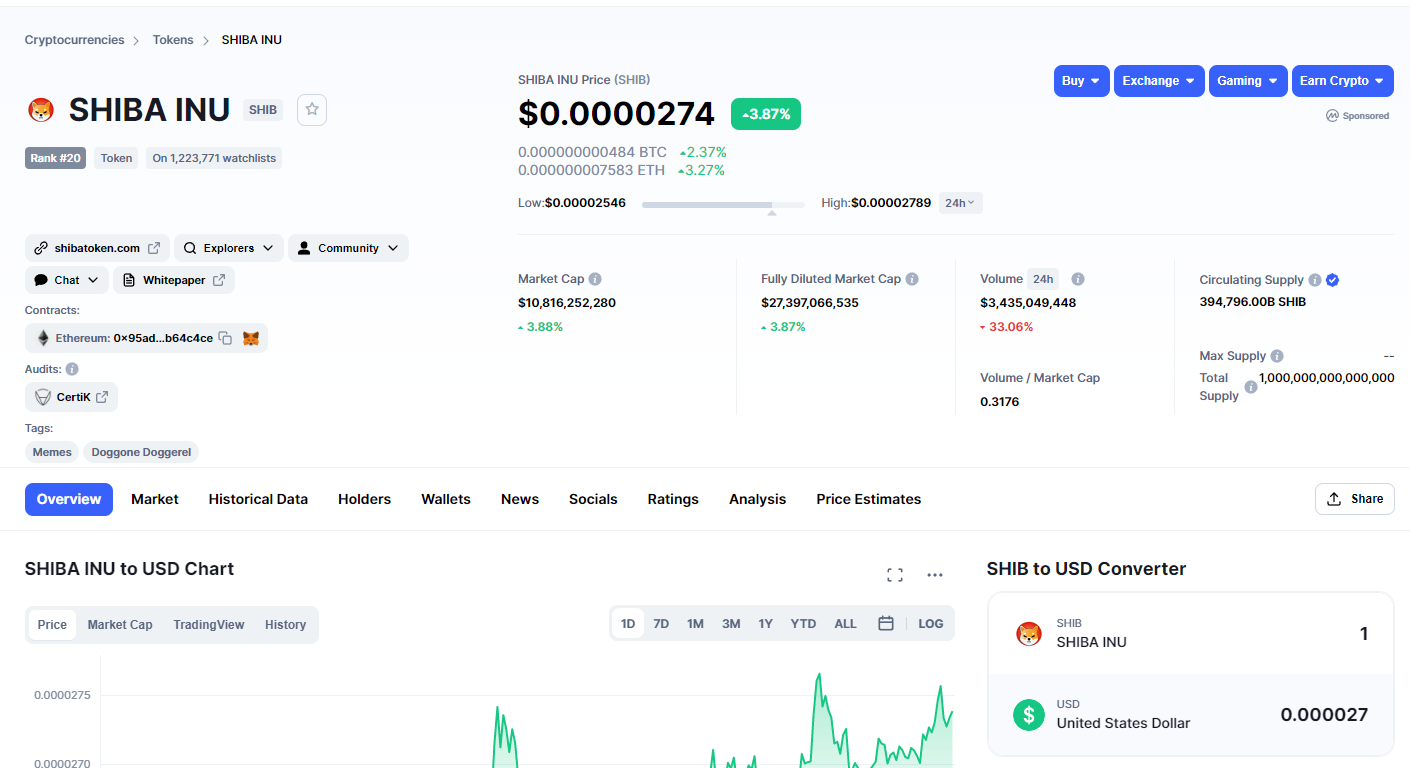 SHIB society is hopeful that the chance of another significant price increase is inevitable. Many investors are hurrying to buy SHIB hoping to find the next Doge. If you are interested in buying or selling SHIB, Binance is currently the most active exchange to do so.
Most recently, the posting of the billionaire's dog has made a massive bull run on SHIB, making it rally 30% after the tweet of the picture. However, the impact brought, continues the following day, pushing the token up 400%.
With a circulating volume of 500 trillion coins, SHIB's new price point put its market cap at $13 billion, making it the 15th largest cryptocurrency by market capitalization.
Will ShibaSwap Revive Shiba Inu's Price?
ShibaSwap is the decentralized exchange started by the team behind Shiba Inu. In less than 24rs since it was created, ShibaSwap locked liquidity of $1 billion. It has three significant tokens, SHIB being the main one. The other two are Leash and Bone, respectively.
Currently, it is offering a feature known as Dig, helping its investors stake their tokens, thereby gaining liquidity. The pools then equally divide the bonuses depending on the number of tokens that have been staked on ShibaSwap.
The exchange is the first of many notable upgrades that are influencing the price of SHIB. The $1 billion transaction surge may be a good sign for its holders.
Can Shiba Inu Reach Dogecoin Market Cap?
Studying the fundamentals of both DOGE and SHIB and establishing facts, the truth is that Dogecoin is a "joke" driven too far while Shiba Inu is a defi ecosystem.
Currently, Shiba Inu has over 500,000 token holders with a growing market cap of $13 billion. Dogecoin, on the other hand, is at $32,4 billion. This suggests that Shiba Inu's price will have to increase almost four times to get to Dogecoin. Which is possible.
Fundamentally, it means that the bulls have to take the market by storm if the SHIB is to achieve this Target. However, with a prediction of another crypto crash coming soon again, we might just have to wait for another 3yrs before a significant Bull run that will catapult SHIB past Dogecoin.