BRC-20 tokens have gained significant popularity in the crypto world, alongside the rise of meme coins. These tokens have become a topic of discussion, highlighting the advanced capabilities of the Bitcoin network. Currently, there are a total of 14,307 BRC-20 tokens, which collectively have a market capitalization of $616,272,663. Although there are doubts about the credibility of these tokens, the community has shown interest in acquiring them. So which of these tokens has the highest number of holders?
Here's a list of the top 10 BRC-20 tokens with the most holders
Recent data indicated that ORDI, despite being one of the earliest BRC-20 tokens, did not rank first in terms of the number of token holders. Instead, a token called VMPX took the top spot with 9,267 holders. The asset entailed a market cap of $21,742,180. ORDI came in second with 8,456 holders despite its market value at a high of $399,168,000.
The third and fourth places were taken by SATS and BANK with 5,626 and 4,764 holders respectively. Surprisingly, the meme-inspired tokens were not as popular, with MEME and PEPE ranking fifth and sixth with 4,545 and 4,364 holders respectively. It should be noted that both these assets have a significant market value of $16,853,531 and $24,670,061. DRAC with 3,182 holders stood in seventh place. ZBIT, DEFI, and SHIB currently have under 3,000 holders.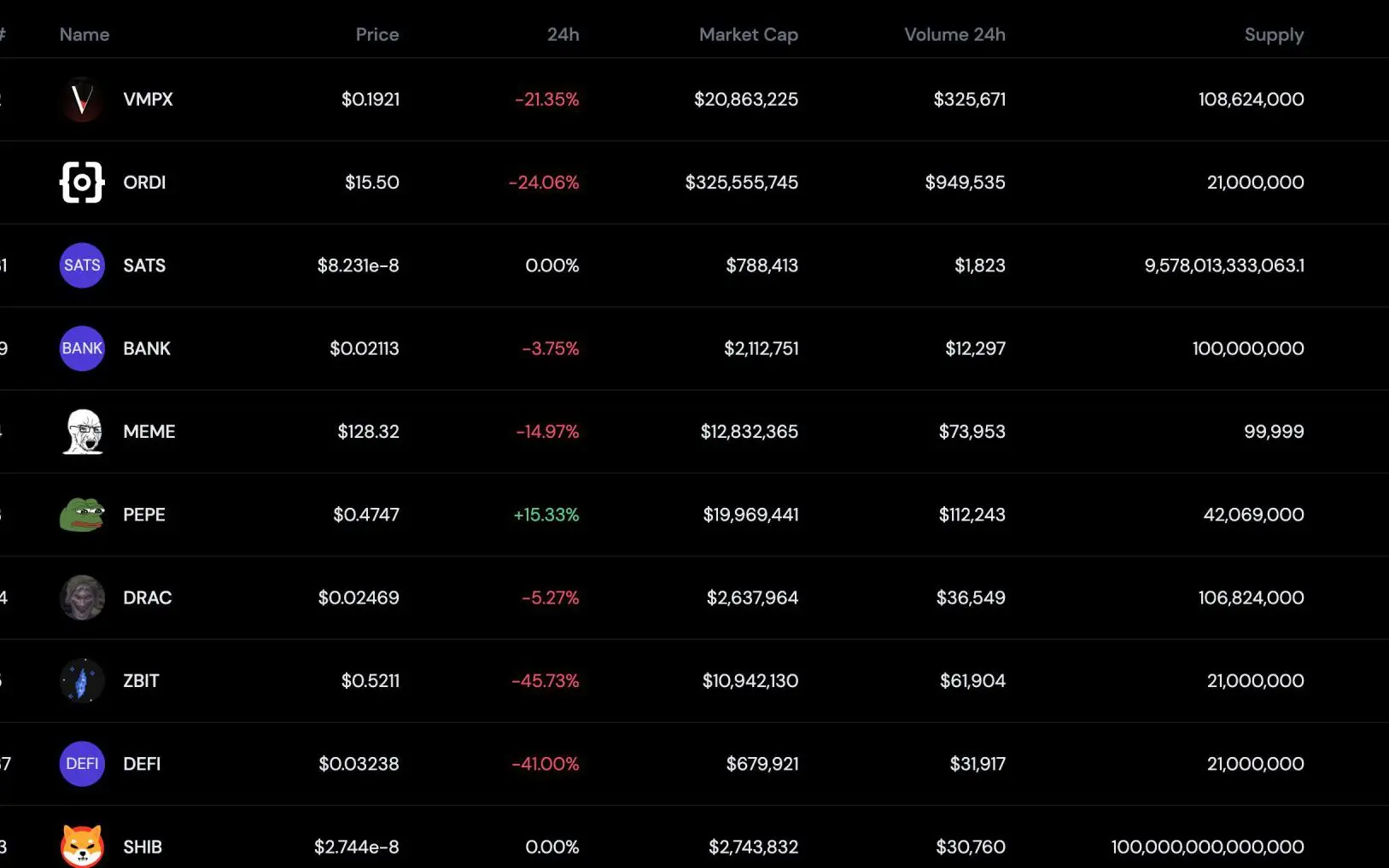 The top 10 BRC-20 tokens with the most holders are a good indication of which tokens are gaining the most popular among users. It will be interesting to see how these tokens perform in the coming months and whether they can maintain this hype in the highly competitive cryptocurrency market.
Do BRC-20 tokens uphold Bitcoin's ethos?
Bitcoin has several unique qualities that make it stand out from other cryptocurrencies. One of its key features is its decentralized nature, which has impressed many in the crypto community. However, despite the current hype around BRC-20 tokens, some are noting that they differ significantly from Bitcoin in this regard.
The fact that these assets are centralized has been off-putting for many. Since it is controlled by certain entities the chances of fraud are elevated. Justin Bons, the founder of Cyber Capital expressed concerns around the same.
Therefore, even though their popularity is on the rise, it is crucial to conduct thorough research before investing in them.