The crypto market remained volatile during the weekend. Despite that, Dogecoin managed to flip Polkadot on the market cap front and re-entered the list of the top-10 cryptocurrencies. With a market cap of nearly $7.47 billion, DOGE was priced at $0.056 at press time.
Ethereum's elimination from PoW equation a boon for Dogecoin?
With the completion of the Merge, Ethereum's consensus mechanism transitioned to proof of stake, cleared the way for Dogecoin to become the second largest proof of work project. The likes of Ethereum Classic, Litecoin, and Monero follow Dogecoin, while Bitcoin solely precedes it.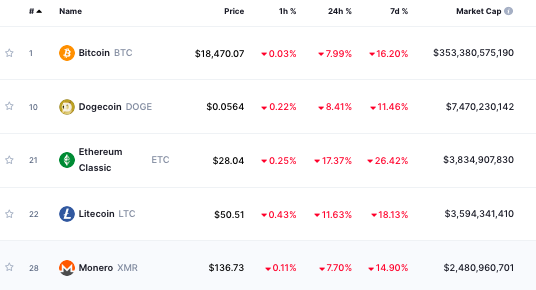 Well, even though Dogecoin ranks #2 on the PoW list now, it remains to be miles behind its #1 counterpart—Bitcoin on the on-chain front. Consider this: Dogecoin settled transactions worth $124 million on its blockchain over the past day [$28.9 million – adjusted volume]. Bitcoin's number, on the other hand, stood at a whopping $24.48 billion [$7.13 billion in adjusted volume] in the same timeframe.
In fact, via fee also, the Bitcoin protocol has been generating more when compared to Dogecoin. Just over the last 24 hours, the largest PoW crypto network earned $300k via transaction fee, while the second largest earned only roughly $1.09k.
Address activity
Address activity on the Bitcoin network has remained consistent over the past three months. After almost every dip, there has been a sharp rebound. Seldom has the number continually revolved around the lows. At press time, despite the dip, the number of active Bitcoin addresses stood at 780k.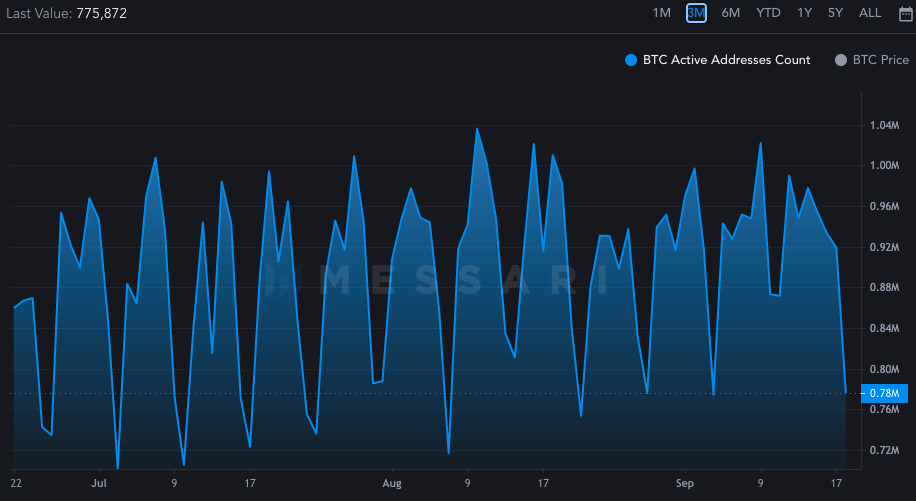 As far as Dogecoin is considered, however, this metric has been on a downtrend since mid-August. From hovering around 120k back then, the number has already slashed down by more than half. Over the past day, nonetheless, a minor uptick to 53.95k was noted, indicating slightly increased participation on the Dogecoin network.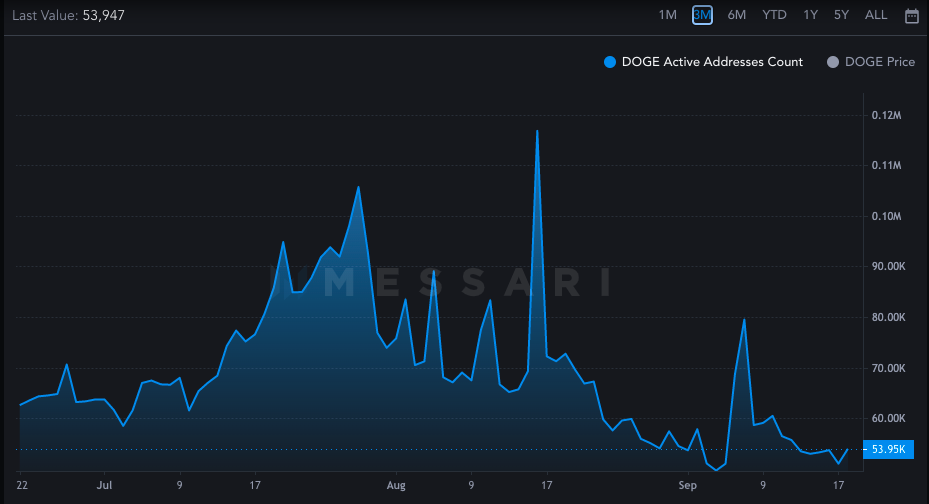 Despite there being a couple of positives for Dogecoin, it still lags behind Bitcoin on a host of fronts as highlighted above. And, even though Ethereum is out of the equation, it doesn't look like that gap will be bridged anytime soon.
Also Read: Did Dogecoin benefit from Ethereum's Merge?