The crypto sphere is home to a plethora of assets. While Bitcoin [BTC] remains the king coin, meme coins like Shiba Inu [SHIB], Pepe coin [PEPE], and others have been becoming more popular among the average Joe. The ongoing meme coin frenzy has undoubtedly brought several into the industry. But, what is the driving force behind these assets luring the working class?
Markus Thielen, head of research at Matrixport, recently drew a comparison between investing in meme coins and participating in a lottery. He noted the commonality of people entering lotteries with the aspiration of winning life-changing sums of money. Correspondingly, investing in affordable meme coins follows a similar pattern. A significant number of individuals invest, but only a few end up achieving substantial gains. Thielen added,
"There are numerous studies done on how most people in lower socio-economic classes play the lottery […] as that is their way to get out of their lower economic class. The people that speculate in the lottery are trying to make money lightning fast, and I think that's very similar with crypto."
For example, there were instances where broke and unemployed individuals were able to change a small investment of a few hundred dollars into millions through meme coins. However, this phenomenon was observed during the early stages and the peak of Shiba Inu in 2021. Even though the number of investors in the asset grew, the occurrence of individuals becoming SHIB millionaires became less common.
Are meme coins like Shiba Inu, and PEPE a nine-day wonder?
While Shiba Inu has managed to grow and amass certain utility, assets like PEPE and Milady [LADYS] are yet to do so. These latter have managed to garner significant gains over the last couple of days without any utility. Between April 29 and its peak on May 5, PEPE experienced an impressive uprise in the crypto market cap list. During this period, its price surged by about 1,200%, showcasing a remarkable growth trajectory. However, Santiment explained that this notion was mostly driven by speculation and crowd expectations.
For instance, PEPE managed to achieve its all-time high of $0.000004354 on May 5. Right before that, the social dominance of the asset began rising. In correlation, the number of unique addresses and active addresses also followed suit.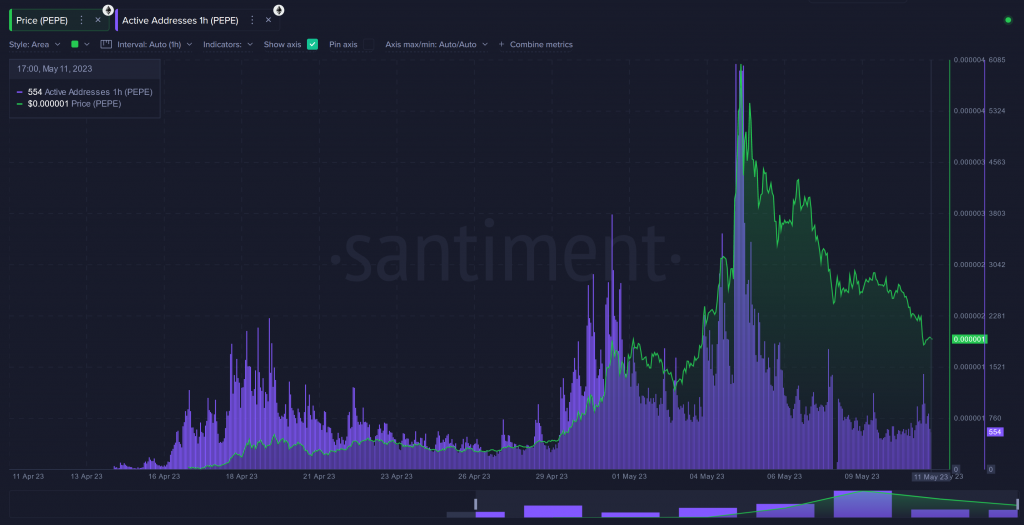 According to the report, the social dominance of PEPE has experienced a significant decline. This implied that meme coins, including PEPE, are primarily influenced by market emotion. They don't seem to be affected by intrinsic value or correlation with Bitcoin and macroeconomic events.
Clinical psychologist Dr. Anastasia Hronis, who specializes in gambling addiction shared her views on the same. She noted that younger investors show a higher inclination toward meme coins. This observation suggests that this demographic is more likely to be attracted to and engage in meme coins are they are "fun." Hronis added,
"Memecoins like PEPE might be fun, but they generally are highly risky investments and can end up holding no intrinsic value in the long run […] Investors are essentially gambling on its popularity, which undermines the principles involved in investing."