While several prominent cryptocurrencies experienced a decline in the market, the governance token of MakerDAO and Maker Protocol, Maker [MKR], stood out as one of the top gainers of the day. The asset is trading at $1,137, showing a remarkable 15% daily price increase.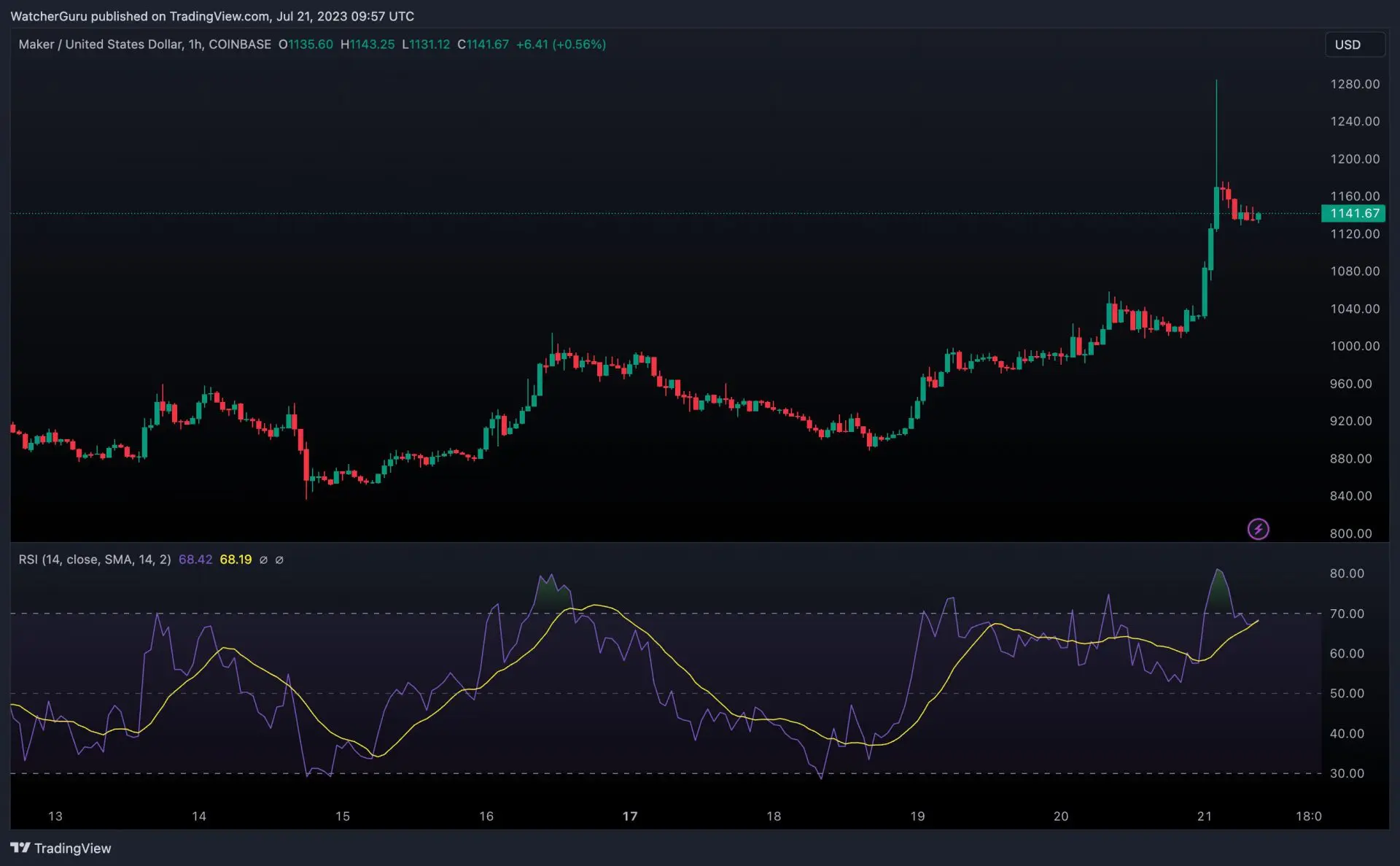 The chart above demonstrated the asset's upward movement. The Relative Strength Index [RSI] indicator indicated a high level of buying activity in the asset market. The RSI is currently situated in the overbought zone.
The significant surge in MKR's price is largely credited to the prominent venture capital firm Andreessen Horowitz [a16z] and CMS Holdings, a private investment firm. a16z is known for its substantial investments in various technology companies. The firm was observed depositing MKR tokens into Coinbase. It was speculated that these tokens were moved with the intention to sell them.
Blockchain sleuth, Lookonchain revealed that a16z deposited 12,864 MKR tokens, valued at around $12.6 million. They sent an additional 6,900 MKR tokens worth about $8 million to a new address. This further indicated potential plans to deposit them on an exchange. At press time, a16z holds a total of 12,396 MKR tokens, worth nearly $14.4 million.
In the meantime, CMS Holdings deposited 525 MKR tokens to Binance, valued at about $614,000, just two hours before the surge. Priorly, CMS Holdings had withdrawn 1,325 MKR tokens worth around $1.54 million. This was withdrawn from Binance and Bitget, at an average price of $793. Furthermore, the firm currently holds 800 MKR tokens worth $936,000.
Also Read: DeFi Whales Make $1.5 Million From Aave, Compound, Maker
More than half of MKR investors are now in profit
Based on IntoTheBlock data, approximately 59% of MKR holders were observed to be realizing profits, while only 35% were experiencing losses. Moreover, other key indicators such as large transaction volume and active addresses also showed significant growth within the last 24 hours.
The network experienced a notable 40% increase in large transaction volume, reaching $20.22 million. Additionally, the percentage of active addresses surged by 22.79%.
Also Read: Bot 'Attacks' MakerDAO's Flash Loan To Walk Away With $3 Profit