The cryptocurrency industry entered the new year in bullish spirits. Bitcoin (BTC), the original cryptocurrency, made gains of almost 40% within the first month. The global market cap surpassed the $1 trillion mark after spending months below $900 billion. However, the markets have begun to dip once again today.
BTC has fallen 2.1% in just a few hours and 0.6% in the last 24 hours. Dogecoin (DOGE) is leading the dip among the top 10 projects, with a 4.3% fall in the same time frame. Meanwhile, Ethereum (ETH), the second largest project by market cap, has fallen 1% in the 24-hour chart. The global market cap has also dropped to $1.09 trillion, a 1.3% dip in the last 24 hours.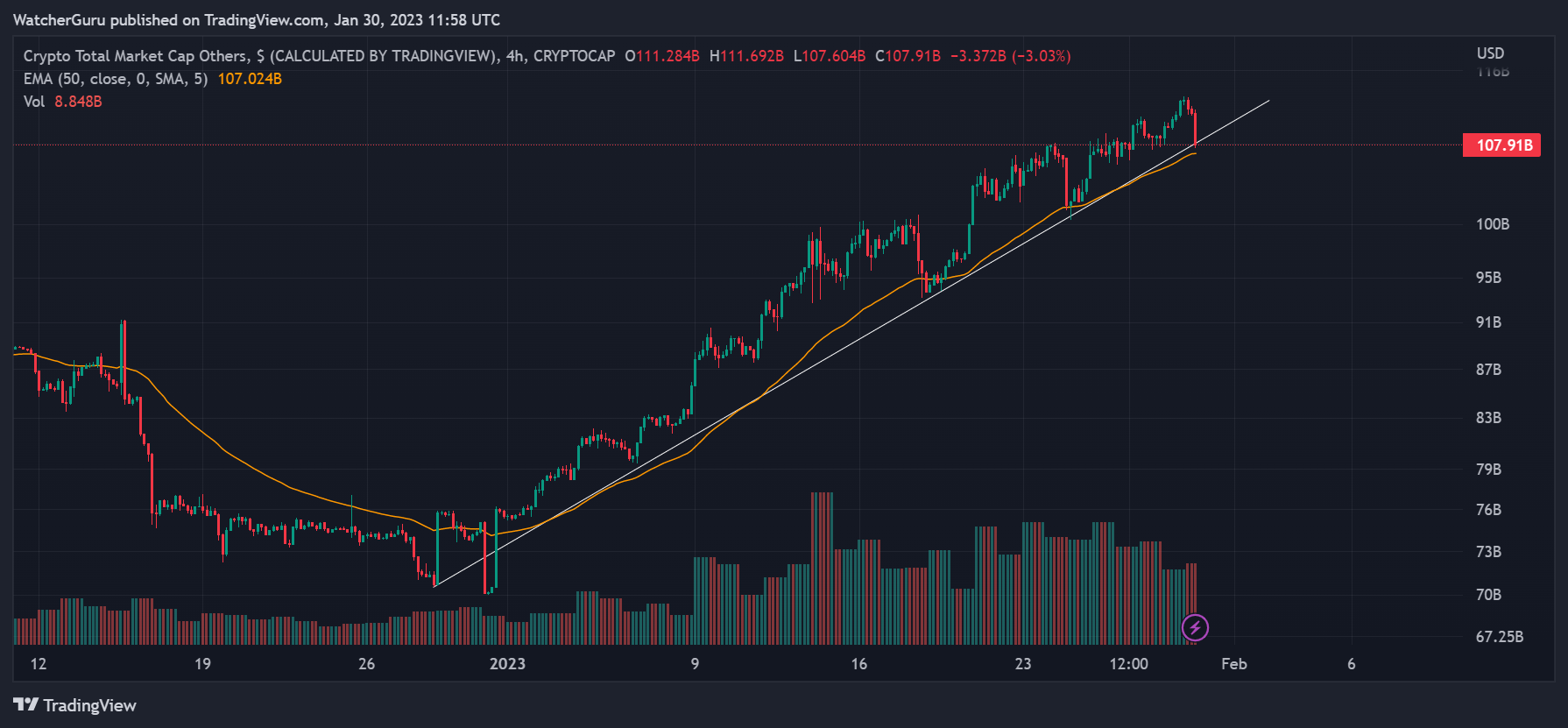 The dip is likely due to the lack of cryptocurrency market participants and poor profit-making. According to CoinMarketCap, Bitcoin's (BTC) volume has surged 38.9%, while its price seems to be falling, indicating higher selling pressure.
Furthermore, CME FedWatch Tool estimates a 99.9% chance that the Fed will raise interest rates by 25 basis points at the FOMC meeting. Wall Street analysts, though, think investors will have to hold out on the Fed's turn for a little longer because a 50 basis point rate rise is still an option. Nonetheless, the Fed's new rate announcement scheduled for Feb. 1 could be one of the reasons for the dip in cryptocurrency markets.
The development begs the question…
Will the cryptocurrency market continue to fall?
Inflation in the US is cooling, and interest rates are also expected to be milder than before. Therefore, investor sentiment is likely to improve over the next few months. Although nothing can be said for certain until the FOMC meeting has been concluded, many expect things to only get better from here on.
With that said, market activity may spike once the FOMC discussions are done and new rates are announced, given that the results are positive. However, if the rate hike is higher than anticipated, there may be a larger sell-off in the cryptocurrency sector.