The crypto market conditions have, by and large, been bearish this year. Post the double peak registered by Bitcoin in Q4 2021, 2022 began on a choppy note. Just before bulls could even find their feet, one company after another started collapsing, pausing withdrawals, and filing for bankruptcy.
The same, in conjunction, fractured the space, and crypto asset prices have still been trying to recover from the macro catastrophe. With less than 3 weeks left for this year to end, here's where Ethereum and Bitcoin currently stand.
As of now, traders are showing notable signs of negativity and capitulation. As illustrated below, out of the overall crypto social volume of 381,960, more than one-fifth [21%] of them were related to "dead," "deadcoin," or "deadcoins."
The mentions of dead and deadcoin jumped to all-time high levels in late November, and even now, continue to revolve around "still are historically high levels. This might seem to be a bad omen, but Santiment revealed that it was hinting at the bottom. Elaborating on the same, its latest tweet noted,
"This traditionally increases the probability of a crypto price bottom."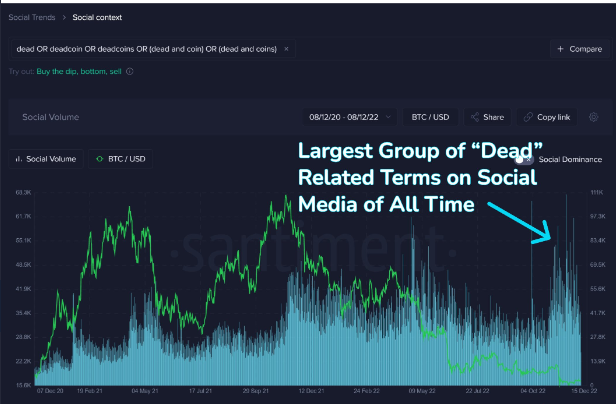 Despite people searching about dead coins, it is interesting to note that Bitcoin and Ethereum's supply on exchanges has been continuously shrinking. The same indicated that market participants are buying the OG cryptos to organically elevate its price. Elaborating on the low sell-off risk, Santiment tweeted,
"Bitcoin and Ethereum continue seeing their available respective supplies go lower & lower. They have now both breached 4-year lows, implying a lower sell-off risk."
Parallelly, as illustrated below, Tether has a high exchange supply, implying "greater real-time buying power," setting the stage for a trend reversal.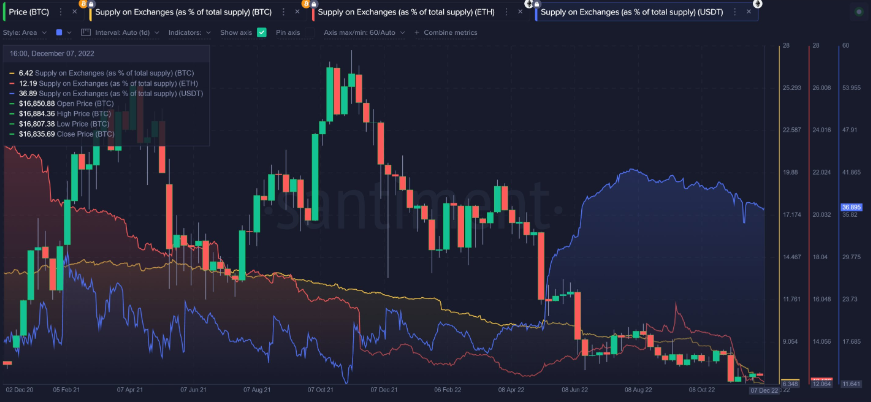 Other fundamental factors
Fundamentally, both networks seem to be in a fairly good position. The number of HODLers possessing 1+ BTC are on the rise. Parallelly, as analyzed recently, even institutions have been refraining from shorting the largest crypto asset.
Ethereum's fundamentals have also been improving. A few hours back, its NVT ratio claimed a new 1-month high. The same indicates that its network value has been able to outpace the value being transferred on the network. In the past, whenever such rises have been noted, ETH's price has eventually reacted to it in a positive fashion. So, something similar can be expected going forward too.
Even though the stars seem to gradually be aligning in the favor of the market, nothing can be said with surety about when the ongoing bear market will end. Nevertheless, one thing is for sure, there is nothing much to fundamentally worry about the two cryptos.