Following the arrival of Bitcoin back in 2009, an array of cryptocurrencies either mirroring or aiming to fulfill Bitcoin's shortcomings emerged. Other popular coins like Ethereum [ETH] and Dogecoin [DOGE] encountered similar instances. While Bitcoin remained unfazed by the arrival of these cryptocurrencies, ETH and DOGE began feeling the heat from them. Various assets, including Polkadot [DOT], Solana [SOL], and Cardano [ADA], were dubbed "Ethereum killers." It turns out that the likelihood of them taking control of the asset was far lower than initially thought.
Freddy Zwanzger, the lead at Blockdaemon's ETH ecosystem, pointed out Ethereum's hot streak throughout the years. He noted that this would prolong the following 'The Merge.' During a recent Ethereum Community Conference, Zwanzger stated,
"It'll continue to be a leader. I mean, obviously, the first and most important smart contract platform, and that's not going to change. All the Ethereum killers from back in the day didn't succeed, and I don't expect them to succeed at all."
Ethereum has taken over the DeFi space for the longest time. However, with more decentralization, low fees, scalability, and advanced smart contract implementation, third-generation blockchains took the limelight.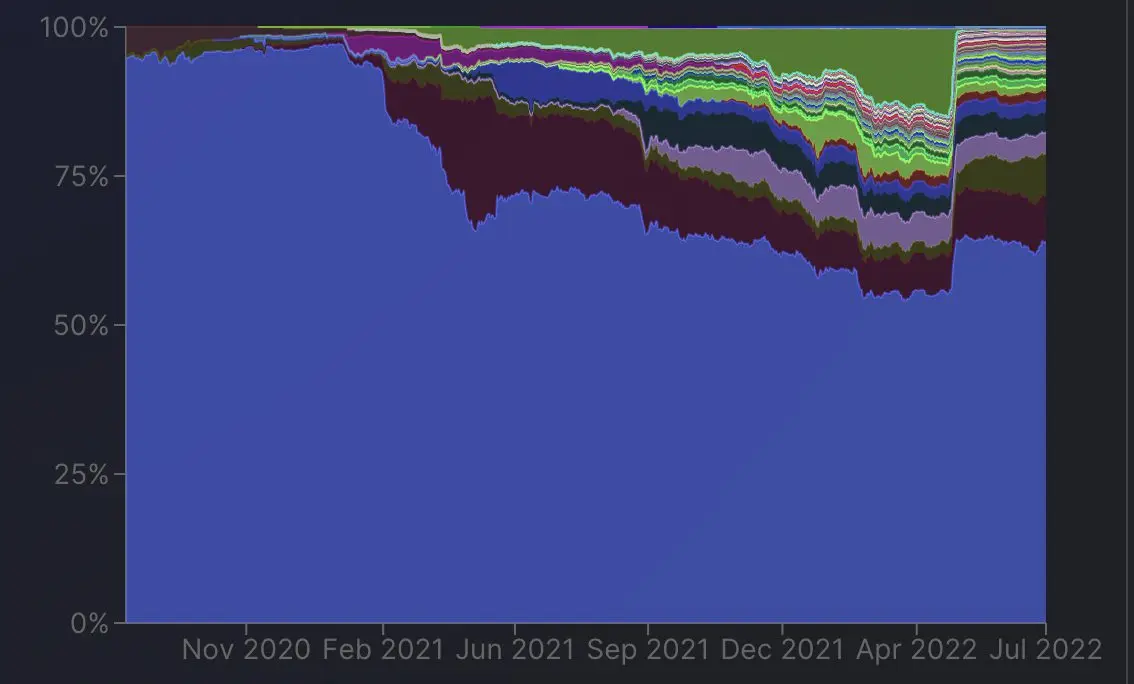 The above chart shows how ETH was depleting in terms of total value locked. Therefore, several speculated ETH would soon lose its hold on the DeFi space as 'The Merge' encountered multiple delays.
However, Ethereum's big transition from Proof-of-Work [PoW] to Proof-of-Stake [PoS] is just weeks away. This network upgrade is considered revolutionary, making it even harder for Ethereum killers to take over the world's second-largest crypto network.
Zwanzger added,
"The original Ethereum roadmap was focused on sharding, but that's not so much the case anymore. Now we have a roll-up-centric roadmap, so scaling via layer 2 solutions."
Ethereum and its 31% weekly gains
After drowning in the red sea for quite some time, most assets in the market managed to pocket some gains. Ethereum was among the ones that witnessed a significant surge. During press time, the asset was trading for $1,569 following a 5.42 percent daily surge. It should also be noted that over the week, ETH surged by a whopping 31 percent.