Will Terra Luna Go Up? A Comprehensive Analysis and Price Predictions
In the ever-evolving world of cryptocurrencies, Terra Luna (LUNA) has captured the attention of investors worldwide. However, recent challenges and setbacks have raised questions about its future potential.
In this comprehensive analysis, we will explore the Terra Luna ecosystem, examine its historical performance, and delve into price predictions for both the short and long term.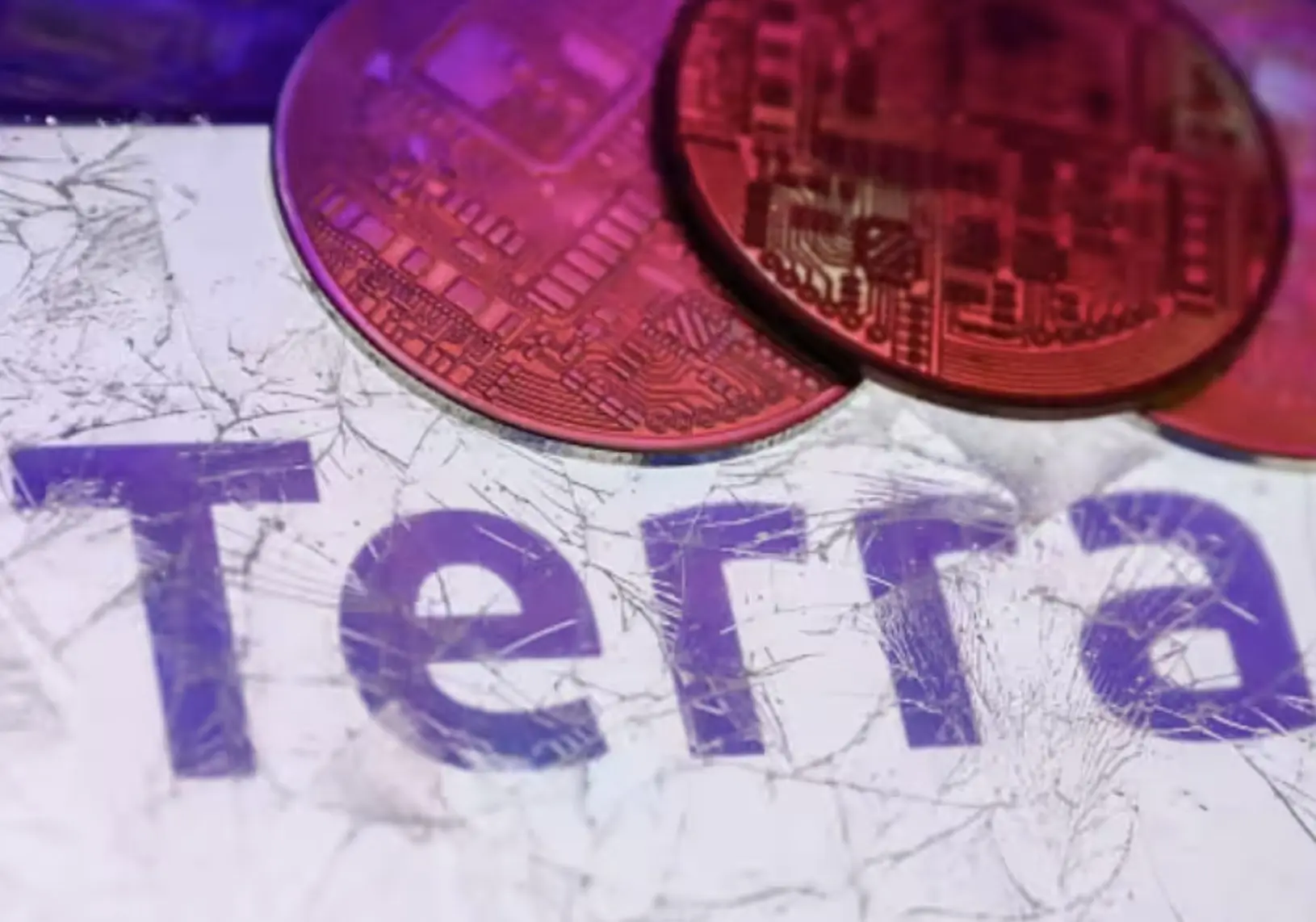 Understanding Terra Luna
Terra Luna, created by Terraform Labs, revolutionizes DeFi with a stable, scalable blockchain for transactions.
The project gained significant traction in the crypto market, attracting investors with its unique features and promising potential.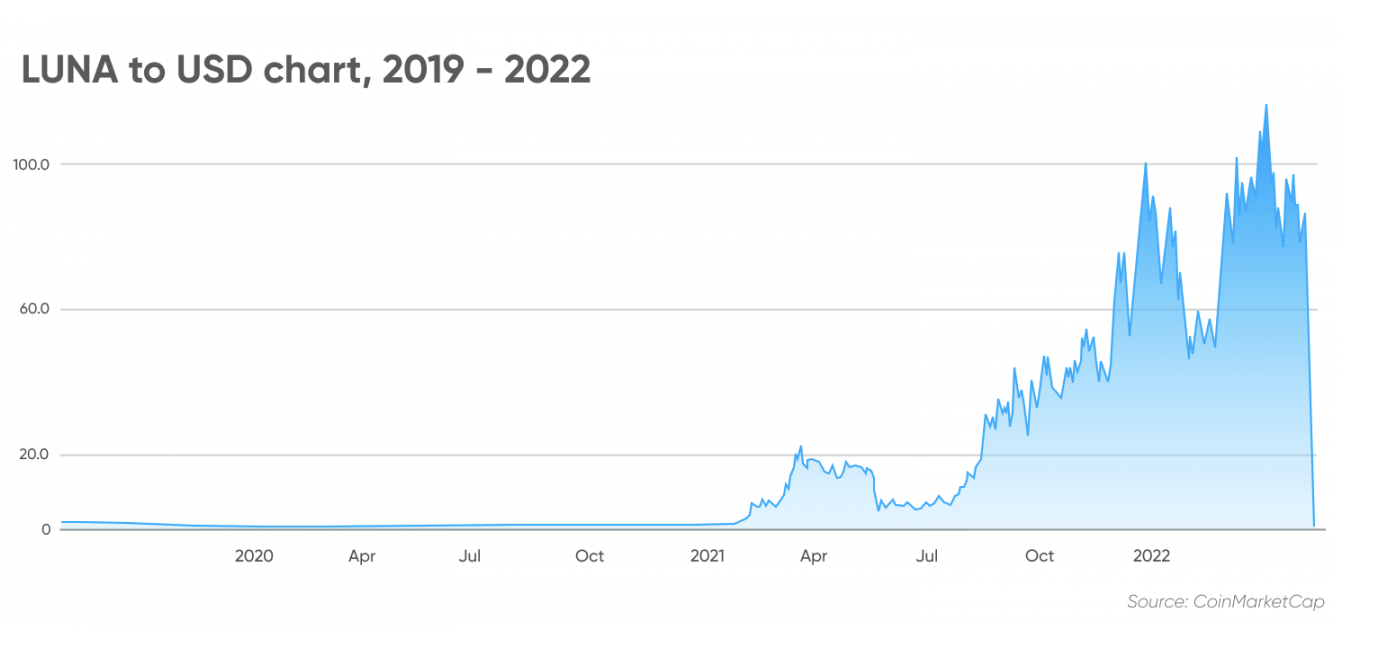 The Rise and Fall of Terra Luna
Terra Luna experienced a meteoric rise in popularity and value before facing a significant setback in May 2022.
The collapse of its algorithmic stablecoin UST and the subsequent plunge in LUNA prices shook the Terra ecosystem.
Investors were attracted to Anchor (ANC) and its 20% interest rate on UST deposits. However, they started withdrawing funds, causing capital flight. In April 2022, Terra Luna's token, LUNA, peaked with a market cap exceeding $41 billion.
Terra ranked among the top three blockchain networks for total value locked (TVL) with over $21 billion.
Also, the de-pegging of UST and the subsequent hyperinflation of LUNA led to a catastrophic drop in value.
Between May 9th and May 12th, LUNA lost nearly all of its value. It plummeted by 99.98%, from approximately $64 to $0.0087. The once-promising stablecoin UST also suffered a significant blow, dropping from its intended value of $1 to $0.25.
Terra 2.0: A Fresh Start
In an attempt to rebuild and address the challenges faced in May 2022, the Terra community voted in favor of founder Do Kwon's proposal to create a new blockchain, known as Terra 2.0.
This upgrade involved renaming the old blockchain to Terra Classic and rebranding its token as Luna Classic (LUNC). The new Terra 2.0 chain introduced a native token called Luna, or Luna 2, which was airdropped to holders of the old Terra tokens.
One significant decision made during the transition to Terra 2.0 was the abandonment of the flagship yield-generating stablecoin, UST. The goal was to start anew, focusing on stability and scalability for the Terra ecosystem.
As of March 28, 2023, both the old Terra Classic and the new Terra 2.0 chains continue to coexist in parallel, maintaining their respective communities and ecosystems.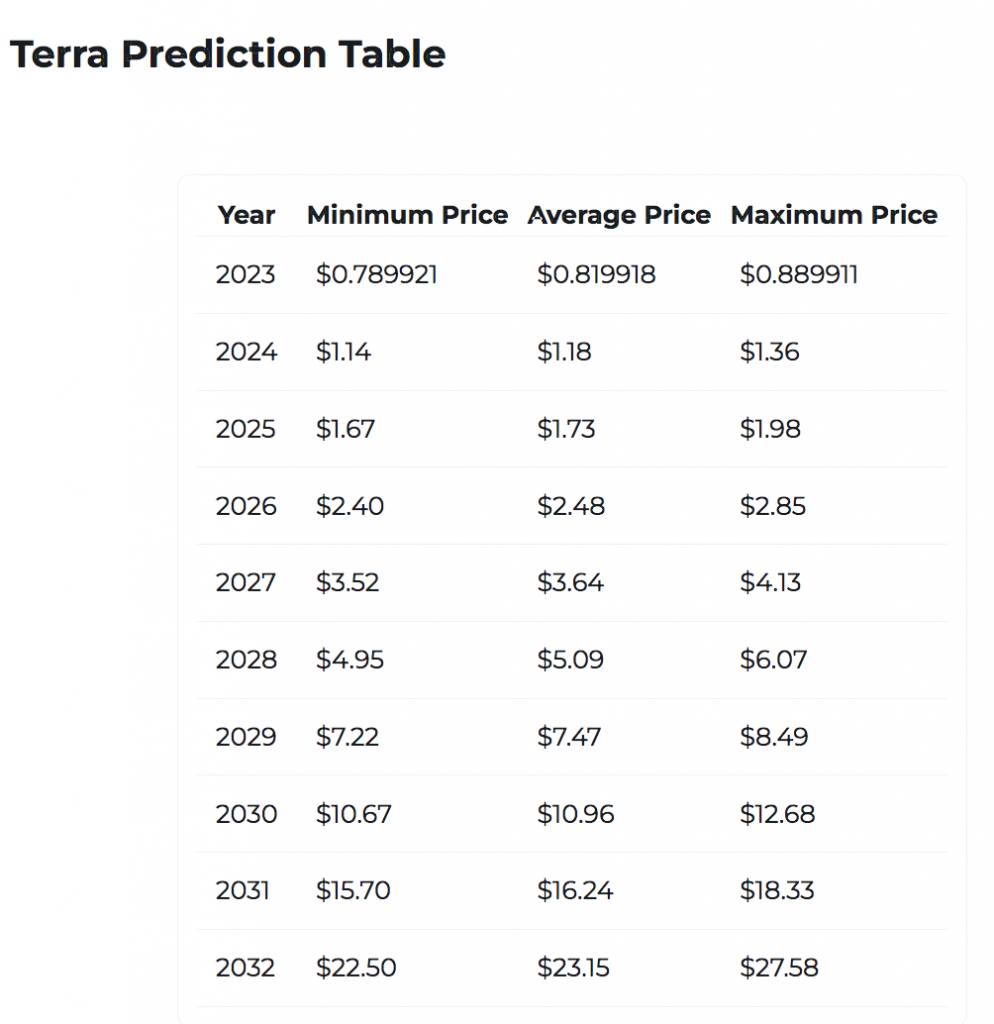 Terra Luna Price Predictions for 2023
Despite the challenges faced by Terra Luna, many experts and analysts remain optimistic about its future.
To gain insights into the potential price movements, let's explore some of the price predictions for 2023.
According to technical analysis, Terra Luna's price in 2023 is expected to range between a minimum of $0.789921 and a maximum of $0.889911. The average trading price is projected to hover around $0.819918.
When considering specific months, the price forecast for June 2023 suggests an average LUNA rate of $0.68, with a minimum and maximum price of $0.62 and $0.70, respectively.
In July 2023, the price is expected to range between $0.66 and $0.73, with an average value of $0.69.
Looking ahead to August 2023, analysts forecast an average LUNA rate of $0.72, ranging from $0.69 to $0.75.
September 2023 might see a further increase in Terra's value, with a projected average price of $0.74 and a minimum price not expected to drop below $0.71.
Crypto analysts estimate that Luna's average trading price in October 2023 will be around $0.76, with a lowest price of $0.73 and a highest price of $0.82.
November 2023 could witness a slight increase, with an average price of $0.79, a minimum of $0.75, and a maximum of $0.85.
Finally, in December 2023, the forecasted average price for Terra Luna will be approximately $0.82, with a potential maximum of $0.89 and a minimum of $0.79.
Terra Luna Price Predictions for the Long Term
Looking beyond 2023, it is crucial to consider long-term price predictions for Terra Luna.
While these forecasts are subject to market conditions and various external factors, they provide insights into the potential growth of the digital asset.
According to WalletInvestor, a leading cryptocurrency forecasting platform, the average price of Terra Luna could reach $1.67 by 2025. In the same year, the maximum price is projected to be $1.98, while the minimum price might hover around $1.67.
Digital Coin Price, another prominent forecasting source, suggests that Terra Luna could be a profitable investment. Their predictions indicate a potential price of $204.73 in 2023 and a steady increase to $307 by 2025.
Please keep in mind that these price predictions are speculative and do not come with guarantees.
The cryptocurrency market is highly volatile, and numerous unpredictable factors can impact the performance of digital assets.
Is Terra Luna a Good Investment?
Given its potential growth and promising future, many investors are eager to determine if it is a good investment opportunity.
While financial decisions should always be based on individual circumstances and risk tolerance, Terra Luna presents several factors that may make it an attractive choice.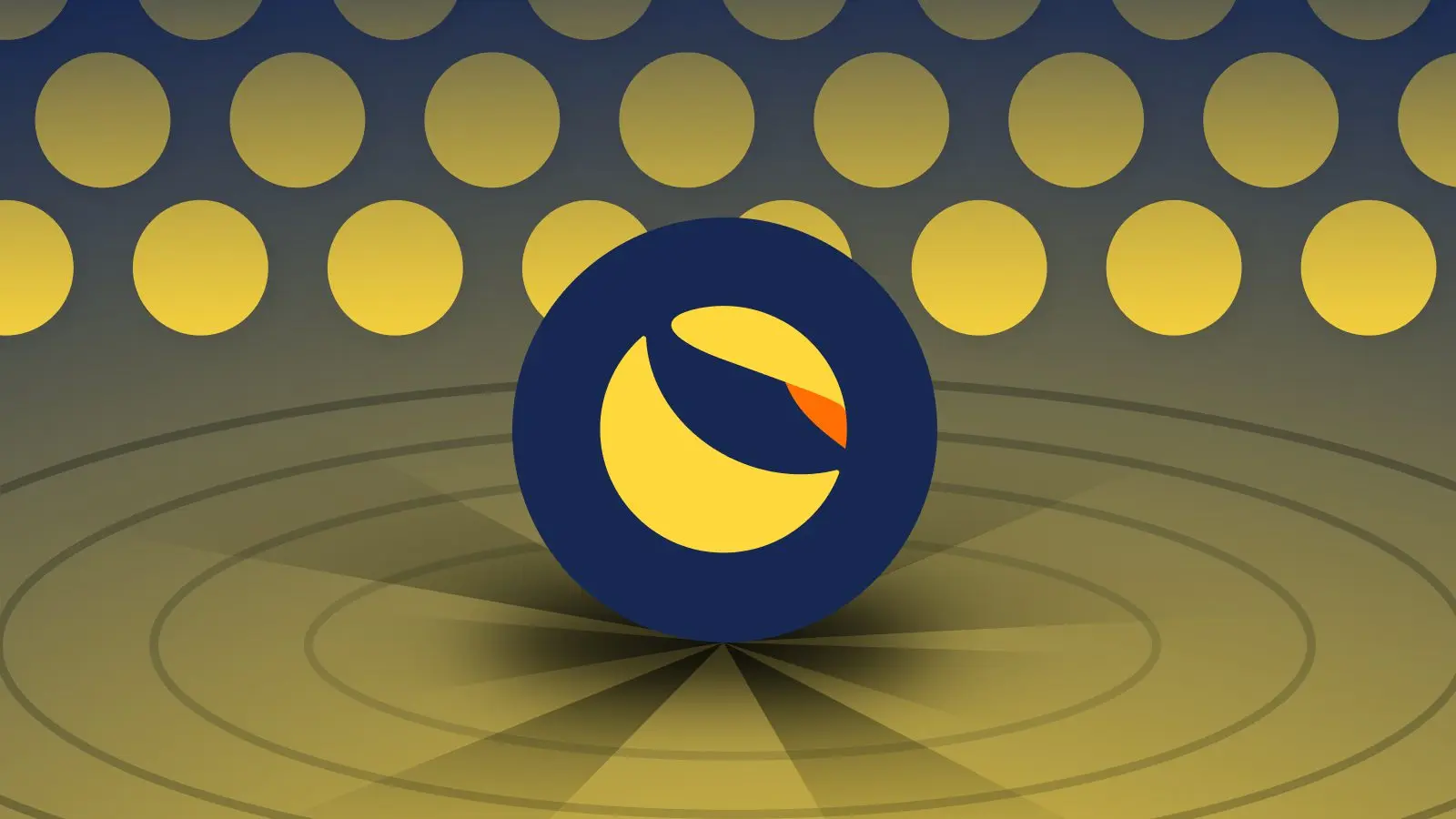 Firstly, Terra Luna has demonstrated resilience in the face of adversity with the Terra 2.0 upgrade and the community's commitment to rebuilding. This shows a strong foundation and a dedicated team working towards the project's success.
Secondly, the Terra ecosystem offers unique features and innovations like stablecoins and DeFi protocols. These elements contribute to the overall value proposition of Terra Luna and its potential for long-term growth.
However, conducting thorough research and analysis is essential before making any investment decisions. Consider diversifying your portfolio and consulting with a financial advisor to ensure a well-informed approach.
Conclusion
In conclusion, the future of Terra Luna holds both challenges and opportunities.
The project's resilience and commitment to innovation make it an intriguing investment option.
However, investing in cryptocurrencies always carries inherent risks and uncertainties, and thorough research is essential.
The price predictions for Terra Luna in 2023 and beyond provide insights into potential market movements, but they should be approached cautiously.
The crypto market is highly volatile, and numerous external factors can influence the performance of digital assets.
Ultimately, investors should weigh the potential rewards against the risks and make informed decisions based on their own financial goals and risk tolerance.
Investors can confidently navigate the crypto market with careful consideration and an understanding of the Terra Luna ecosystem.