In the Ethereum market, outflows from exchanges are currently overshadowing inflows. As a result, the net-flow figure has constantly been hovering in the negative territory for almost two weeks now. A day back, this metric flashed a reading of 32,000 ETH. During the Asian trading hours on Monday, around 1/3rd of that figure was already bridged, for outflows exceeded the inflows by 11.61k. This is essentially a positive sign, for it pointed towards accumulation by market participants.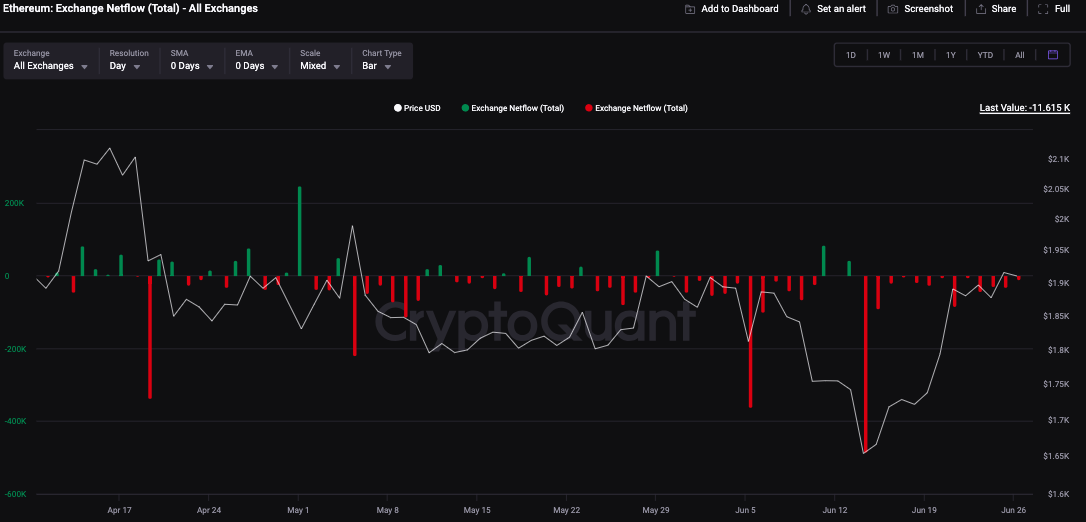 Consequentially, ETH exchange reserves have been depleting. In fact, they've reached rock bottom. Data from Glassnode pointed out that this metric has attained a new low of 12.6%. During the beginning of 2023, the proportion hovered around 16%. The latest drop is yet again a positive sign, as it inferred how lesser investors are sending their tokens to exchanges.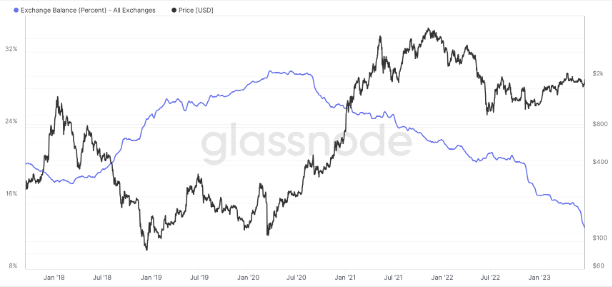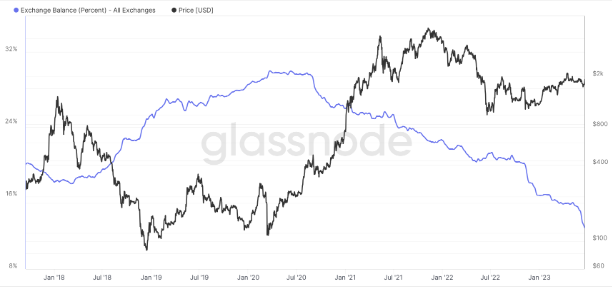 Despite the aforementioned optimistic developments, it should be noted that Ethereum's on-chain activity has started rusting. As depicted below, the daily transactions have dropped below the 100k average and are currently at the lowest level [934.8k] in over a month. Thus, it can be deduced that the overall activity on the Ethereum blockchain is in the fall, and perhaps DeFi and NFT participants are not that active at the moment.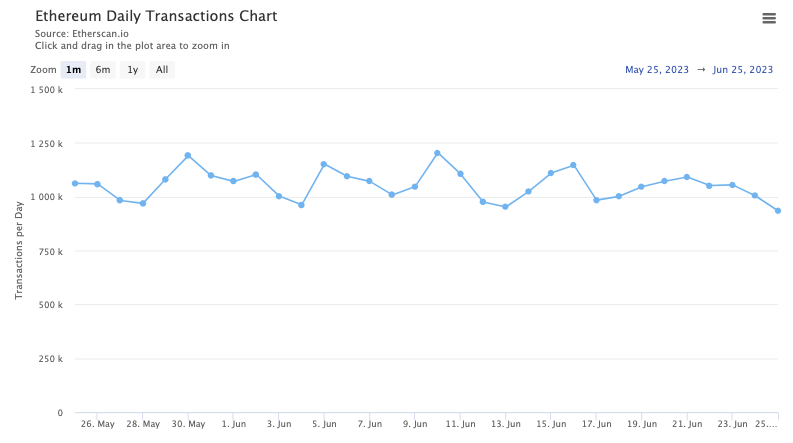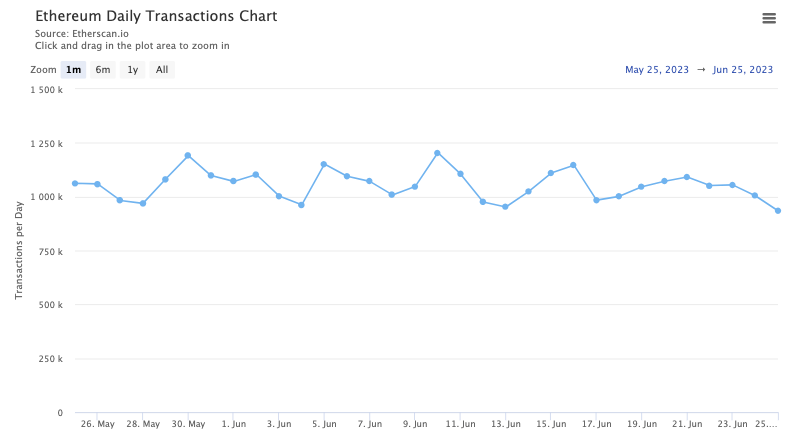 Also Read: Ethereum: Time to Brace for a 55% Rally?
Is a rise above $2k imminent for ETH?
On the price front, Ethereum has been retracing since mid-April. However, that trend changed in mid-June and ETH has been inclining since then. In fact, this exactly coincided with the period outflows started outweighing inflows.
So, with the accumulation trend still in play, it can be contended that Ethereum has the fuel to continue its uptrend. At the moment, ETH is well trading above its 38.2% Fib level. $2141 would be its subsequent target, provided the token manages to flip $1959 as support.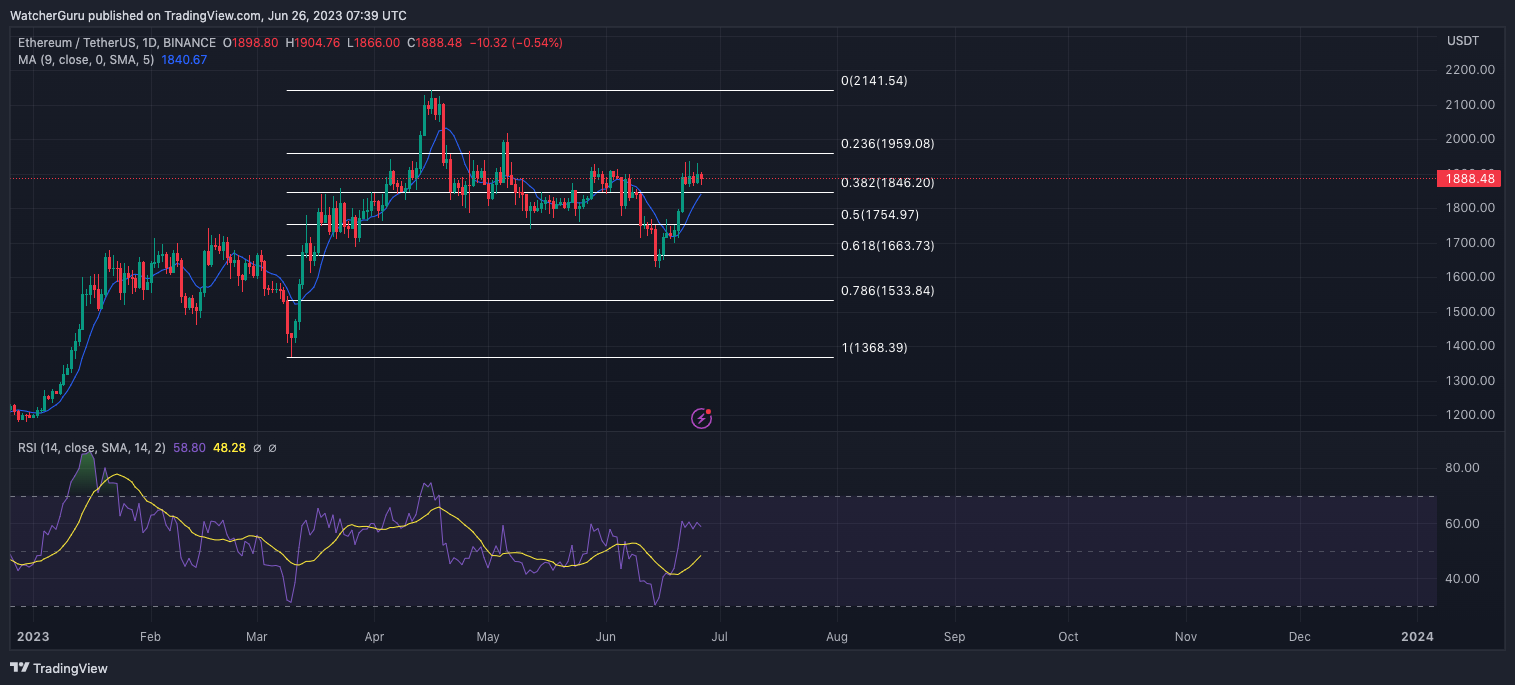 Once the levels are attained, a further rise to $2335 can be expected. That would translate to an approximate 24% hike from the current price. On-chain data from ITB supported the thesis. At an average price, around 8.5 million addresses have bought 33.8 million ETH tokens. So, only if ETH's price approaches that level, the bearish pressure may intensify. Thus, over the next few weeks, a gradual ETH incline can be anticipated. However, other macro factors, and the drop in transactions, could cause some hiccups mid-way. The largest altcoin is at the cusp of $2000. Investors should keep an eye on its price.

Also Read: Bitcoin Equities ETF Tracking Coinbase, MicroStrategy Launched in Netherlands