Bitcoin was most definitely the star of this week. Right from enticing prominent financial institutions into its arena, to surpassing the psychological $30k threshold, and creating additional demand, the king coin has done it all. Now, with the spotlight all on Bitcoin, is Ethereum, the largest Altcoin, being neglected?
Over the past few days, Ethereum has been finding it difficult to cope with the pace at which Bitcoin is rising. In just the past week, for instance, BTC rallied by nearly 18%, while ETH could only notch up its value by 12%.
Ethereum's struggles were evidently visible on the ETH/BTC chart. As illustrated below, this pair has lost more than 11% of its value when compared to its local peak registered in the first week of June. Contrarily, ETH roared in May, and the same pair noted a swift uptrend. However, owing to the latest 11% dip, the ETH/BTC has wiped off all its gains made. It is now down to its April lows.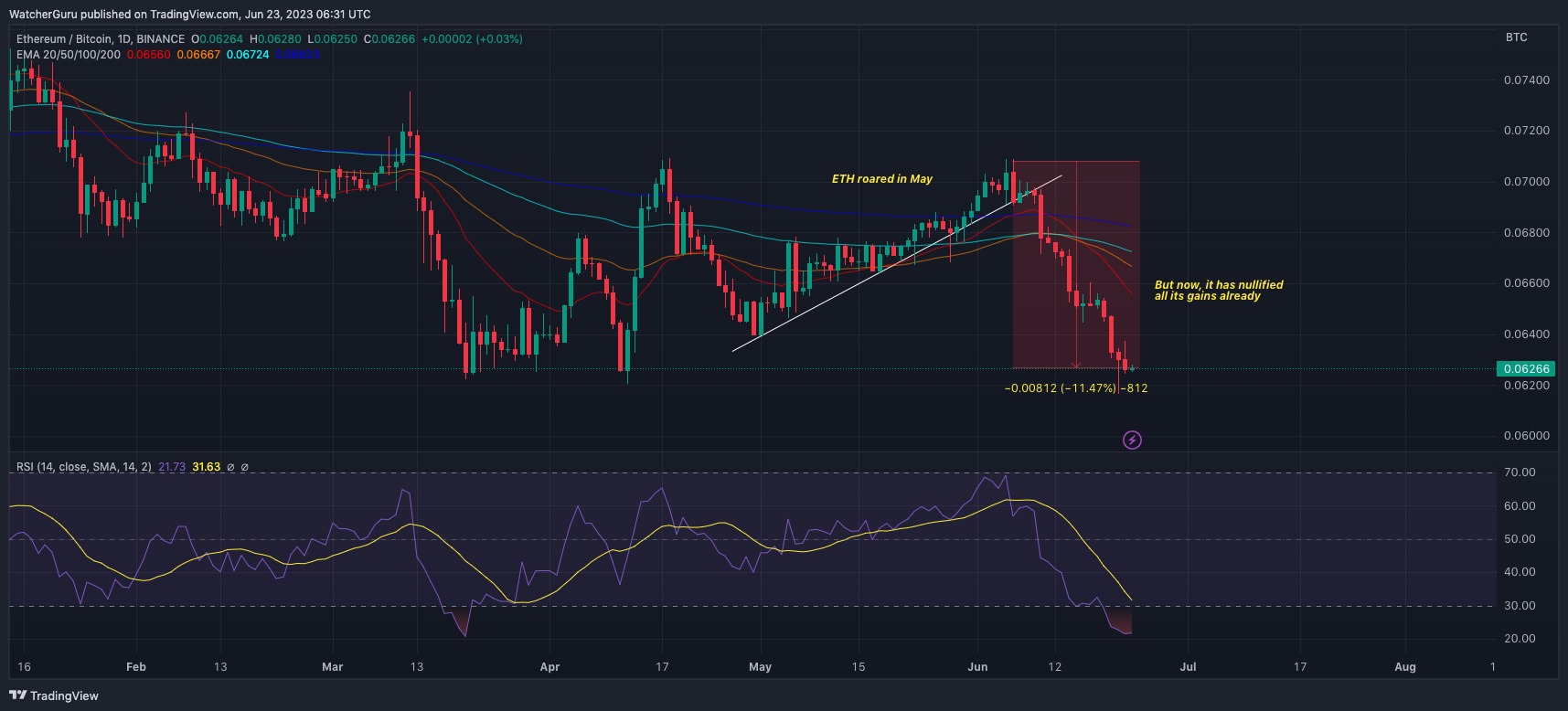 Also Read: Bitcoin Equities ETF Tracking Coinbase, MicroStrategy Launched in Netherlands
Beacon of Optimism
Looking at the current state of affairs one might question, "Will Ethereum continue to struggle?" Well, there might not be a straightforward answer to that. Nevertheless, it does seem like patience will be the key.
According to data from Glassnode, Ethereum's NVT dropped to a 5-month low recently. This essentially meant that the network value is being outpaced by the on-chain value being transferred.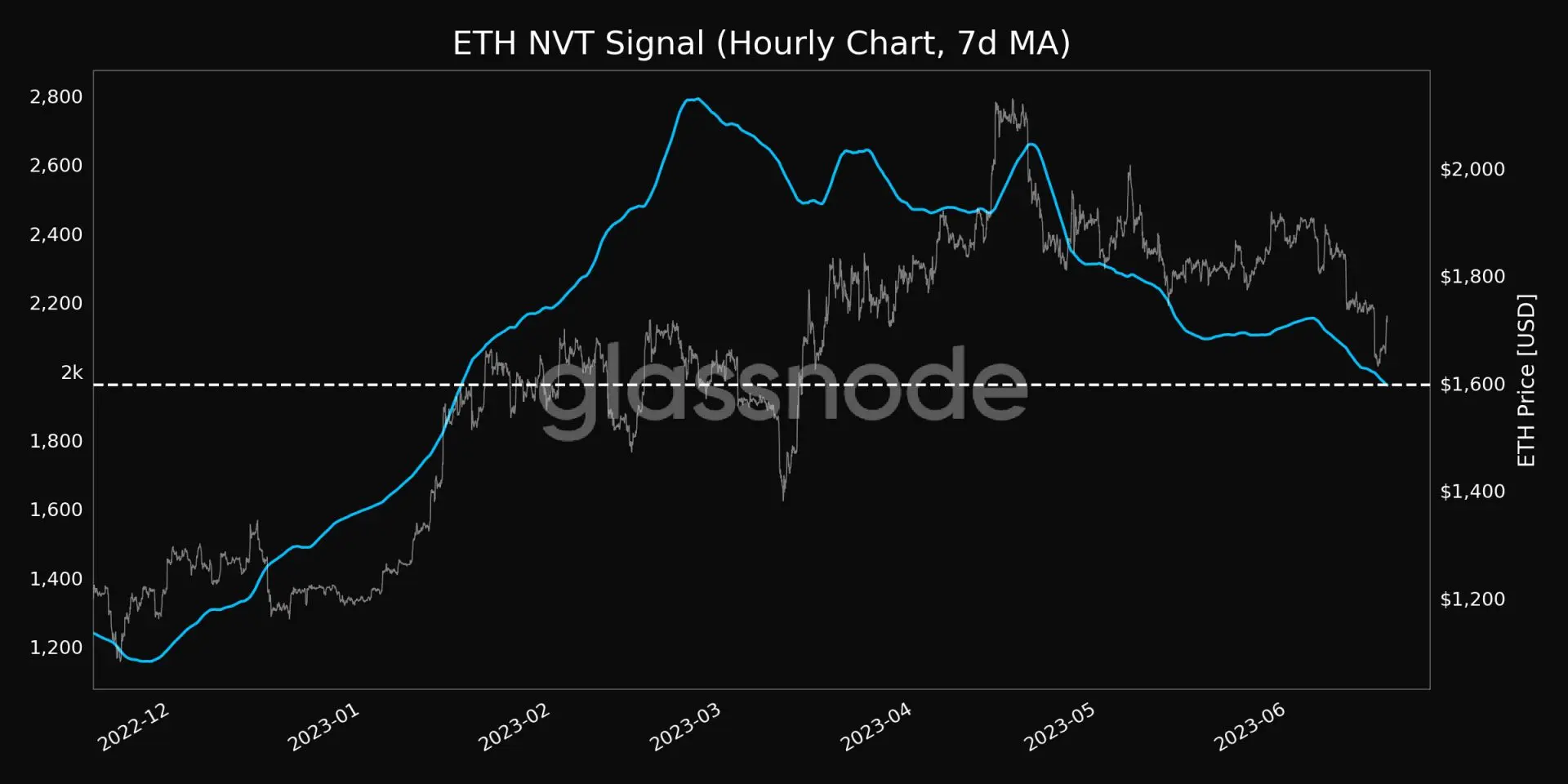 Also Read: Bitcoin: 'More Companies' May Join Binance, Tether in BTC Mining
The last time Ethereum's NVT hovered around this level, ETH noted a brief uptrend. That was then followed by a multi-week consolidation. Right after that, Ethereum swiftly climbed up on the chart by more than 55%.
The current conditions seem to be quite similar. As depicted below, ETH has registered the first brief uptrend phase just like last time, likely setting the stage for consolidation and then a rally. Perhaps this time as well, ETH's fluctuations over the short term might not be very impactful. However, soon after, a similar rebound can be expected.
That being said, it should be borne in mind that history doesn't exactly repeat itself. The current price landscape is more sensitive when compared to how the market was a few months back. Several tangents—right from the legal verdicts, regulation pronouncements, tie-ups, adoption, integrations, etc.—carry more weightage now and could alter the dynamics.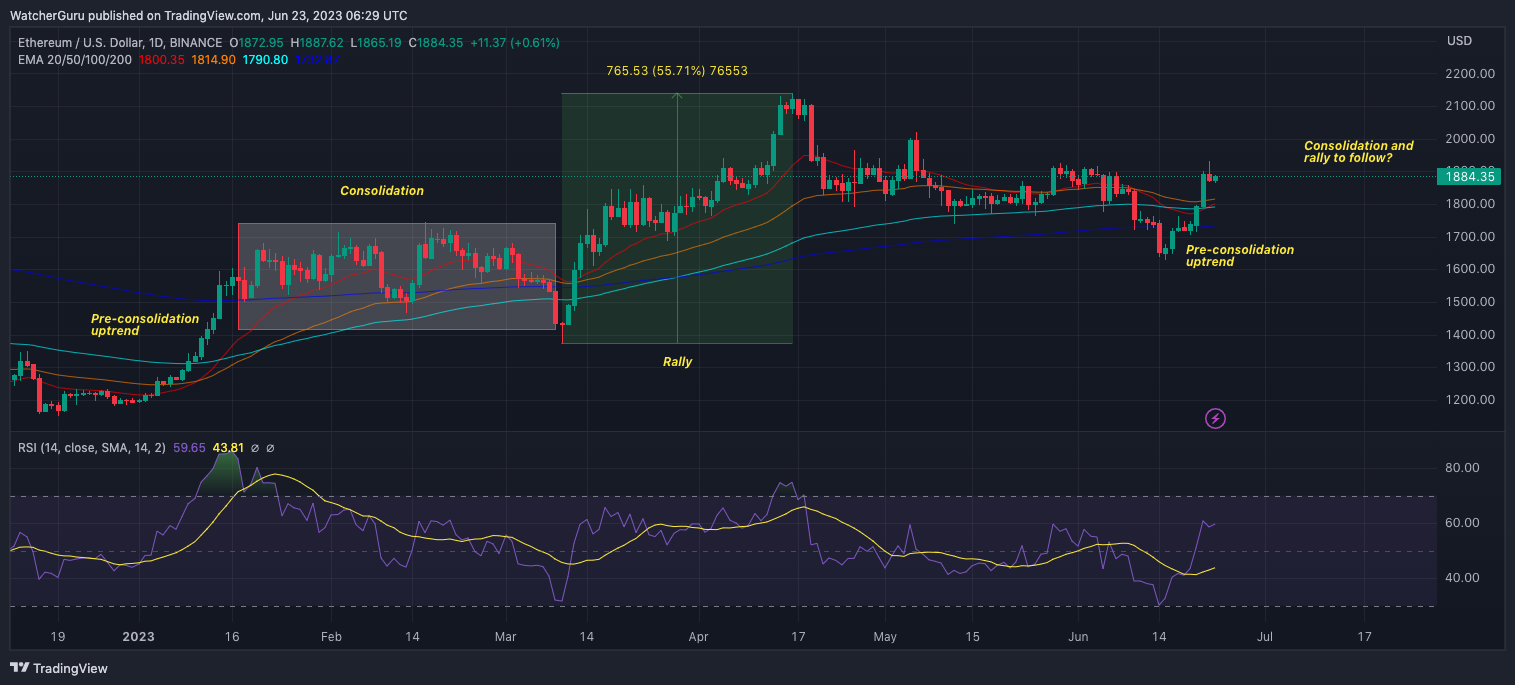 Also Read: MicroStrategy's 140,000 Bitcoin Allocation Turns 'Profitable'