The arrival of Bitcoin ordinals in Q1 2023 proved to be a game-changer. Within no time, the blockchain managed to flip Cardano and Solana to claim the second spot in NFT sales. Even miners have been benefiting from the same. A recent analysis from Glassnode revealed that miners have earned more than 1.7k BTC, roughly worth $50,000, via fees from inscription transactions. The same accounts for nearly a quarter of the total miner revenue [$227.8 million] earned via fee since the end of January.
Also Read: MicroStrategy's 140,000 Bitcoin Allocation Turns 'Profitable'

Well, even though Inscriptions have helped supplement' revenue, miners have not essentially been able to take a breather. Recently, Bitcoin miners in Texas had to apply brakes on operations. Reportedly, a heat wave ended up pushing the electricity price to "sky-high" levels. A spokesperson for the Texas Blockchain Council told Bloomberg,
"Prices were elevated and the nature of the incentive programs available to all Ercot citizens, not just Bitcoin miners, resulted in most or all large flexible loads being off."
Ercot, or the Electric Reliability Council of Texas, operates the region's electrical grid, the Texas Interconnection. It supplied power to more than 25 million customers and represents about 90% of the state's electric load. Usually, major power users like Bitcoin miners are eligible for "payouts," if they scale back consumption when Ercot requests them. Texas has been one of the hotbeds for Bitcoin mining, given its long history of cheap electricity supplies. For context, the mining industry's Texas operations can consume more than 2 gigawatts at its peak. Commenting on the latest situation, Ercot spokesperson Christy Penders revealed,
"It appears most crypto sites appeared to have dropped virtually all their load."
Also Read: Bitcoin Spikes to $138,000 on Binance.US: Investors Become 'Greedy'
Is Bitcoin mining still 'attractive'?
Well, looking beyond Texas miners and their electricity woes, it should be noted that the aggregate reserve of these stakeholders has been depleting. Since June 2, miners have sold more than 6270 coins worth more than $188 million.
This trend is in complete contrast to what was registered during the monthly transition period. Miners usually liquidate their holdings to cater to immediate expenses, and the latest selling round does point out that these stakeholders are not completely distress-free yet.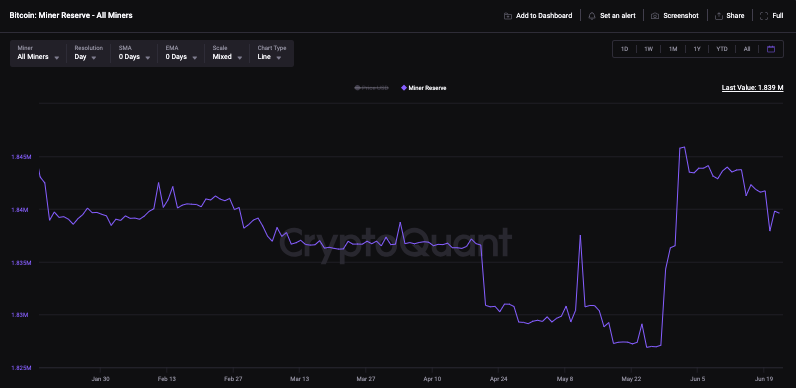 So, does this mean that there's no incentive for new miners to step in? Well, not exactly. We're currently in the pre-halving period. The incentive in terms of ROI is fairly high now. Specifically, the next halving is set to take place in April next year. Post the halving, miners' block reward will drop from 6.25 BTC per block to 3.125 BTC per block. Didar Bekbauov, Founder and CEO of Kazakhstan-based Bitcoin Group Mining Company Xive, told Watcher Guru,
"Bitcoin mining offers a high ROI. As such, it appears more attractive to large firms across the board."
Here, it is worth recalling that prominent names from the space including Binance and Tether have already started investing in Bitcoin mining, bringing light to the positive trend. Further elaborating using another exhibit, Bekbauov explained,
"The focus on Bitcoin mining is expanding with El Salvador advancing its Volcano Bitcoin mining project. This move shows an evolution in mining which started on home computers of regular Bitcoin miners in its early days. The influx of highly capitalized firms and governments diving into mining is evident that the potential in the offshoot of the blockchain ecosystem is high."
According to the mining company executive, firms are now positioning themselves to take part in the next major rally, which can come "about 6 months after the next halving." Bekbauov asserted that one can expect "more companies" to follow Binance and Tether's suit going forward.
Also Read: Tether to Start Bitcoin Mining in Uruguay