The prices of most assets from the crypto market noted a substantial downfall yesterday. The SEC thrusting a lawsuit upon the largest crypto exchange, Binance, was the chief trigger that got the bears growling.
The regulator went on to deem a host of tokens as securities. SOL, ADA, MATIC, SAND, and MANA were a few of the victims. Ethereum, however, was left out of the list. In fact, ETH is not even a part of the SEC's target list which includes 61 tokens from the industry.
So, was Ethereum shielded from the downfall? Well, not completely. It dropped by more than 4% yesterday and went on to create a low at $1778. Bitcoin, on the other hand, dropped down to $25.7k post noting a 5% dip, while other Altcoins ended up shedding double digits.
Ethereum being able to cap its losses and fare better than Bitcoin was evidently visible on the ETH/BTC chart. As illustrated below, this pair inclined by nearly a percent and registered a green candle yesterday. In fact, when compared to its May lows, ETH/BTC is already up by around 10%, highlighting how Ether is standing rock solid relative to Bitcoin in the face of adversity.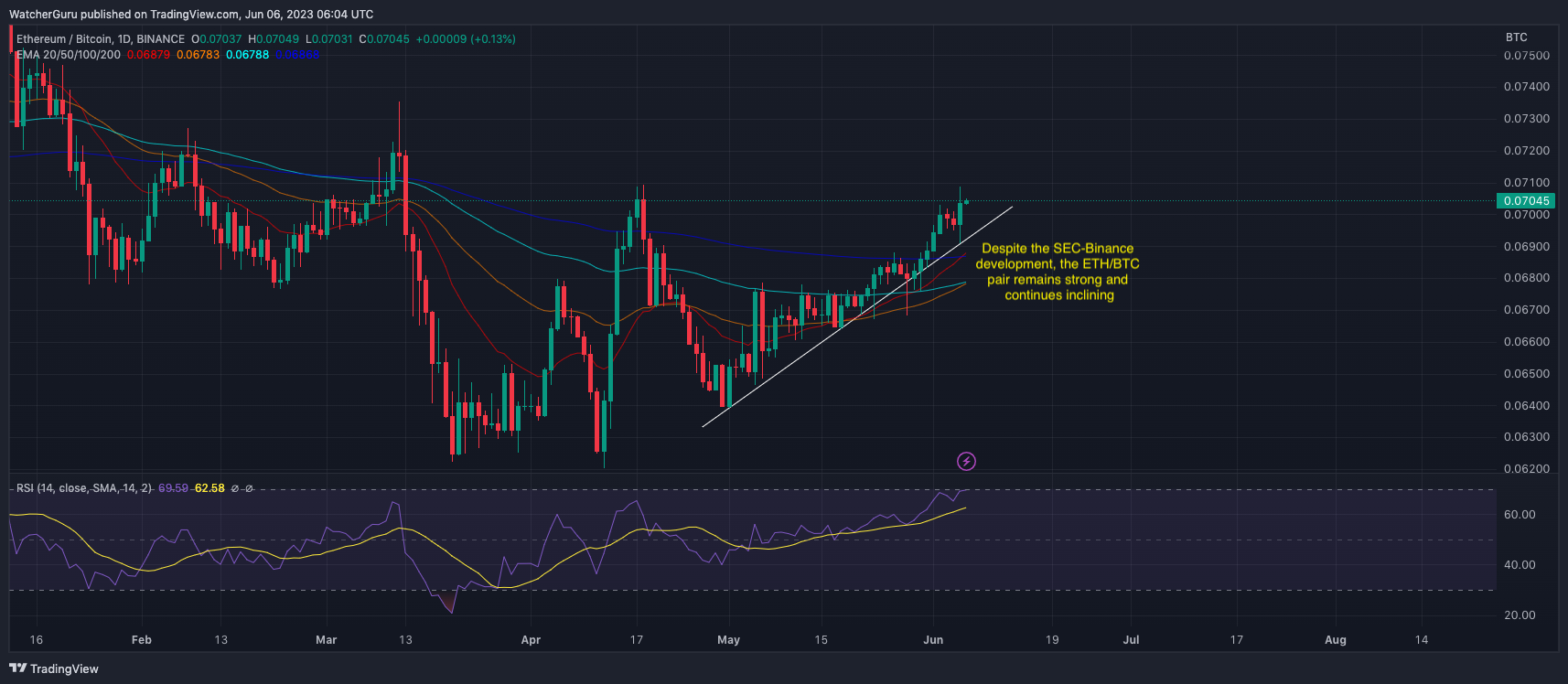 Also Read: Metaverse Blow: SAND, MANA Drop 10%, SEC Declares Them 'Securities'
The Macro Perspective
Perhaps at this stage, people from the industry are over-amplifying the SEC-Binance development. Asset prices did instantly drop. Even so, the aggregate valuation of the market did not slip below the $1 trillion benchmark.
As soon as the lawsuit news was out, investors started withdrawing their assets from the exchange. As a result, there was a significant deviation noted on the reserve chart of Binance. In fact, the outflow ended up being 2023's highest. However, when zoomed out, it can be noted that the magnitude of the same ain't concerning.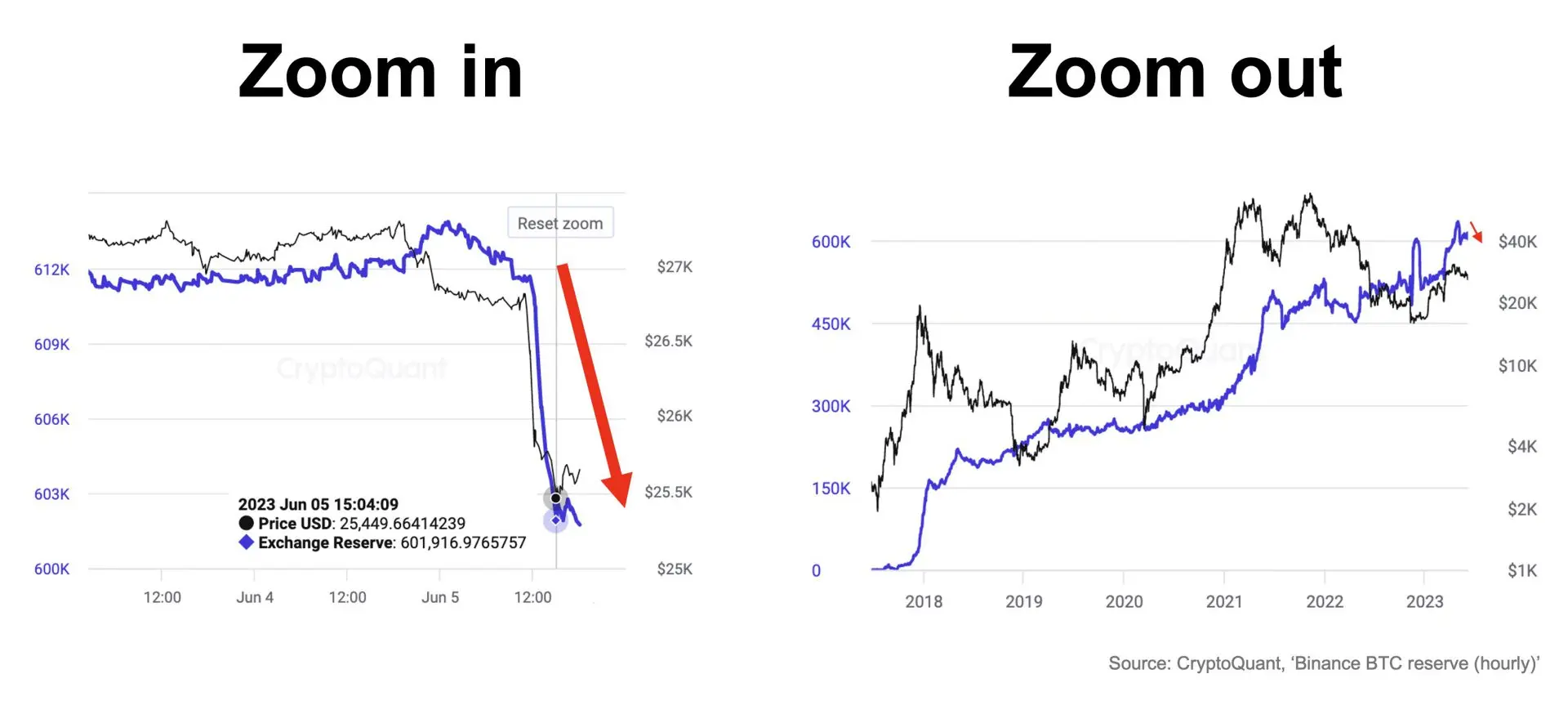 Bringing to light another trend, Julio Moreno, the Head of Research at on-chain data and analytics platform CryptoQuant tweeted,
"Also, total BTC outflows relative to reserves remain low. Nothing that Binance has not experienced before."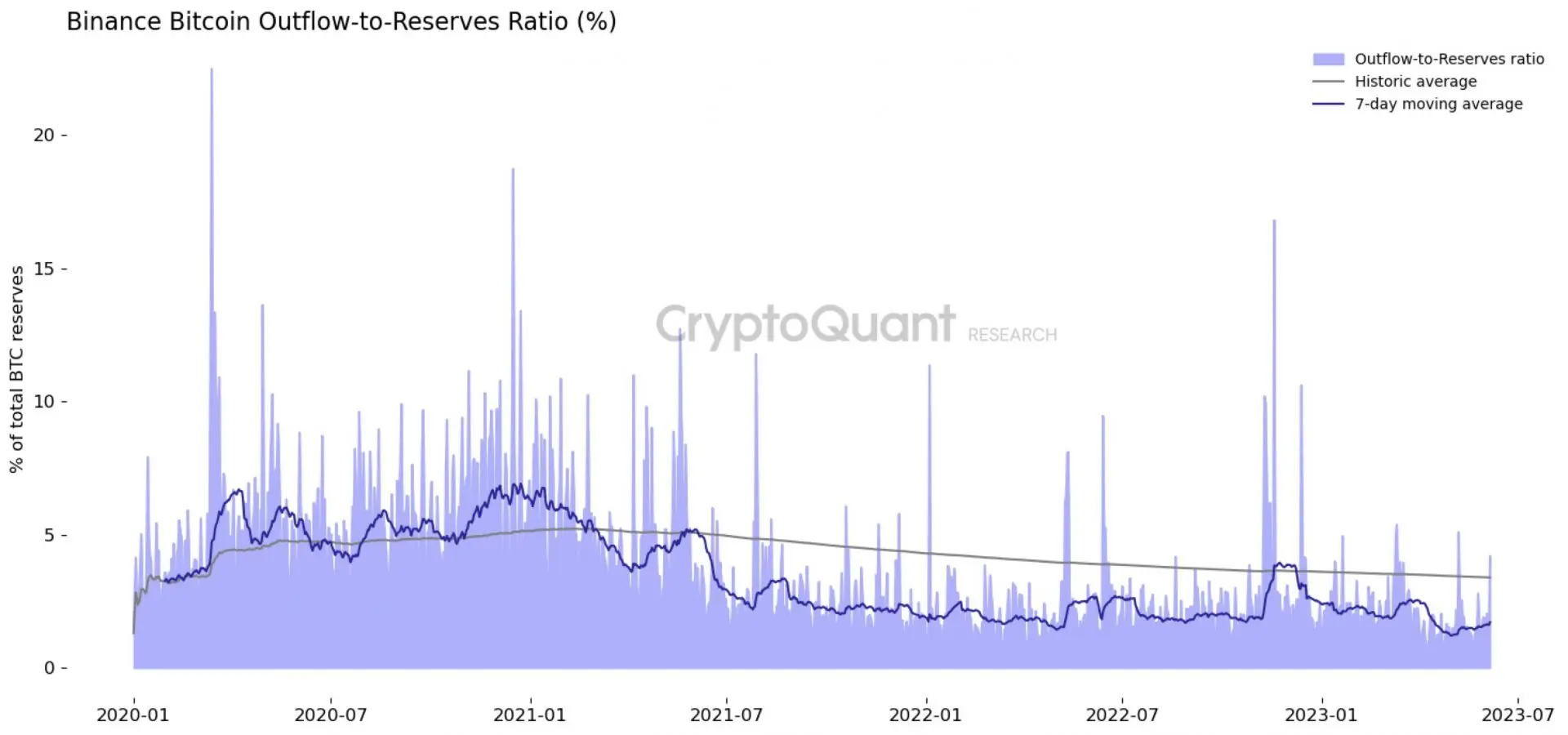 In fact, several proponents from the space have started depositing back funds into Binance. A recent tweet by on-chain smart money tracker Lookonchain revealed that before the SEC sued Binance news was reported, digital asset management firm FBG Capital withdrew 35 million USDT from Binance and 9 million USDT from OKX. However, post the development was made public, the firm deposited all 44 million USDT to Binance.
Before the #SEC sued #Binance news reported, @FBGCapital withdrew 35M $USDT from #Binance and 9M $USDT from #OKX.

After the #SEC sued #Binance news reported, @FBGCapital deposited all 44M $USDT to #Binance.@cz_binance https://t.co/iM6onJW6td pic.twitter.com/ef4UjlXSWA

— Lookonchain (@lookonchain) June 6, 2023