According to a survey by Independent Reserve, women are more likely to make money or break even on their cryptocurrency trades. As per the report, 76% of women said they made money or broke even on their investments. On the other hand, 72% of men were profitable or avoided loss.
The report, called Independent Reserve Cryptocurrency Index (IRCI) survey, was conducted in February 2023. The survey polled "1500 everyday Singapore residents on their attitudes toward cryptocurrency."
Since the report's debut in 2021, this is the first time females have exceeded their male counterparts. The survey also discovered that more women are investing in cryptocurrencies this year. According to the study, 37% of the women claimed they had crypto investments, a seven percentage point increase from the previous year. On the other hand, 48% of males said they had crypto investments, a 1% drop since 2022.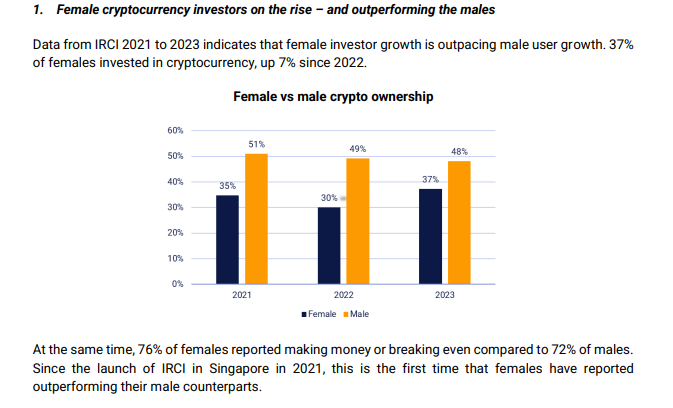 Several women who responded to the study expressed bullish views on cryptocurrencies. More than 20% of the women claimed they had invested in this asset class. 48% of respondents intend to increase their portfolio investments over the next 12 months. In the meantime, 43% want to diversify into other tokens, Defi projects, or NFT initiatives.
Why are women performing better in cryptocurrency investments?
A separate report by KuCoin found that women tend to hold their investments for the long term. As per the Women's Day Survey Report 2023 by KuCoin, 52% of women tend to hold for the long term. Meanwhile, only 38% of men tend to hold for the long term. This may be one reason why women are outperforming men in cryptocurrency trades.
KuCoin's report also found that 44% of women think that crypto is a great source of passive income. Whereas only 36% of men believed in the same narrative.
Since women tend to hold longer and more women feel crypto is a good source of passive income, this might be some of the reasons why they are outperforming their male counterparts. Crypto is an extremely volatile sector, and patience is a key ingredient in making money.