In recent months, the cryptocurrency market has witnessed an influx of new assets, and one such newcomer is Worldcoin's WLD token, which has been gaining attention. Notably, the project has received support from Sam Altman, the CEO of the company behind ChatGPT. After its launch, the WLD token saw significant growth, with its value rising by over 100%.
Also read: Canada Discloses Rules Governing Crypto Assets in Financial Institutions
However, the price plummeted the very next day. Despite that, the hype surrounding Worldcoin has proven to be positive for Layer-2 blockchain Optimism. According to the latest data from Dune Analytics, Optimism has surpassed Arbitrum in terms of daily transactions during the Worldcoin surge.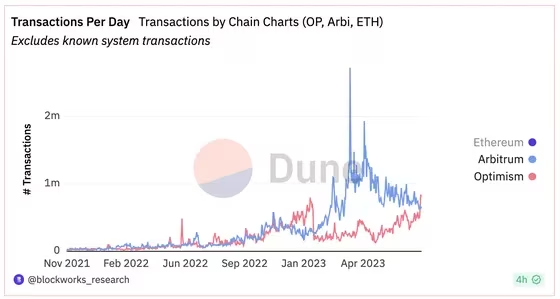 Optimism surpasses Arbitrum for the first time in six months
On July 25, Optimism recorded a total of 844,290 transactions, surpassing Arbitrum's total of 630,534 transactions. This increase in transaction activity is believed to be linked to the recent launch of Worldcoin (WLD). Worldcoin is built on the Optimism blockchain, which likely contributed to the surge in transactions on that network to surpass Arbitrum.
Despite the surge in transactions, the number of active wallets at Optimism falls short in comparison to that at Arbitrum. The notable milestone has caused the Optimism native token to surge by 2.6% at press time.