In recent months, the cryptocurrency world has seen a multitude of new assets entering the scene. Today, Worldcoin's WLD token joined the ranks of these assets. Notably, this project is backed by Sam Altman, the CEO of ChatGPT. Shortly after its launch, WLD experienced an impressive surge of 69%.
According to the latest data, WLD started from a low of $1.66 and surged significantly to reach a high of $3.30. However, at press time, the asset experienced a minor correction and was being traded at $2.83. The 24-hour trading volume for WLD amounted to $186,948,763.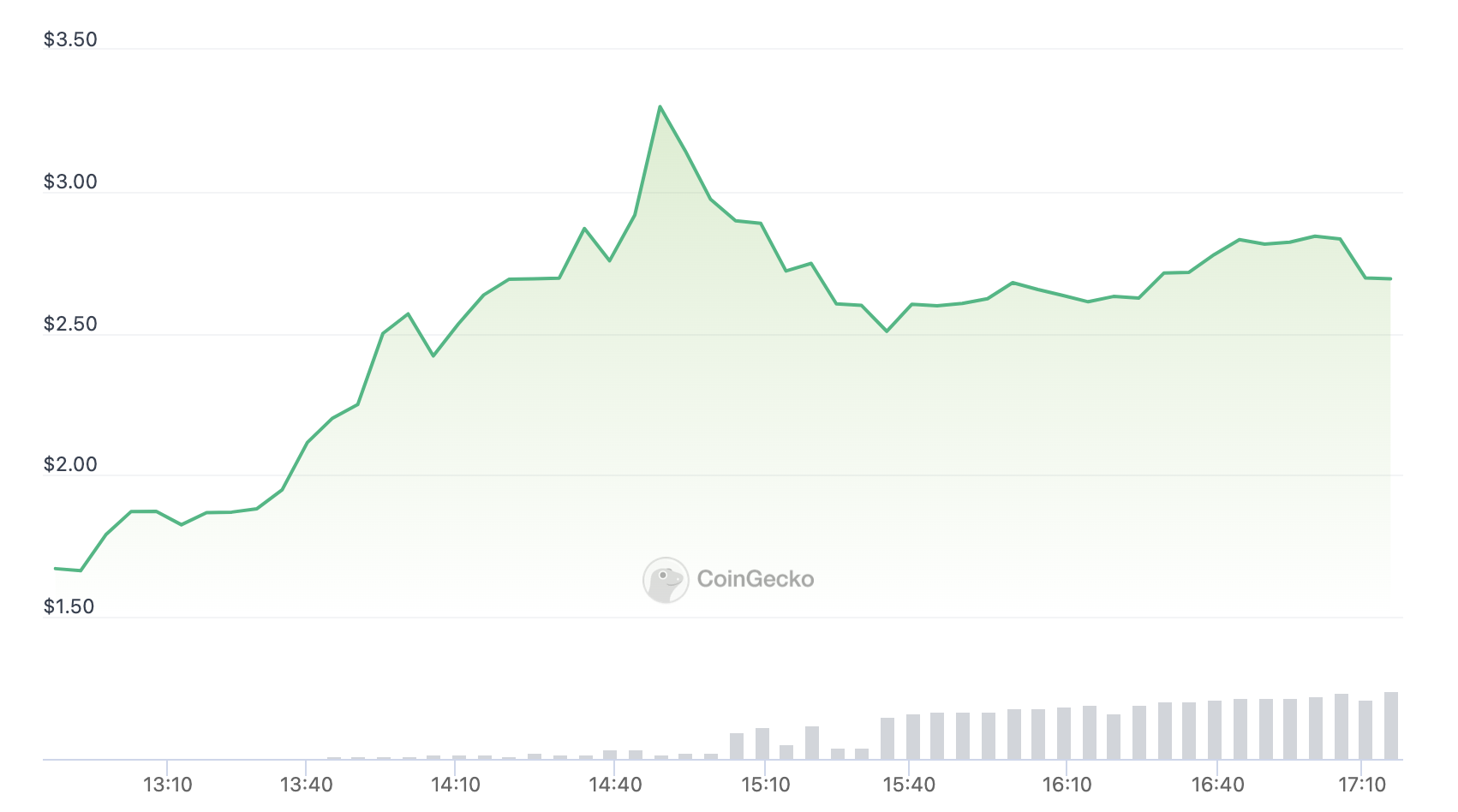 The substantial increase in value was likely prompted by the Worldcoin project's expansive listing announcement. The listing was supported by exchanges like Huobi, Bybit, and OKX.
Bybit has set a withdrawal availability time of Tuesday at 6 a.m. EDT. Likewise, OKX enabled WLD deposits at 3:00 a.m. EDT. Additionally, the world's largest cryptocurrency exchange, Binance, also added the token to its listings. It allowed users to engage in spot trading pairs WLD/BTC and WLD/USDT starting from 5:00 a.m. EDT. The scheduled opening for WLD withdrawals on Binance is tentatively set for Tuesday, July 25, at 5:00 a.m. EDT.
Also Read: ChatGPT CEO's Worldcoin Debuts With Binance Listing
Concerns around Worldcoin surface
As interest in the project surged, numerous individuals raised suspicions about its credibility. Crypto influencers voiced their concerns on Twitter, highlighting that there were questionable aspects regarding the asset's fully diluted market valuation. They pointed out that the asset's FDV is currently valued at $29 billion, yet only 1.5% of the total supply is available in the market at present.
It is important to highlight that there were numerous concerns raised when the project successfully raised $100 million through a private token sale. The backing of Andreessen Horowitz and Khosla Ventures added credibility to the project. However, the deal's valuation of the company at $3 billion is substantial. This is particularly because of the fact that it emerged from "stealth mode" in 2022.
During the Series A funding round in October 2021, Andreessen Horowitz assumed a leading role, and notable participants like Digital Currency Group, Coinbase Ventures, and Multicoin, as well as angel investors such as FTX founder Sam Bankman-Fried and LinkedIn co-founder Reid Hoffman, were also involved. However, SBF's association with the project was viewed with suspicion by many. Additionally, the iris scanning process of the Worldcoin project also loomed fear among many.
Also Read: FTX Sues SBF & Co. Over $28.8M Bonus, 'Survival Island' Claims